The Soviet life of Carl Jung's most famous patient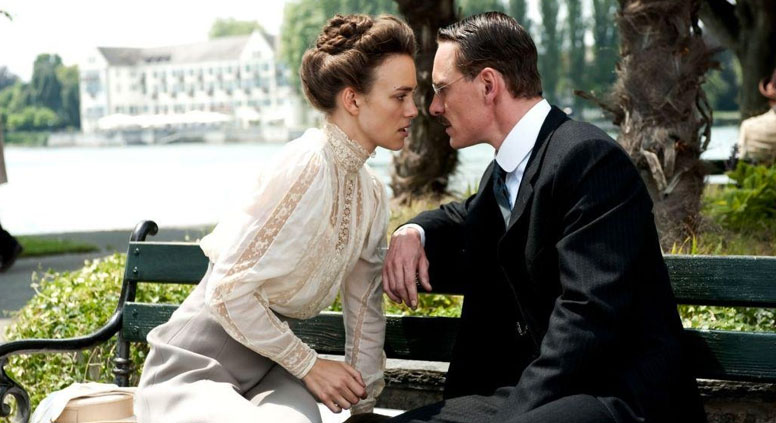 Sabina Spielrein (Kira Knightly) with Carl Jung (Michael Fassbender) in 'A Dangerous Method.' Source: kinopoisk.ru)
Most people only know Sabina Spielrein from Keira Knightley's portrayal of her in the 2011 movie "A Dangerous Method," but this psychiatrist, who was born 130 years ago this year, made important contributions to modern psychiatry and pedology. RBTH asked the author of her biography "Sex Versus Survival" John Launer to talk about the Soviet period of her life.
Sabina Spielrein was a Russian-Jewish psychiatrist and pediatrician, best known for being a patient of the famous psychologist Carl Gustav Jung. She became one of his mistresses, before leaving him to become a follower of his rival, Sigmund Freud. An increasing number of people now recognize her as one of the most original thinkers in psychology in the 20th century.
Ahead of her time
Sabina Spielrein in 1910. Source: open sources
Spielrein was born in the southern Russian city Rostov-on-Don (670 miles to Moscow) in 1885 but worked in Zurich, Vienna, Berlin, Geneva and Moscow, before returning to her home town for the last 20 years of her life. Because of anti-Russian prejudice in the west, anti-Semitism, and Stalin's repression of intellectuals, her work has remained almost unknown until recently. She wrote in three languages, Russian, German and French, and covered a vast range of psychological topics.
The list of Spielrein's intellectual achievements is extraordinary. When she was still a medical student, she wrote about ways of understanding how people with schizophrenia speak: she was one of the first to realize that it had a special kind of logic to it. A year later, in 1912, she wrote a paper called "Destruction as the Cause of Coming into Being." She based it on Darwin's idea of the preservation of species, making a link between the apprehension of death and the imperative to reproduce. She drew on Nietzsche and also the symbolist writers and philosophers Vladimir Solyovov and Vyacheslav Ivanov. She was also familiar with the work of the great Russian scientists of her time. Some of the ideas in her paper anticipate thinking from the field of evolutionary psychology in our own age.
Groundbreaking child psychotherapist
A bookcover of 'Sex VS Survival' by John Launer. Source: Amazon.com
Spielrein was almost certainly the first person to use psychotherapy with children who had neuroses including phobias, and to work with them through play. She understood the importance of the relationship between mothers and infants, long before other thinkers wrote about this. Some of her papers have a feminist emphasis, and she understood the difficulties that women face in their choices about reproduction.
In her work, Spielrein combined psychoanalysis with the study of children's development, biology and neuropsychology. She worked with the educational psychologist Jean Piaget and was his psychoanalyst. Later on, till late 1924 she helped to run a famous psychoanalytic kindergarten in Moscow, which also functioned as a research laboratory for child development. Many of the children of Soviet grandees attended it, including Stalin's son Vassily. During her time there, Spielrein taught the two eminent Russian neuropsychologists Alexander Luria and Lev Vygotsky.
A lost legacy
After moving back to Rostov in 1923, she helped to develop Russian pedology. This was a science that tried to break down barriers between medical, psychological and educational ways of looking at children. The historian Alexander Etkind has written about the history of pedology and her contributions to it. A century later, all these ideas and ways of working seem very much ahead of their time. Tragically, Spielrein was murdered along with her daughters by a Nazi death squad in the Zmeyevsky Ravine outside Rostov in 1942. After that, she was completely forgotten both in the West and in Russia. Historians only began to rediscover her work in the 1980s and 1990s.
How is Sabina Spielrein now regarded? Sad to say, most psychiatrists and psychologists have still never heard of her – or they know of her as the hysterical patient and passionate mistress played by the actress Keira Knightley David Cronenberg's movie "A Dangerous Method." Many people use the same ideas she came up with, without realizing she was writing about them a 100 years ago. There was no accurate biography of her until a few years ago when Sabine Richebaecher wrote one in German: it is now available in Russian.
Russian thinkers have often been ignored or forgotten in western universities and in history books. In accounts of psychology in the future, Sabina Spielrein deserves a very important place. I believe that people will come to recognize her importance in 20th-century intellectual history.
John Launer is a doctor, family psychotherapist, educator and writer. He is author of the book "Sex Versus Survival: The Life and Ideas of Sabina Spielrein."
All rights reserved by Rossiyskaya Gazeta.