Holi: Indo-Russian friendship in bright colours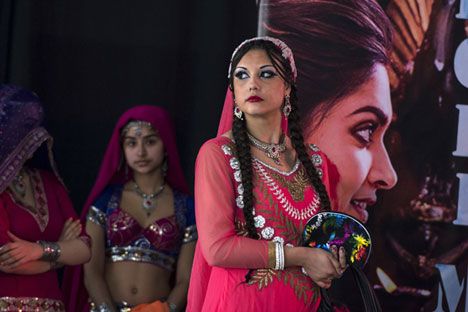 A young woman prepares to go on stage during the Holi Festival in Moscow. Source: Evgeny Biyatov / RIA Novosti
The Hindu festival of Holi was celebrated in Moscow's Sokolniki park on March 29, had a special resonance, bringing colourful cheer on a chilly, blustery spring day.
It was a cold day even by the harsh standards of the Russian spring: a piercing wind blew last year's dry leaves around, and the beautiful Sokolniki park in the north of Moscow hadn't yet been adorned with exquisite roses or abundant greenery. Passers-by were bundled up in their winter coats and pulling their caps and hoods down their foreheads to protect themselves from the strong wind and low temperature.
Cheerful Indian music blaring from the exposition hall, venue of celebrations of the Hindu festival of colours, Holi, beckoned people strolling in the park like a lighthouse. This year's Holi celebration, organised by Sammy Kotwani, head of Indian Business Alliance and BJP Overseas Association in Russia, gathered a large number of people, among them businessmen, journalists, students and families with children. A lot of guests belonged to the Indian community in Moscow, but there were even more Russians, both newcomers exploring the Indian culture and regulars who appeared to be in their element there.
Russian families eagerly lining up to have 'Mehendi' (Henna, a natural dye) painted on their children's hands, Russians buying herbal oils and creams, and listening intently about Sahaja Yoga, were a pleasing sight. But the highlight of the day was an Indian dance performed to a well-known song of legendary Russian singer Boris Grebenshchikov, who had travelled to India. Indian culture had clearly left an imprint on both his philosophy and music.
The melancholic mood of the Russian song and the smooth movements of the Indian dance blended in perfect harmony. The musical arrangement of the song was so in consonance with the dance that the accompanying modulations of the chords was reminiscent of the sitar, and the soft, pensive manner of performing evoked associations with Indian mantras.
My Russian friends were impressed with that cohesiveness of the two cultures as well as with the effect of a brief introduction into Sahaja Yoga. Its effects were evident to them, despite the place not being really fit for meditation of any kind, with all the noise, music and people moving.
This is not the first time I have brought Russian friends to celebrate Holi and I have seen their emotional response to the festival. I think one of the reasons for Holi being so popular in Russia has something to do with the message of perseverance and hopefulness that Holi conveys.
The idea of overcoming all obstacles and winning over the evil forces is close to the Russian heart. Even the Indian tradition of burning 'Holika' (effigy of evil) and the Russian rite of burning the puppet symbolizing the dark and sad winter are surprisingly similar.
All rights reserved by Rossiyskaya Gazeta.