Declan Donnellan: I don't feel a stranger to the Bolshoi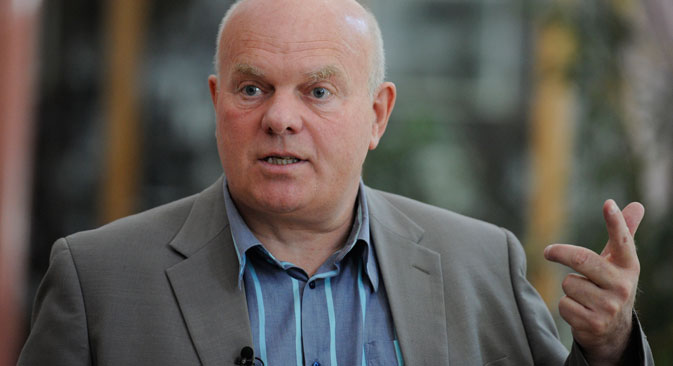 Director Declan Donnellan. Source: Alexei Filippov / TASS
The world premiere of Hamlet as a two-act ballet opened March 11 at the Bolshoi Theater. The brainchild of an international team, the production is directed by Declan Donnellan and designed by Nick Ormerod, founders of London's Cheek by Jowl theatre company. Set to music by Dmitry Shostakovich, choreography is by Romanian's Radu Poklitaru. RBTH speaks to Declan Donnellan about the innovative production.
RBTH: You have directed Hamlet for the stage before. Are you returning to it because you have discovered something new in the play? Or is ballet capable of exposing things that a drama production cannot?
Declan Donnellan: Hamlet, like any of Shakespeare's great plays, is trying to express something that is in fact inexpressible. It touches upon truly eternal themes that Shakespeare wants to express, but which is hard to do clearly. That is why I wanted to see to what extent the language of dance could express that which cannot be put into words.
I think that Shakespeare is a great playwright because he is not just writing about love. In order to write truly about love, it is necessary also to write about loss. It is obvious that we are born to lose everything in the course of our lives. Including our lives.
I don't think that a choreographic text, just as a written text, exists for the sake of telling a story. It exists for the sake of giving us – through a story – a certain emotional experience. Nick, Radu and I spent three years working on the Hamlet libretto, specifically trying to identify what in this story is better expressed through dance. As we know, before the events of the play start, Hamlet's father dies, which prompts Hamlet in the course of the play to make a very important discovery, the realisation that he too will die at some point. That is why we decided to start the narrative in our ballet with Hamlet's childhood and show what kind of child he was, his relations with his father so that there is a stronger sense of all his losses.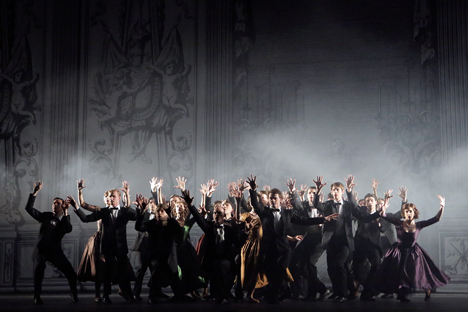 Hamlet in Bolshoi. Source: Damir Yusupov / Bolshoi Theater
RBTH: What do you feel when the audience come up with meaning to your work that are quite different from what you expected?
D.D.: That happens all the time. For example, in the 1980s, our productions were often interpreted as satire on Margaret Thatcher. One of our productions was nearly banned in Romania because they thought that the actress on stage was parodying Elena Ceauşescu. But that was not at all what we intended.
And yet, the best plays are written about people who live in a specific society. In my work, I never speak directly about the political situation but people often see it in the plays I direct. That is fine by me. Each of us has one's own way of perceiving things and the main thing is for each person to take something away from it. Shakespeare does not teach anything. He takes us by the hand, as an equal, and opens amazing landscapes to us. And then he leaves us so that we draw our own conclusions.
RBTH: Is it important for you that the audience have some notion of a play that you are directing or is it important that they come to it fresh, without preconceptions?
D.D.: I have only one priority. Not to be original, not to be interesting, not to be exciting, even not to be truthful although all these things are important to me they are not my first priority. The first priority I have in all my work is that it must be alive. That is why I direct a play as if people know nothing about it. I realised a long time ago that if a production is alive, everything else falls into place. But if you worry about other things then you start tying yourself in knots.
RBTH: When ten years ago you worked at the Bolshoi for the first time, I remember how difficult that process was for you and for the cast, it was like a collision of two galaxies. How would you describe your collaboration now?
D.D.: I do not remember any problems at the time of the Romeo and Juliet production. Everybody was incredibly nice to me. Although I've not directed anything at the Bolshoi since then, whenever the theatre performs in London, I often invite actors to my place. I always go to the Bolshoi when I am in Moscow and, since Romeo and Juliet, have given several master classes there. And I am pleased that throughout all these years we continued to discuss which ballet could be the next and often had meetings with [Anatoly] Iksanov [the Bolshoi's former general manager] in order to come up with new ideas.
When Sergei Filin was appointed head of the Bolshoi ballet, he contacted me and said: "Why have you been talking for so long? Enough! There is a Shakespeare anniversary coming up. Why don't you direct Hamlet?" And I had been wanting to do Hamlet for some time. That was three years ago. The project was endorsed by Vladimir Urin and our meetings over the years were organised by Anton Getman who often came out to see how we were doing in our meetings, which lasted over three years.
RBTH: Do ballet dancers have to be taught acting from scratch?
D.D.: I don't think anyone needs to be taught to act from scratch. But everyone can have their acting improved. Acting is an impulse that can be improved through attention and every human being is an actor. Its how we learn and survive. It doesn't mean we are liars! Humans are all natural performers. I have written a book on this subject so I can't really shorten my answer!.
When I work with drama actors, they first must get used to how I work. If you want, I train to a way of working rather than teach them. Back when I was directing Romeo and now with Hamlet, I get the same feeling that dancers are eager to work. It is as if they have a thirst they are trying to quench. I think they enjoy working on something that is not abstract, but that has a story and psychological depth to it.
I do not feel like a foreign invader to somebody else's world. When one looks at Bolshoi posters, one gets the feeling that it is a very formal, very beautiful but settled and impenetrable system. However, once you are inside it, you discover an open and a very warm atmosphere. I did not have any spoilt prima donnas at my rehearsals. Everybody here was eager to learn something new.
All rights reserved by Rossiyskaya Gazeta.