Ponchiki: The deep-fried 'bad guy' of the Soviet diet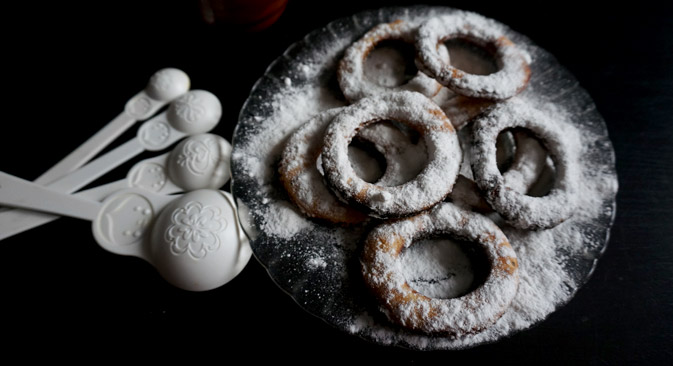 Ponchiki. Source: Anna Kharzeeva
To get the real taste of Russian doughnuts, it may be easier to take a trip to St. Petersburg than to try to make them at home.
I've prepared a lot of healthy meals so far in this project: grechka, borscht, salads… I think a big part of the Soviet diet was fairly healthy. There was plenty of porridge, soups, cranberry drinks… but it also had its "bad guys," such as boloney, mayonnaise, candy and… doughnuts, which are called ponchiki in Russian.
There two types of ponchiki – ones with a hole in the middle, and ones without. The ones without a hole can also have filling inside.
I was certain that the ones with a hole were the Moscow type, hence the name – Moskovskie ponchiki, and the ones without were the St. Petersburg type.
My St. Pete friends assure me that their ponchiki, like ours, have a hole in the middle. They just have a different name - pyshki. The only time I hear Muscovites say pyshka is when they're rather rudely referring to a girl who is slightly "on the bigger side." I guess the implication is that she's consumed a fair share of pyshki or ponchiki. When my batch is ready, I'm sending it to my husband's office.
I have fond memories of eating pyshki in St. Petersburg about 10 years ago. I went into a "pyshechnaya" (a café that specializes in pyshki), stood in line for a while and finally got a few pyshki, which my ignorant Muscovite self no doubt referred to as ponchiki, and ate them right there, standing up and drinking tea.
St. Petersburg has preserved more of the Russian café and bakery traditions than Moscow. The famous Sever bakery still stands proudly on the city's main street, Nevsky Prospect, and Muscovites often stop by there to get a few pastries to take home. They also still have bakeries where you can eat pastry and have a coffee at a table standing up, unlike in Moscow.
Having made my ponchiki, I can say that on the good news front, I'm definitely not going to gain any weight eating these. And neither is anyone in my husband's office: they were a disaster!
Maybe I didn't follow the recipe correctly. Maybe the ponchiki could feel my reservations about anything deep-fried. Or maybe it's because it's suddenly snowing today and that put me off my game. In any case, the result is instead of the fluffy round ones, mine are completely flat. Just to make things worse, I took a little too long taking a photo of them frying in the pan and…yes, burnt them too, filling the kitchen with smoke.
What I made were burnt deep fried Christmas cookies – I'm so proud.
Speaking to my grandmother about it, she said:
"We went to Leningrad to escape the First Moscow Youth Festival. There used to be a lot ponchechnye (doughnut shops) everywhere, and we would go every now and again. As for Leningrad, I don't remember eating pastry there, and it's been 58 years since I last went! I do remember when I was there with my mother, they were preparing a parade to celebrate the city's 250th birthday, and were anticipating the leaders – Malenkov, Molotov, Kaganovich and the tagalong Shepilov. Then suddenly there was a delay in the start of the festivities, as the leaders were declared an "anti-Party group." Later they were restarted, but with a new leader – Khrushchev."
Next time I feel like ponchiki, I'm going to get on the train and head straight to a "pyshechnaya" in St. Petersburg – to bring back memories of the 18-year-old me. And to remind myself of the taste of real ponchiki.
Moscow doughnut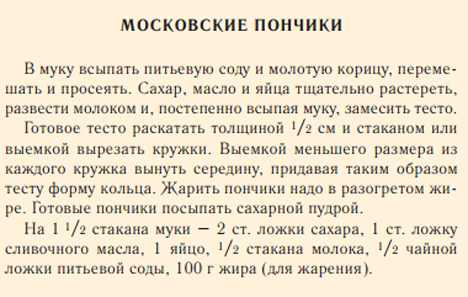 The recipe from the Soviet Cook Book, page 292
Ingredients:
1 ½ cups flour; 2 Tbsp sugar; 1 Tbsp butter; 1 egg; ½ cup milk; ½ tsp baking soda; 100g oil or fat (for frying)
Combine flour and baking soda. Add a little ground cinnamon, and sift. In a separate bowl, combine sugar, butter and egg. Mix well. Slowly add milk to the egg mixture. Gradually pour egg mixture into flour mixture. Knead dough.
Roll dough out to a thickness of ½ cm. Cut into circles. Cut out the center of each circle, making a ring shape. Fry in hot oil. Sprinkle doughnuts with powdered sugar before serving.
All rights reserved by Rossiyskaya Gazeta.