Russian film about Holocaust to be shown in California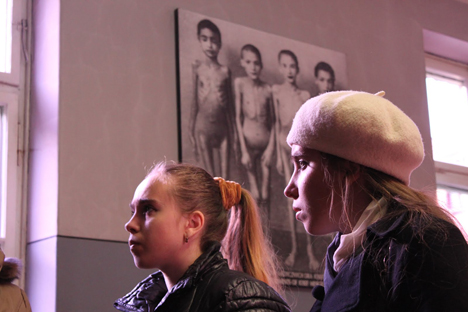 The twins Ksenia and Evgenia Karatigina thought that the holocaust was a glue for wallpaper. Source: Press photo
Filmmaker Mumin Shakirov's project is a response to youth ignorance of the tragedy.
Russian filmmaker Mumin Shakirov is to present his documentary film documentary The Holocaust – Glue for Wallpaper? in California starting from April 5.
Shakirov found the female protagonists after a clip from the program "Incredibly Beautiful" was posted on YouTube in Russia. In it, two young girls, in response to the question "What's the Holocaust?" suggest that it is the name of a type of glue for wallpaper.
Shakirov, who also works as a special correspondent for Radio Free Europe, came up to the idea to take the sisters to the memorial museum located on the grounds of the Auschwitz death camp in Poland.
Shakirov told journalists that he did not know how the young women would react, and he did not plan anything in advance.
"I was ready for any reaction. It was possible they wouldn't react at all — that they would just have a look and then go off shopping. If the girls had had a different reaction, well, it would have been a completely different story," said Shakirov.
After the visit, one of the girls genuinely cried for a long time. As one of the journalists aptly put it, after visiting Auschwitz, "the girls became 70 years older."
The girls' story in this film becomes a portrait of their generation, which has no idea about the crimes committed by the Nazis. Shakirov does admit that this problem is present not only in Russia. In Europe, the United States and even Israel, many members of the younger generation are uninformed about the topic.
The film has already been presented at the Brooklyn Public Library (NYC) and the director is scheduled to participate in further discussions and presentations in San Diego (April 5), Los Angeles (April 7), Sacramento (April 8), San Francisco (April 12) and Palo Alto (April 14).
Film director Mumin Shakirov at the Brooklyn Public Library (NYC). Source: Press photo
The film will be shown with English subtitles.
For more information and exact locations check the official website.
All rights reserved by Rossiyskaya Gazeta.