Vladimir Menshov's 'Moscow Does Not Believe in Tears,' 35 years on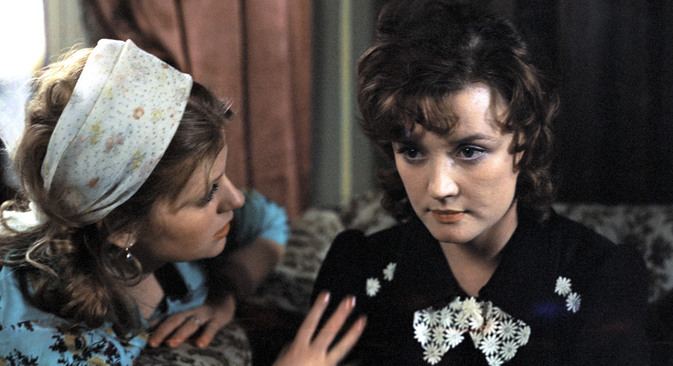 Still from the 1979 film "Moscow Doesn't Believe in Tears" directed by Vladimir Menshov. Screenplay by Valentin Chernykh. Starring Irina Muravyova as Lyudmila, left, and Vera Alentova as Katerina, right. This became the third Soviet film to win an Academy Award for Best Foreign Language Film in 1980. Source: RIA Novosti
Russian director Vladimir Menshov and his actress wife Vera Alentova will be formally recognized for their outstanding contribution to cinema with a special award at the opening ceremony of the Take Tw@ online film festival on April 6. RBTH remembers their joint film Moscow Does Not Believe in Tears, which celebrates its 35th anniversary this year.
On April 6, at the opening ceremony of the Take Tw@ online film festival, a special award for "Outstanding Contribution to Cinema" will be presented to one of the most renowned couples in Russian cinema, Oscar-winning director Vladimir Menshov and his actress wife Vera Alentova.
The husband-and-wife team were responsible for creating one of the Soviet Union's best-loved films, Moscow Does Not Believe in Tears – a movie that remains close to the nation's hearts even today, 35 years after it first hit the big screen.
Moscow Does Not Believe in Tears premiered in the Russian capital at the end of 1979, but went on general release the following year. Some 90 million people went to the movies to watch it, despite the fact that it was shown on TV shortly afterward, on Feb. 11, 1980. A year later, in 1981, it won the Oscar for the best foreign-language film.
Vladimir Menshov's film uses a well-established Hollywood formula for romance movies particularly popular with female members of the audience, like the 1959 movie The Best of Everything, which told the stories of "new" free women who had come to New York to make a career at a publishing house and find a husband. The film was a great success not least because each of its heroines followed her own path, thus showing that there are no universal rules for finding happiness either in love or work. The same formula was later used in the hugely popular U.S. TV series Sex and the City.
Moscow Does Not Believe in Tears is often described as a Cinderella story, though in fact the film is a story of three girlfriends. They are all new to Moscow, having come from the provinces, and are sharing a room in a hall of residence.
Despite a failed first attempt, ambitious Katerina (Vera Alentova) is determined to enter university and is spending her evenings after work at a factory studying. Carefree Lyudmila (Irina Muravyova) sees life in Moscow as a big lottery. She wants everything straightaway: to meet a good-looking and well-off man with a flat in Moscow. Modest Antonina (Raisa Ryazanova), meanwhile, works as a painter at a construction site and at the very start of the film marries a fellow worker.
Moscow does not believe in tears - Trailer. Source: YouTube
Gradually, Katerina's story becomes the film's central plot strand. After a brief affair with a high-flying film student, she becomes pregnant and is lectured by his formidable and domineering mother about the sorry fate that awaits single mothers in Soviet society. Despite all the difficulties she has to go through; Katerina forges a spectacular career and in her early 40s finds her true love.
The topic of single motherhood caused a lot of controversy at the time – officials in the Soviet film industry did not want to see it promoted on screen. But the film's astonishing box-office success, followed by the Oscar, made them change their minds about this "soppy melodrama not worthy of the Soviet woman."
Getting his hands on the Oscar
Vladimir Menshov's Oscar story was very typical of the Soviet era too. He was not allowed to travel to attend the ceremony itself and, having heard the news of his win on TV on April 1, thought that it was an April Fool's Day prank. Generally speaking, there is a tradition whereby a Soviet/Russian film receives an Oscar once every decade: War and Peace won the prize in 1968, followed by Dersu Uzala in 1975, and after Moscow Does Not Believe in Tears in 1981 came Burnt by the Sun in 1994.
For years, Menshov's Oscar statuette was kept at Goskino (the State Cinema Committee, which oversaw the Soviet film industry and was also in charge of censorship issues). When in 1989 he was presented with a national film award Nika, his Oscar was also brought on stage during the ceremony. Menshov seized the opportunity to get hold of his statuette and refused to hand it back when the ceremony was over. And he was perfectly within his rights to do so. Just like the characters in his most famous film who followed long and winding paths to happiness, he too finally attained the most coveted prize in world cinema.
The Take Tw@ film festival is run by the Rossiyskaya Gazeta newspaper.
As part of this year's Take Tw@ festival, viewers will be able to watch two more of Menshov's films, Practical Joke (1977) and The Envy of Gods (2000), as well as the film Time of Desires (1984), starring Vera Alentova.
To watch Take Tw@ festival films, with English subtitles, please visit the official web-site.
All rights reserved by Rossiyskaya Gazeta.