Makaronnik c Tvorogom. Source: Anna Kharzeeva
This week's lunch wasn't very appetizing, but I had plenty of containers to choose from when bringing the leftovers home.
This piece is part of the Soviet Diet Cookbook, a blog about a modern Russian girl cooking Soviet food. To read more of the series, click here.
I went over to my grandmother's to make this week's lunch and pick her brain about it. I'm impressed she still opens the door to me, considering just how many questions I've been asking these past six months.
After lunch had been cooked, Granny packed it in one of my containers and sent me home. Last week I had gone over to her place to share my kulich and left my container there. I didn't think any more of it, but she did. In her house, any conceivable food container gets saved and re-used. She has packaging that once held sour cream, honey, jam.....Big ice cream containers and expensive chocolate boxes are rated as highly as family silver. Plastic bags get stored in a special bigger bag, and every new item for the collection is neatly folded and added to the bunch.
While cooking makaronnik s tvorogom – pasta baked with cottage cheese, sort of a very misguided cousin of lasagna and one of those Soviet dishes that really doesn't make you miss your childhood – I learned about packaging a la U.S.S.R.
"Almost nothing was prepackaged," Granny told me. "Tea, grains, pasta – 40cm long! - butter, cheese, salami: it was all packed in rough gray craft paper and weighed on scales. Dairy products came in glass bottles, with different colored lids – that's how we could tell milk from kefir. Eggs would be carried around in metal mesh bags. Perishables would be bought in small quantities – until 1962 we didn't even have a fridge to store them in.
"When we went to Estonia, which was always more advanced and Westernized, they sold milk in plastic bags. My mother couldn't throw the empty ones out, so she started knitting rugs with the bags cut into thin strips."
Munka, my great-grandmother, later discovered the world of big colorful plastic bags, of which she made a number of round rugs. I still use one in my bathroom. It's the "greenest" part of my apartment.
Eco-friendly, green and blissfully unaware of the terminology, Soviet citizens carried their goods home in what is one of my favorite Russian words – avos'ka, a "just if I'm so lucky" bag. It took up almost no space, and should you stumble upon a line on your way home, you would have something to carry back whatever your luck brought.
As for state-organized packaging, vegetable warehouses seemed to rely not on luck, but on university professors, librarians, accountants, students and other qualified personnel to do the work for them.
"We were regularly sent to the vegetable warehouse to do different types of work, like weeding out bad vegetables and packing the good ones. Everyone who didn't work at a factory or a plants would do it in their working hours. My cousin Zinovy Paperny, a literature professor and critic - and a rather well-known comedian - would put a card in every bag of potatoes he packed, that read: 'these potatoes have been packed for you by literature professor Paperny Z.S.'"
As we finished eating the makaronnik, which tasted as bland as expected, – the pasta, cottage cheese, salt and sugar for which all came separately packed in plastic covers, which in Russia don't get recycled - I couldn't help but wish there would be a small note in the package from a witty, if not completely over-qualified, professor.
Makaronnik c Tvorogom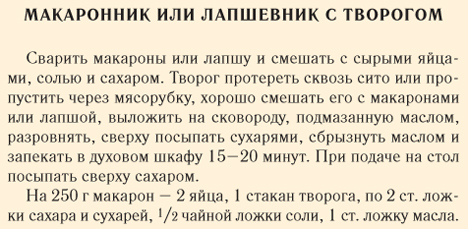 Ingredients:
250 grams pasta; 2 eggs; 1 cup tvorog or cottage cheese-filled; 2 Tbsp sugar; 2 Tbsp breadcrumbs; ½ Tsp salt; 1 Tbsp butter, melted
Boil pasta or noodles. Mix with raw eggs, salt and sugar.
Mince the tvorog, or push it through a sieve.
Mix it with pasta or noodles.
Press into a well-greased dish. Sprinkle with breadcrumbs. Pour butter over the pasta and bake in the oven for 15-20 minutes. Before serving, sprinkle with sugar.
All rights reserved by Rossiyskaya Gazeta.