'Masha and the Bear' second season to air in the UK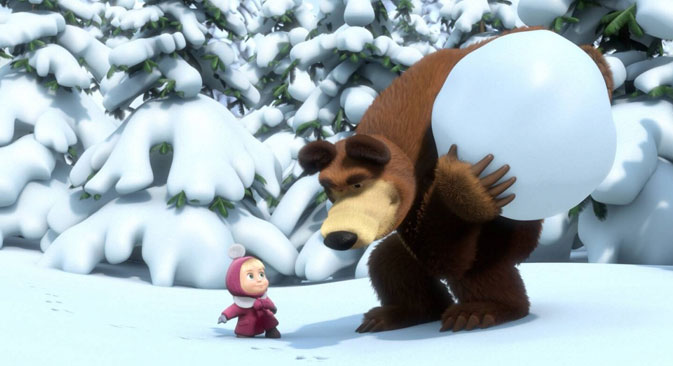 A screenshot from 'Masha and the Bear.' Source: kinopoisk.ru
Popular award-winning children's show proving a big hit internationally.
British broadcaster Turner, part of the U.S. Time Warner Group, has picked up the distribution and screening rights to the second season of Russian cartoon series, 'Masha and the Bear' at an international TV content market.
Turner, which airs animation in the UK and Europe on Cartinito and Cartoon Network, is already screening the first series and did a deal for the second series at MIPTV in Cannes, Russian internet entertainment portal ProfiCinema reported.
Vladimir Gorbulya a sales and licensing agent for the Russian animated series, said marketing strategy at the bi-annual TV content show in the southern French resort had been to "meet with channels and distributors who had already bought the rights to 'Masha and are how interested in acquiring second season rights."
Circus bear
He added that the cartoon about a little girl and her friend, a large brown bear that is a former circus performer and their adventures together, had proved popular in Europe and a key focus now was on expanding sales into North America and Asia.
The first series is being aired six times a day, including weekends and, according to ProfiCinema, is popular with both children and their parents.
Last month the popular children's show became the first Russian animated series to pick up an award at the cartoon world's 'Oscars', when it won the prestigious 2015 Kidscreen Award for best animation in the Creative Talent category at a ceremony in Miami, Florida.
Series producer Dmitry Loveiko said the award was a major milestone in Russian cartooning, telling Izvestia that it was "practically the first time that a Russian animation series had been recognised at an international professional level.
The cartoon has proved a big hit on YouTube, with more than 2.5 billion views in 2014, making it the 20th most popular channel on the video sharing service.
Masha and The Bear - Hide and seek is not for the Weak. Source: YouTube
'Mash and the Bear' is currently competing in the 'Cartoons on the Bay Pulcinella Awards' in Venice, Italy with the results due to be announced April 18.
The cartoon was first released in 2009 and each episode is six minutes long.
In the USSR, animation was a huge cultural phenomenon. Besides being entertainment, Soviet animations also commented on society's hopes and fears
All rights reserved by Rossiyskaya Gazeta.