Whether it's more traditional forms of dance such as ballet and folk dancing or Latin dances such as salsa and tango, Russians are flocking to dance floors around the country in ever increasing numbers. To mark International Dance Day on April 29, RBTH investigates the nation's growing love affair with dance and finds out which dances are most popular in today's Russia.
Ballet and 'body-ballet'
Classical ballet is one of Russia's most famous international brands. Ballet has always been popular in the country and that remains true to this day, despite enrolling in a school being quite difficult, not to mention expensive.
It is important to specify that classical ballet is a lot like professional sports – to achieve excellence, one has to start at a very early age. For this reason, most of the schools only accept preschoolers (or, in rarer cases, children under the age of nine).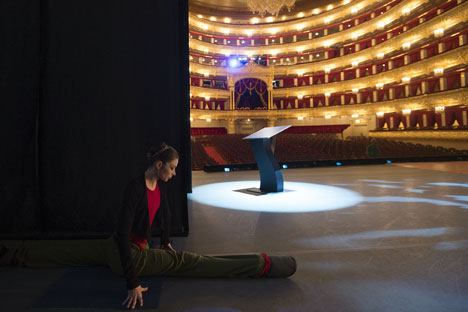 A ballerina warms up before the performance. Source: Ilya Pitalev / RIA Novosti
That said, Russian dance schools have recently started offering ballet classes for adults. Called "body-ballet," the new discipline combines choreography with aerobic exercise and involves no age limits. "This practice provides a lot of benefits for the muscles and flexibility. It's suitable for anyone who's looking for an alternative for yoga, which is also hugely popular among our clients," says Alexander Grigorevsky, director of Moscow-based dance school Agnis.


Folk dancing
Russian folk dancing is also quite popular throughout the country. During the Soviet era, government-funded folk dance ensembles were everywhere, and almost every community center throughout the USSR offered folk dancing classes to people of all ages. After perestroika, the schools began to die out, but the Ministry of Culture has lately started to actively support the surviving ensembles.
"The performers from the world-famous Alexandrov Ensemble are currently engaged in something I'd call charity – they give free or cheap lessons in the neighborhood dance clubs in Moscow, attracting more people to folk dancing," says Marina Yegorova, the choreographer of the Loktev folk dancing ensemble.
Еhe Loktev folk dancing ensemble - Kalinka. Source: YouTube
The Loktev Ensemble itself is keeping alive the traditions of Soviet dance schools: The atmosphere here is as strict as in some ballet schools. Apart from folk dancing, students in the ensemble, which accepts preschoolers aged from three to six, study classical dance and rhythm.
According to Yegorova, there are not many places where one can master actual Russian folk dancing in its original form. "Just like most ensembles, we base our performances on the elements found in Russian and, more broadly, Slavic dance techniques – these are the beryozka [a type of circle dance], the gopak, the squatting dance... Modern dancers find this more interesting than mastering unsophisticated folk dances, which are quite simple."


Ballroom dancing
Another part of the country's Soviet heritage is ballroom dancing, which remains quite popular, with new schools still being opened throughout Russia. One reason for the popularity of this form of dance is its inclusiveness – the schools accept people of all ages, starting from five years old. Dance contests even have a special senior division for adult dancers who have started practicing recently.
The appeal of ballroom dancing is only reinforced by the recent achievements of Russian in international competition. The year 2015 in particular started very well for Russian dancers, with several pairs winning major European events.
"There are currently more than 45,000 dancers registered with the Dancesport Union of Russia. There are also a huge number of amateur dancers who treat it as a hobby," says Yelena Uspenskaya, head of the press service of the Russian Dancesport Federation.
"Ballroom dancing appeals to people of all ages and diverse social backgrounds. This type of dancing is similar to aerobic exercise," says Uspenskaya, who points out that with its elegantly-dressed women, suited men, and carnival atmosphere, ballroom dancing is "one of the most elegant forms of dance."
Social dance
Social dance has been steadily growing in popularity over the last decade in Russia, with a nationwide explosion in schools teaching the basic steps of dances such as salsa, tango, hustle or boogie-woogie, and dance halls where dancers go to practice and meet new people. One of the most popular dance floors in Moscow can be found in Gorky Park. Opened 10 years ago, it holds dance sessions in the warmer months. The local favorites are salsa, samba, the hustle and swing.
Dance flashmob, 2012. Source: YouTube
Both a form of socialization and a recreational activity, social dancing is especially enjoyed by adults and seniors. "My students are people aged 30 and older. And – among other reasons, of course – they learn tango to meet new people," says Alexander Grigorevsky.
"And this makes sense: You cannot just walk and hug a stranger, and here you can freely embrace a girl and dance with her for half an hour. And she will be only too happy about it."
All rights reserved by Rossiyskaya Gazeta.