Thai children can study Russian dance for free in Bangkok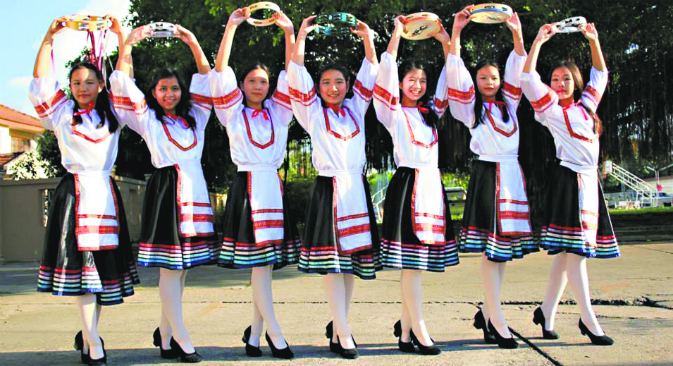 Ekaterina Alekseyeva has been running a dance academy in Bangkok for five years now, giving free lessons to children from working-class Thai families.
Becoming a dancer was Ekaterina Alekseyeva's childhood dream, and she worked on bringing this dream to life one little step at a time. After finishing high school, she graduated cum laude from Minsk State College of Arts and went on to dance in the famous Belorussian ensemble, Spas ("Savior"). In an unpredictable twist of fate, her life changed when she got married and settled down in Thailand 12 years ago. Ekaterina entertained thoughts about creating her own ensemble, but it seemed like a very dim and distant prospect.
Vaganova method
Dance instruction at the school is based on the famous Russian methodology of classical dance teaching by Agrippina Vaganova. In the 1930s, Vaganova systematised the heritage of Russian ballet theatre and the best specimen of European ballet into a methodology that was at the core of classical dance teaching practices at Soviet schools. Her experience is consolidated in the book titled "Fundamentals of Classical Dance" published in 1934. A must-have handbook for generations of instructors, this book has come out in eight editions in Russian and has been translated into other languages.
"I couldn't imagine how I could teach and explain the theory of dance in the Thai language," Ekaterina recalls, adding: "Plus, Bangkok has such a wide variety of dance schools that this seemed downright impossible. That's why I went into business and opened my own company. But I still had this feeling deep down... How could this be possible? I devoted my entire life to dance and painstakingly worked toward my long-cherished goal, and all of a sudden I had nothing to show for it. Years later, when my business was pretty much running by itself and I became fluent in Thai, I decided to go for it and open a dance school — one that would be fundamentally different from other schools in Bangkok. I chose Russian folk dance specifically to bring this art form to the Thai people. We had our first class five years ago, attended by children who simply wanted to practise dancing. There were only four of them. The number of students has been growing steadily, and now we have 70 boys and girls aged 3 to 18, split into four age groups.
"Rehearsals are scheduled 3 or 4 times a week. The kids practise folk and classical dances. We never screen out students. We admit everybody who wants to learn. The most important thing is instilling a sense of confidence in children and helping them to understand that they are capable and will succeed. This yields amazing results a little way down the road.
"We always begin the process of mastering a new dance by learning about it. Every dance production involves studying the history of the dance, watching a short documentary, learning the history of the costume, and discussing the meaning of the song or plot of the performance.
"Children often choose to learn the song lyrics too. Russian folk dances combine the beauty of the world around us with the dancers' own inner beauty. We also teach Belorussian dances and folk dances of other nations, as well as classical dances. We have staged more than200 performances over the past five years. In the future, I would like our school to become a real choreography ensemble after the fashion of the Igor Moiseyev Folk Dance Ensemble – to give Thai children an opportunity to get to know the beauty and grandeur of thechoreographic art of Russia, Belarus, and Ukraine. We have set the goal and are working towards it one tiny step at a time."
It seems that these steps are becoming more and more confident.
In March, Thammasat University hosted the first grand public performance by the Katusha Folk Dance Ensemble of Ekaterina Alekseyeva's academy as part of a concert staged by the Russian Studies Program and the recently established Phoenix Russian Cultural Centre.
Among the guests of honour were Kirill Barsky, Ambassador of Russia, with spouse and Associate Professor Dumrong Adunyarittigun, dean of the Faculty of Liberal Arts.
All rights reserved by Rossiyskaya Gazeta.