Lemon cakes made with a Soviet miracle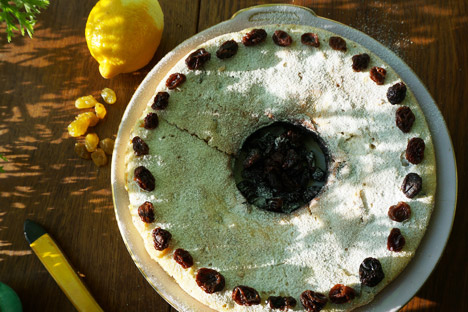 Lemon cake. Source: Anna Kharzeeva
The "chudo" was a device created so that Soviet-era housewives could still bake even if they didn't have access to an oven.
So far for this project, I've done my baking in a modern oven using baking molds of all size and variety, but now it's time to try a true Soviet device, and a miraculous one at that — a "chudo," the Russian word for miracle.
The Book dedicates a good page to the wonders of baking in a chudo – pun completely intended. According to the Book, you can bake anything in a chudo — from biskvit to pirozhki.
You might wonder what chudo is. I'll try to explain. It's an aluminium circle dish with a hole in the middle, covered by a lid with small holes in it – you can rotate it to have the holes open or shut.
I didn't understand quite what was so miraculous about it, until Granny explained it to me: they were invented at the times of primus stoves and kerosene burners, before there was ever any talk of gas and ovens.
You can just put it on a small primus, which was something every family in a communal flat had —and it will bake stuff! A chudo indeed. Miracles weren't happening in all families however – Granny's friend Aina says they didn't have one and only borrowed one once. Luckily, Granny was one of the proud owners of the miraculous device.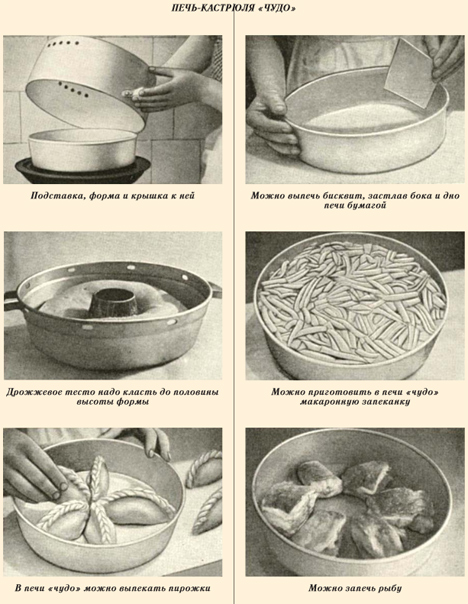 A "chudo" pan. A picture from the Soviet Cook Book, page 301
I chose a lemon keks to test out Granny's chudo, which is more than 50 years old, just to see how the miracle has held up over time. No spoilers alerts here – you have to stay with me a little longer.
We made the dough and put it into the chudo. The initial plan was to put it in the oven, but then a spark of inspiration came, and we thought we'd go all adventurous and make it on the stove.
For a while it just sat there on the stove on very low heat, until I got impatient and asked Granny to put the heat up a little. We smelled burning right away.
Luckily, my mom arrived about the time the smoke did and saved the day. She suggested putting the chudo on a smaller burner so the flames would go inside the hole and heat up the chudo from within. I trusted her instantly because, well, she's my mom, but also she was the only one in the room with a physics degree.
An hour after we started, we sat down to enjoy our creation – yes, it was burnt on one side, and not entirely cooked through – especially on the side that got burnt, funnily enough. But we didn't have enough patience to wait any longer, and cleaned it up in no time. My husband loved it, too – although he didn't know the full story.
We all agreed the recipe was good and that we'd try it again – but in the oven.
"I don't remember exactly when we first had gas in our apartment – but it was in the '50s while Stalin was still alive," Granny said. It was happiness – we got two ovens and stoves for the five families that lived in the apartment. We still used the chudo, however. I still use it now, although not very often."
This Soviet creation goes to show just how important baking is, even if all you have is a primus. Hot pirozhki in the kitchen or tiny room of a communal flat prepared by a loved one (or stolen from a neighbor who looked away) – is it really that short of a miracle?

Lemon Cake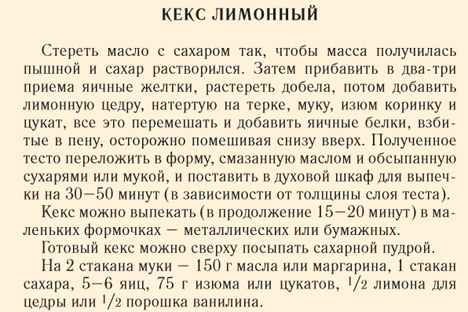 The recipe from the Soviet Cook Book, page 299
Ingredients:
2 cups flour; 150 g butter; 1 cup sugar; 5-6 eggs; 75 grams of raisins or candied fruit; 1/2 lemon, for zest
Separate the eggs and whip the egg whites until they are foamy. In a separate bowl, combine butter and sugar until the sugar has dissolved. Then, add the egg yolks in two or three portions, mix well.
Add the lemon zest, flour and raisins (or candied fruit). Mix well. Add the egg whites, gently stirring from the bottom up. Put the dough in a baking pan greased and sprinkled with breadcrumbs or flour.
Bake for 30-50 minutes (depending on the thickness of the dough). The cake can also be separated into smaller parts and baked in small tins. Baking will then take 15-20 minutes. Serve the cake sprinkled with powdered sugar.
All rights reserved by Rossiyskaya Gazeta.