London's Hyde Park gets sculpture by Russian artist Dashi Namdakov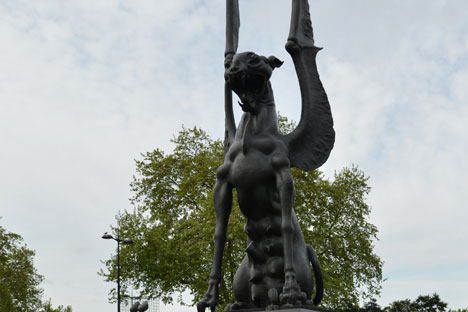 She Guardian sculpture unveiled near Marble Arch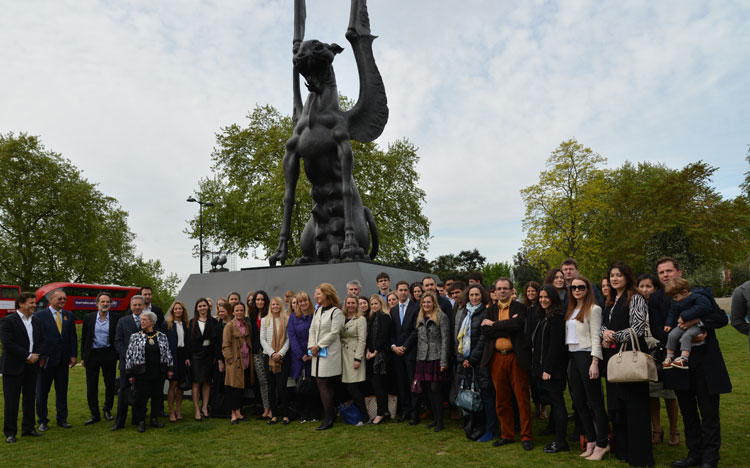 She Guardian in London's Hyde Park. Source: Russian Embassy in the UK
A sculpture by Russian artist Dashi Namdakov has been unveiled in London's Hyde Park, close to Marble Arch.
She Guardian went on display in the park March 11, where it will remain until the end of 2015.
The monumental bronze figure of a winged cat protecting its brood stands 11 meters high and is inspired by Buddhist mysticism.
Namdakov, born close to Russia's border with China, spent more than two years creating the sculpture.
"Russia is a multicultural and multi-ethnic country and Namdakov is a bright representative of Buryat people, born in the vast expanses of Eurasia next to the Baikal lake," Alexander Yakovenko, the Russian ambassador in London said at the unveiling of the sculpture.


"Namdakov is a sculptor, an artist and a jeweler, his works are displayed in museums and galleries all over Russia and worldwide. [Including Tibet House of New York and Arts Museum of Guangzhou, China - RBTH] This bronze sculpture embodies the cultural heritage of the Ancient East," Yakovenko added. 


Three years ago, in 2012, Namdakov displayed another piece of work, an equestrian statue of Genghis Khan on the same site. Both have been supported by London's Halcyon gallery.


Dashi Namdakov was born in 1967 in the Buryat village of Chita Region (Transbaikalia, Russian Far East); he studied in the Krasnoyarsk state art institute. Namdakov held his first personal exhibition in 2000.


Based on an original story on RIA Novosti
All rights reserved by Rossiyskaya Gazeta.