Indian President says 'Namaste Russia;' visit reflects importance of ties with Russia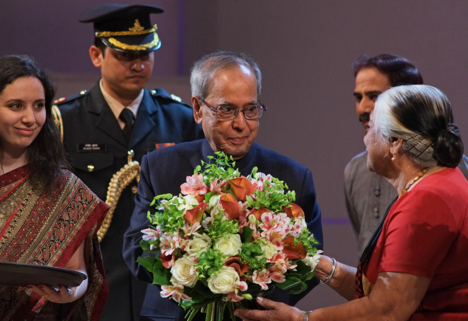 Pranab Mukherjee at the opening ceremony of the Festival of Indian Culture "Namaste Russia" in Moscow. Source: Moskva News Agency
Indian President Pranab Mukherjee inaugurated the Festival of Indian Culture, 'Namaste Russia,' in Moscow on Sunday, May 10. Concluding his first visit to Russia as president, Mukherjee said his visit reflected the importance India places on its strategic partnership with Russia.
Concluding his four day visit to Moscow the Indian President, Pranab Mukherjee, said he was satisfied with the tour, undertaken primarily to participate in the Victory Day celebrations to commemorate the 70th anniversary of the end of World War II, or the Great Patriotic War, as it is known in Russia.
Before his departure, the Indian president said, "By joining the commemorative events related to the War and the terrible human suffering that it caused, India has reiterated its solemn commitment to peace and our resolve to avoid war and conflict. We also re-affirmed our abiding solidarity with Russia on this important and historic occasion which holds deep significance for the Russian people," he said.
The President also inaugurated the 'Namaste Russia' Festival of Indian Culture in Moscow on Sunday, May 10.
Speaking on the occasion, the President said Indian culture and its heritage of art, music and cinema have enjoyed love and appreciation across Russia over centuries. In India too, there is enormous warmth and regard for Russian culture as showcased in its ballet, literature and traditions.
"Last year we had hosted the Festival of Russian Culture in India. Cultural interactions have always been a significant aspect of the India-Russia relationship," he said.
Russia's Gerasim Lebedev, arguably the first European Indologist, pioneered the Bengali theatre 220 years ago in Kolkata, he said.
The President announced that the Indian Council of Cultural Relations (ICCR) will institute an annual Distinguished Indologist award to promote Indology abroad.
The ICCR will organize a regional conference on Sanskrit and Indology in Russia, while support for the Indian Chair in the Institute of Philosophy of the Russian Academy of Social Sciences will be continued for another two years.
Read the full story at Russia&India Report.
All rights reserved by Rossiyskaya Gazeta.