International Chekhov Theater Festival opens in Moscow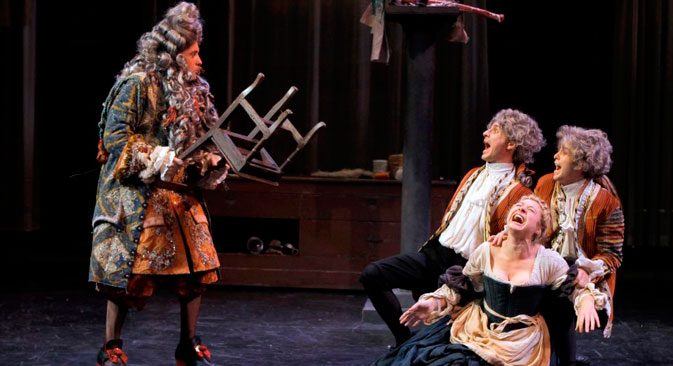 The 12th Chekhov International Theatre Festival opens May 13 with "The Bourgeois Gentleman" (Le Bourgeois Gentilhomme) staged by Denis Podalydes of the Theatre des Bouffes Du Nord in Paris. Source: Press photo
The program includes stage productions from Argentina, the UK, Germany, Spain, Italy, China, France, Japan and other countries.
The 12th Chekhov International Theatre Festival opens in Moscow May 13. Running through July 17, its program includes 19 stage productions of different genres from 12 countries – Argentina, Belarus, Great Britain, Germany, Spain, Italy, China, Russia, Taiwan, France, South Africa and Japan.
Better known as Chekhofest, the event's program consists of two main parts. Productions of the festival's foreign participants will be shown in the World Series, while the Moscow Program will feature recent productions staged by foreign directors and choreographers from Moscow theaters.
Jean-Maurice Ripert, the French ambassador in Moscow, told reporters that event was "the greatest in the theater world" and participating in it was a great honor for any performer.
French bias
There are more French plays in the festival's main program than others, due to long established "warm relations with French partners," according to festival general director Valery Shadrin. He added that Chekhovfest both opens and closed with French productions.
The festival opened May 13 with The Bourgeois Gentleman (Le Bourgeois Gentilhomme) staged by Denis Podalydes of the Theatre des Bouffes Du Nord in Paris. Stage design for the play is by Eric Ruf, who was recently appointed artistic director of the Comedie Francaise theater.
"Our theaters have a lot in common even today," Ruf told RBTH.
"Russia occupies an important place in French theater not only in classical drama and echoes of Diaghilev's seasons, but also in the new style of relationship between the actors and directors. The Russian school is revered around the world."
Conflicting schedules
He added that a production of Rossini's Phaedra by Russian director Dmitry Chernyakov at Comedie Francaise has been postponed due to conflicting schedules and his "dream as an artistic director is to invite the great director Anatoly Vasilyev to stage it."
The festival also includes The War by Vladimir Pankov – a co-production of Chekhovfest, the Edinburgh International Festival and SounDrama Studio. The production, as the director notes, is about the fact that "Russians have never wanted a war."
After Chekhovfest, The War will tour Russian cities, and will be staged at the Théâtre de la Ville in Paris, January 12-15, 2016.
Other plays being performed during Chehkovfest include dance performance Tango and Night by the Argentinian theater Tango Metropolis Dance Company and Jian Bin Zhang's opera Women Generals of the Yang Family performed by Fuzhou Min Opera Art Development Center, as well as choreographic productions "I, Carmen" by Maria Pagés Company from Madrid and Mahabharata – Nalacharitam by the Shizuoka Performing Arts Center.
The Moscow Program will include productions staged at the Bolshoi Theater, the Chekhov Moscow Art Theater and venues by directors that include Peter Stein, Declan Donnellan, Jean-Christophe Maillot and John Neumeier.
The festival will close July 13-17 with Luc Bondy's The False Confessions staged by the Paris-based Odeon-Theatre de l'Europe. It stars movie actors Isabelle Huppert and Louis Garrel.
Visit the official website of Chekhovfest for more information.
All rights reserved by Rossiyskaya Gazeta.