"Darling, I have to warn you: lunch is going to be very healthy today," I told my husband after making this lunch. We usually eat pretty healthy anyway, so I knew my husband might be alarmed by this statement.
I've been feeling a bit under the weather and thought it was a great chance to cook something from the huge section of the Book called "medicinal food." It beams rather unappetizing names like "sponge cake with nuts and raw liver," "gooey barley soup with meat stock" and "cream of oatmeal soup with milk and egg." Admittedly, there are some recipes that sound ok in there, too, but I knew I wouldn't be able to bring myself to cook any of it unless I was actually unwell.
I chose to make gematogen strips and steamed chicken and rice balls. While the chicken and rice balls are pretty straightforward, I think I have to explain what gematogen is.
In my experience, it's a sweet, unique tasting bar, like a chocolate bar, you buy at the drugstore, that for some reason is very good for you. Why it's good for you, no one knows, but as a kid you just take the sweets that come your way and ask no questions. Most Soviet children grew up chewing on gematogen.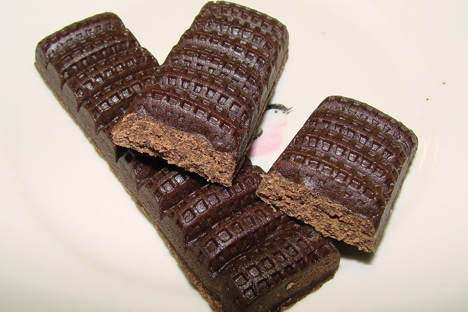 Gematogen bars. Source: Wikipedia. org / Sergei Frolov, sfrolov.livejournal.com
I asked Granny if she knew what was in it, she said "bile maybe? I don't know!"
I had to consult Wikipedia on this, and it said gematogen is made of dry cattle blood! It has a lot of protein and amino acids and is good for you blood, but I really don't want to finish those gematogen strips now…
Granny also told me it would be used as a laxative for children, and, as her aunt remembered, sometimes for teenagers, too:
"Before the war my aunt was head teacher at school and she told me that once in her class – a class of very nice kids, she said, gematogen was used for the purposes of revenge."
Here I just have to add that Women's Day is huge in Russia, and was in the Soviet Union – all women get gifts, and at school all the boys give all the girls gifts. It's very important.
"The boys in the class either didn't give the girls any gifts, or didn't do a good enough job – in any case, the girls planned their revenge: they bought gematogen – it was sold at drugstores and in shops next to chocolate- wrapped it nicely and treated all the boys to it before class. Naturally, the boys all had to leave half way through class to use the bathroom. The girls got into trouble for that!"
I changed my mind about maybe serving gematogen strips at a party for fun now – they taste pretty good, and are easy to make but now I'll just cringe every time I hear the word! Some childhood myths are best left alone.
"My heart feels better already" – my husband said, putting the first mouthful in.
"It's supposed to be good for your stomach" – I replied.
Heart, stomach, blood – the recipes did their job and I feel much better already, which is good, since I certainly can't take any more of that health food, thank you very much!
Energy bars with gematogen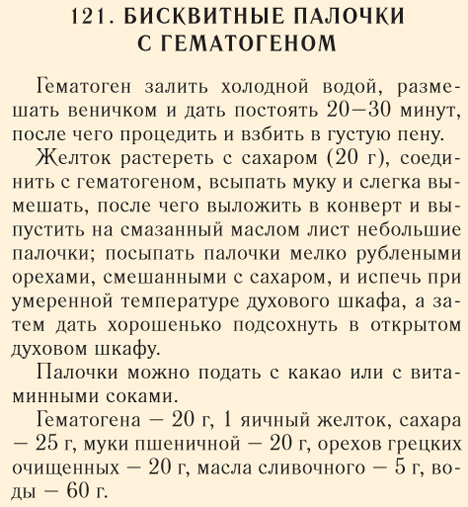 The recipe from the Soviet Cook Book, page 366
Ingredients:
20 grams gematogen; 1 egg yolk; 25 grams sugar; 25 grams wheat flour; 20 grams walnuts; 5 grams butter
60 mL water
Pour the water over the gematogen and let stand for 20-30 minutes, then strain and whip into a thick foam.
Combine the egg yolk with 20 grams of sugar. Mix with flour. Stir, then spread onto a greased baking sheet. Mix the nuts with the remaining 5 grams of sugar. Sprinkle over mixture. Bake in a moderately-warm oven then let dry thoroughly in the oven with the door open. Cut into bars and serve with cocoa or juice.
Chicken and rice balls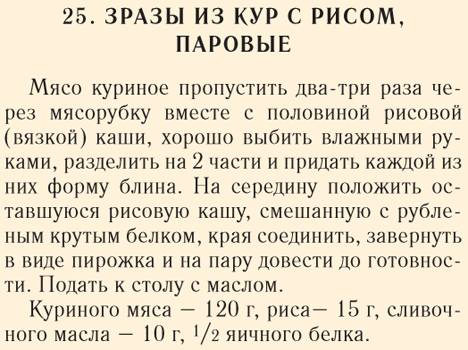 The recipe from the Soviet Cook Book, page 350
Ingredients:
120 grams chicken; 15 grams rice; 10 grams butter; ½ egg white
Put the chicken through a meat grinder two or three times. Cook the rice according to directions. Combine the meat with half the rice. Mix well.
Add the egg white to the other half of the rice. Make a well in the meat-rice mixture and add the egg-rice mixture. Form the mixture into small patties and bake until done. Serve with butter.
All rights reserved by Rossiyskaya Gazeta.