Sakhalin's Koreans: Russian at heart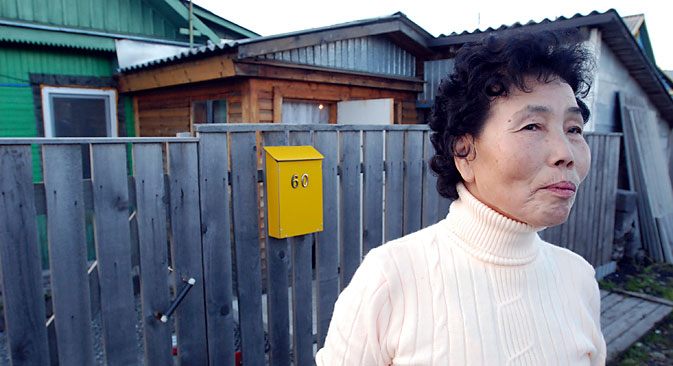 Pak Den Dya, an ethnic Korean living on Russia's Sakhalin Island, poses in front of her home in Yuzhno-Sakhalinsk, Russia. Source: AP Photo/Burt Herman
The oil and gas-rich island in the Russian Far East has a sizable ethnic Korean minority; a community that has assimilated into Russian society.
When the last ships carrying fleeing Japanese citizens left the shores of southern Sakhalin in the late-1940s, a human problem was created as a result of early-20th century geopolitics. A sizable number of people, who belonged neither to Japan nor the Soviet Union, were stranded in the southern part of the island (which was under Japanese rule from 1905 to 1945). The ethnic Koreans were brought as slave labour to southern Sakhalin or Karafuto as the Japanese called their part of the island. The retreating Japanese refused to accept the Koreans as their own citizens and the volatility in the Korean peninsula left the community in limbo.
Flash forward to 2015 and the oil and gas-rich island is proud of its model minority. Most of the members of the 40,000-strong Korean community have Russian citizenship and are completely integrated into the cultural life and society of the island. It's possible to see ethnic Korean postal employees, businessmen, bureaucrats and even customs and immigration officers in Sakhalin.
Korean cuisine has also spiced up the cuisine of the island, known for its great sea food. Most shops sell spicy Korean salads along with traditional Russian favourites and not all the customers buying the Kim Chi and chilly-laced salads are Korean. The administrative centre of the island, Yuzhno-Sakhalinsk, has a fair share of Korean restaurants, although diehards from Seoul swear that the food isn't even close to being authentic.
Ethnic Korean youth are native speakers of Russian and while some of them can speak a smattering of Korean, for many the second language of choice is English, given the global opportunities that the language can open up. Many schools in Yuzhno-Sakhalinsk offer Korean as a second language but a lack of practice often makes children forget the language after graduating.
"The only thing Korean about them is their blood," says Tommy Roo, a former student of the Sakhalin State University, who moved back to his native Busan after spending 5 years in Yuzhno-Sakhalinsk. "Many of them don't even eat Korean food and have a totally Russian mentality," Roo says clarifying that he doesn't view this in a negative light.
Oleg Kim, a 45-year old now based in St Petersburg says growing up in the USSR made it easier for his peers to assume a "common identity, distinct from an inherent Koreanness." Kim, like many other Sakhalin Koreans, managed to do a light military service, which had little more than symbolic value.
Identity crisis and envy
Others like 28-year old Oksana Lee grew up with an identity crisis and even lived in Seoul and Moscow to "try and find herself." Lee finally ended up moving back to Sakhalin as she felt most comfortable in the multi-ethnic island. "I was too Russian in Korea and too Korean in Moscow," Lee says, adding that she was verbally abused in Moscow during a riot in 2002 following the Russian football team's loss to Japan in the football World Cup. "That's when I stopped feeling Russian and started feeling like a Sakhaliner," she says.
Generally believed to be hard-working, members of the community dominate trade and business in the southern part of the island. "It's because they form a Diaspora and support each other financially," says Sergey Danilov when asked why some of the largest enterprises on the island are Korean-run, including the island's first five star hotel. Danilov, a businessman in Yuzhno-Sakhalinsk, adds that many Sakhalin Koreans get financial help from their "countrymen" in South Korea, who are also busy with missionary activities on the island.
Oleg Kim, who left Sakhalin just before the oil and gas boom disagrees with Danilov's sentiments. "The island now has big Azeri and Tajik communities...Why aren't they doing so well?" Kim says that the envy from some ethnic Russians is just a "normal phenomenon," while adding that there is a great level of tolerance and acceptance on the island.
"When the need arises, Sakhaliners stick together," says Kim. He recites an incident in the spring of 2002, when several embassies in Moscow (including the Swedish, Indian and Japanese) received threats from someone called "Ivan" claiming to represent a neo-Nazi group. The emails turned out to be a huge hoax but spread fear across the country. There were rumours in Sakhalin that a group of skinheads were planning to cross over from mainland Russia using a ferry and then attack ethnic Koreans on the island. "Local criminals actually intercepted a group of skinheads at the port of Kholmsk in Sakhalin, beat them up and sent them back," says Kim.
This writer has heard the story repeatedly but no one in the police department on the island would confirm if such a thing actually happened. It's probably a story that many proud Sakhaliners repeat often enough that it has become some kind of urban legend.
All rights reserved by Rossiyskaya Gazeta.