Culture vultures flock to Moscow's Museum Night, despite the weather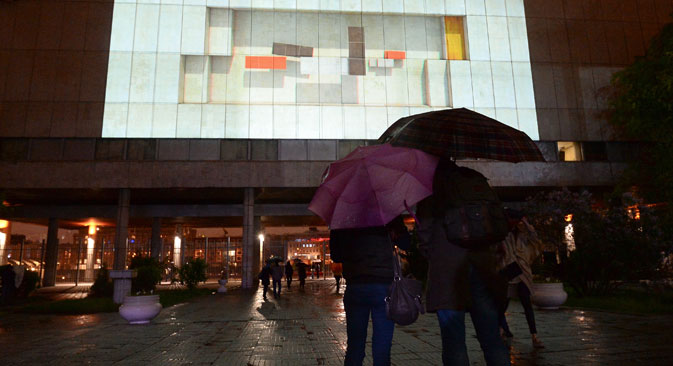 Spectators watch a video mapping show "Night in Square" as part of the international Museum Night event at the Tretyakov Gallery on Krymsky Val in Moscow. Source: Evgenya Novozhenina / RIA Novosti
The annual Museum Night attracted large crowds to museums, galleries and other cultural institutions all over Moscow, despite heavy rain. Judging by the lines outside venues, this year's most popular attractions were exhibits with a space theme, photo galleries and foreign embassies.
Russia's ninth annual Museum Night saw large numbers of people turn out all over the country to take advantage of free access to museums, galleries, and other cultural institutions, some of which are not normally open to the public.
The annual event drew the most number of visitors in Moscow. Despite dreadful weather, some 800,000 people came out to visit the capital's museums, galleries and even outdoor venues, according to Alexander Kibovsky, head of the Moscow department of culture.
Museum Night in Russia takes place on the third Saturday every May. This event was first held in Moscow in 2007, 10 years after the idea first originated in Berlin. On this day, all museums in the city are free and stay open till late at night. In addition, in Moscow members of the public can visit old 18th and 19th-century mansions that used to belong to the Russian nobility and merchant families and that now house foreign embassies.
Weather interferes with program
Since the program of this year's event remained secret till the very last moment, Muscovites and visitors to the city had only a couple of days to make up their mind as to where to go. This was not easy as they had to choose from over 250 cultural venues taking part in the event. For example, the Manezh exhibition hall offered a film marathon inspired by Dostoyevsky's Idiot; the Tretyakov Gallery staged a festival dedicated to Kazimir Malevich's Suprematist masterpiece Black Square; while the Moscow Museum of Architecture ran a project devoted to the 80th anniversary of the Moscow Metro.
On May 18, Moscow mayor Sergei Sobyanin announced that the city authorities were planning to run another Museum Night on May 23, the RIA Novosti news agency has reported.
"We think we may repeat it next weekend, so that everyone could make use of this opportunity to visit our museums and parks and so as to be able to stage the events that perhaps did not quite work last weekend because of the weather," said Sobyanin.
However, the unseasonably cold weather, with strong winds and heavy rain, interfered with many plans. Outdoor events either had to be canceled or, like the lecture on the influence of Russian Art Nouveau on Japanese art, which was held in the courtyard of writer Maxim Gorky's house, attracted a very small audience. On the plus side, many museums got numerous unexpected visitors, who were looking for shelter from the cold and the rain. There were many such chance visitors in the Museum of Moscow, which is conveniently situated right near the Park Kultury metro station.
The late evening saw the emergence of "culture zombies," people who had already been to several museums in one day and were clearly tired of looking at art. Yet they doggedly wandered among exhibits, possibly warmed only by the thought of how much money they had saved on entry tickets. They are probably unaware that entry to the very same museums in Moscow is free on the third Sunday of every month.
Surprise for foreign visitors
Alex Wickenden, who arrived from Canada six months ago, is teaching English in Moscow. He says his Russian friends wanted to see dawn from the roof of a museum: "I had never seen sunrise from the roof of a museum. And here was the Museum of Cosmonautics in the country which was the first to send a man into space. It could be an amazing experience."
Yet the weather interfered with those plans too. Wickenden and his friends had to satisfy themselves with the exhibits inside the museum: "We would have just been swept away from the roof by that rain! And yet there were so many people who wanted to get in; there was a huge queue. It was a good thing that we had registered in advance on the museum's website. And the cosmonaut food in tubes was too expensive, but I liked it."
For Veronique (she did not give her last name), a tourist from France, Museum Night in Moscow was a surprise.
"I did not know that Moscow staged this event too. I was on my way to the Izmailovo Kremlin since it is a popular tourist attraction. It turned out that there is a museum of vodka there! I visited it free of charge and was even given a shot of vodka to help me cope with the weather. But, to be honest, if I lived in Moscow and were not just a tourist visiting here for a short time, I would never go out into that weather," she said.
Excitement and stamina
The biggest excitement of the night, it seemed, was generated by the Derozhinskaya mansion, which houses the residence of the Australian ambassador (3 Prechistenskaya Naberezhnaya). Thousands of people were eager to see this Art Nouveau masterpiece, which is usually closed to the public, and the line of people hoping to get inside stretched all along Kropotkinsky Lane. Half of them were left disappointed, as they did not make it to the doors before midnight, when the mansion was closed.
The most stamina was shown by the Jewish Museum, which presented an avant-garde exhibition and works by the German-American photographer Alfred Eisenstaedt. Visitors to the museum could make a Suprematism-inspired picture featuring themselves, print it out and take it with them. No wonder that at three in morning, when the museum was closing its doors, there were still many people inside.
All rights reserved by Rossiyskaya Gazeta.