Russia's Eurovision entry Polina Gagarina reaches final in Austria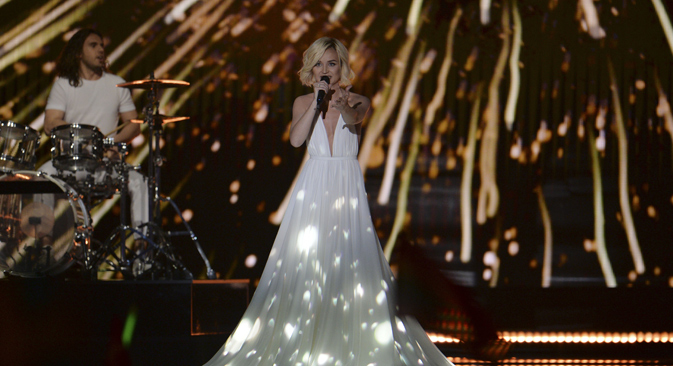 Polina Gagarina performs the song 'A Million Voices' during the first semifinal of the Eurovision Song Contest in Austria's capital Vienna, May 19, 2015. Source: AP
Russian singer Polina Gagarina has reached the final of the 2015 Eurovision Song Contest, to be held on May 23. Gagarina has received public backing from last year's winner Conchita Wurst, 2012 runners-up Buranovskiye Babushki and even Moscow's Special Purpose Mobile Unit while Duma Deputy Vitaly Milonov has criticized her.
Russia's 2015 Eurovision entrant Polina Gagarinahasmade it through the semi-finals of the annual song contest and will now perform in the competition's final on May 23. According to the draw, the Russian singer will perform in the second part of the final.
Gagarina, who performed her song "A Million Voices" in the semi-final in Vienna on May 19, told the TASS news agency that when she found out she had reached the final she started to cry. "I am incredibly happy," she said, apologizing for her English. "It is like giving birth again and seeing your son for the first time."
The singer also thanked her admirers for their support. "I am very proud of my country and happy that it all happened this way," she told journalists after the press conference.
Responding to a question about how she sees her chances of winning in Austria, Gagarina said that she "hopes for the best." "But no matter what the result is, I believe that Russia can be proud," she said.
Polina Gagarina - A Million Voices. Source: YouTube / Eurovision Song Contest
Support from former entrants… and the police
Russia's Eurovision 2012 silver medalists Buranovskiye Babushki congratulated Gagarina for making it to the final of the international competition.
"She has a good voice, a good range, the song is beautiful, powerful," said the manager of the singing grannies, Olga Tuktareva, in an interview with TASS.
Meanwhile, members of Moscow's Special Purpose Mobile Unit have prepared a video message in support of the Russian singer.
In the video the policemen appear to be developing special fighting techniques and tactics.
Video message in support of Polina Gagarina. Source: YouTube / CenterSpetsnaz
"The collaborators of the Moscow Special Purpose Mobile Unit know how important strong support and confidence in one's strength is when you are representing your country," said Svetlana Serkina, director of the Moscow Unit's press office.
While in Vienna, Gagarina met the winner of Eurovision 2014, bearded Austrian transvestite singer Conchita Wurst. Polina posted the video of their meeting and friendly kiss on her Instagram on May 18, writing that "Conchita was the first to approach me after rehearsal and shower me with lots of compliments… Beautiful, amazing… she says in the end! It's really nice! It's great!"
Conservative criticism
The video provoked a mixed public reaction. After reading angry comments from indignant admirers Gagarina wrote: "I'm reading the comments! You can't say this! Why are you so angry? It's all just a stage image and it works! She is a great performer and is very intelligent! I call on everyone to watch what they say!"
The most radical reaction came from Deputy of the St. Petersburg Legislative Assembly Vitaly Milonov, notorious for his eccentric initiatives and preoccupation with safeguarding Russia's morality.
While on the air on the Govorit Moskva radio station Milonov said: "No one has the right to call this woman, this performer a representative of Russia. She has no mandate from Russia. Since she made it to Eurovision through some rich promoters, it means that she's their, the producers', creation. But in no way that of Russia."
Milonov believes that Russia should no longer participate in the Eurovision music competition.
Based on material published by TASS and Govorit Moskva.
All rights reserved by Rossiyskaya Gazeta.