Singing souls: How karaoke is becoming a competitive sport in Russia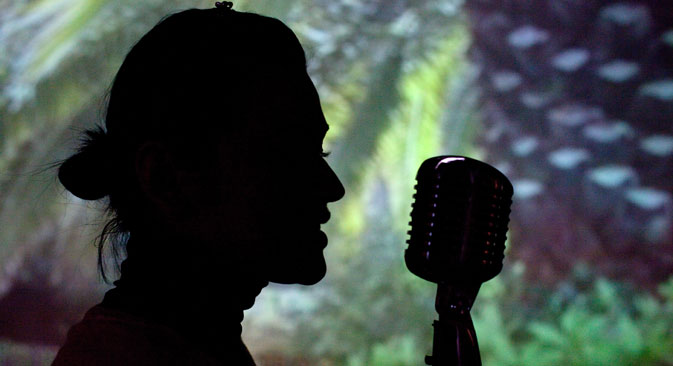 The first karaoke clubs in Russia appeared right after the breakup of the Soviet Union. Source: RIA Novosti/Ilya Pitaev
For many Russians, karaoke is turning from a pleasant pastime into a real sport. There are clubs in almost two dozen Russian regions.
In 2016, Moscow will host the first Russian-Asian karaoke tournament, the Asian Championship. Over the past decade, this popular pastime in Russia has evolved from a simple hobby into quite a serious sport.
"Karaoke singers are like a second family to me," says Mikhail Khaldei, a karaoke 'veteran,' who came fifth in the 2006 Karaoke World Championship, leaving behind nearly 100 other contestants. He continues to take part in all major karaoke events and is often invited as a judge now. "People who sing on stage open up to other people, which brings them closer together. That is why so many happy marriages are formed here, so many people find real friends here, people who would rush to help you whenever you call them," he adds.
Indeed, the atmosphere at karaoke championships is very warm and friendly. As a rule, the venue is not just a concert hall, but a café with a stage. Contestants have varying degrees of singing ability: There are those who sing out of tune or do not have a strong enough voice, however, the majority have a solid amateur level. Many have clearly given considerable thought to how to present themselves on stage, which results in exciting music numbers. Prizes can be quite substantial, from 50,000-ruble ($1,000) certificates for purchasing karaoke equipment to paid holidays to Turkey.
"When a person realizes that they will have to soon perform at such a big contest, they start working on their voice and on presentation," says Valeriy, a co-owner of the Karamel club in the south of Moscow that hosts selection rounds for the world championship. "We help them to become real artists, we even have dedicated instructors for that."
Karaoke's growing popularity
In 2006, the karaoke movement was only starting to develop and counted just 100 contestants in Moscow. The 2014 championship featured over a dozen Russian regions, and now the number of regions has nearly doubled.
Mikhail Bebing, the general producer of karaoke championships in Russia, has already started preparing for the 2016 Asian Championship. In his opinion, the Russian language is popular enough in China for Chinese contestants to perform songs in Russian at the championship. "Promoting our culture, our folk traditions is a priority for us. This year I would like our contestants to stop relying on English-language repertoire and start singing in Russian, no matter what," he says.
Bebing has been involved in producing and organizing championships practically since the birth of the professional karaoke movement in Russia in 2006. In 2016, he says, the project will develop a social dimension. There will be charity contests held for the benefit of children's homes and people with disabilities.
History of karaoke in Russia
The first karaoke clubs in Russia opened right after the breakup of the Soviet Union. At first, there were just a handful of them, however now their number is huge. It is not at all surprising that this industry has grown so much in a matter of 20 years. After all, Russians are a singing nation, famous for their tradition of drinking songs. Karaoke clubs in Russia are very popular as a place to have a birthday party, to hold a special celebration or to declare one's love with the help of a song.
Karaoke clubs in Russia usually have the format of a large hall, where the mike passes from one table to another. If you do not want to share the hall with four-five other tables, you will have to look for a VIP-room and pay more.
"Small booths did not really catch on here," says Vyasheslav Lopunov, president of a non-commercial partnership for promoting club-based karaoke, called the National Union of Karaokers. "We require a concert format! The era of intimate singing is over, this is a showbiz era. Karaoke has fit this niche perfectly."
Lopunov is convinced that Russians are a very artistic people, who seek self-expression. Therefore, it is not surprising that at some point karaoke has ceased to be just a pastime and has moved on to a new level.
All rights reserved by Rossiyskaya Gazeta.