After Rome, Sharapova looks to retain French Open crown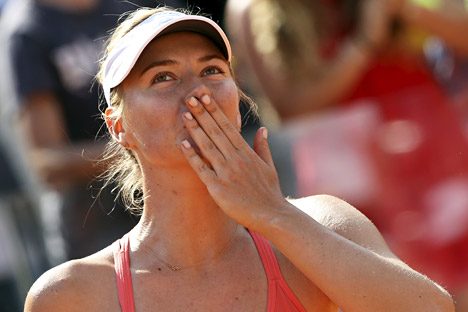 Maria Sharapova celebrates winning against Carla Suarez Navarro of Spain after their final match at the Rome Open tennis tournament, May 17, 2015. Source: Reuters
Coming in from her victory at the Italian Open in Rome, Russian tennis ace Maria Sharapova is looking set to defend her grand slam title at Roland Garros. According to observers, given her current form and a favourable draw in the tournament, Sharapova's chances of successfully defending her French Open title for the second year in a row this time are excellent.
Fresh from winning the Italian Open for the third time in her career, 28-year-old Maria Sharapova is now turning her gaze to the forthcoming French Open, where she will defend and hope to retain the title she won last year.
Sharapova came from a set down to triumph over Spain's Carla Suarez Navarro in the final at Rome on May 17 and, with that victory, became a triple champion at that tournament for the second time in her career, placing Rome alongside Stuttgart.
The title in Rome was the 35th of Sharapova's career. Of all the current players on the tour, she is behind only the Williams sisters in this respect (Serena has won 66 titles and Venus, 46).
Good omens
The victory in Rome has ensured that Sharapova regains second place in the WTA rankings, overtaking the Romanian Simona Halep. It also means she will be seeded second at the French Open, thus avoiding having to play the number one seed, Serena Williams, at Roland Garros, until the final. Williams has proven to be Sharapova's nemesis over the years.
"Sharapova has a good chance of having a great clay season," Andrei Chesnokov, a French Open semi-finalist in 1989, told RIR. "It is already clear that she is in a great shape for Paris. The semi-final in Madrid [in early May 2015] and the victory in Rome are the best proof. All this will give Maria the confidence to defend her title," said Chesnokov.
Chesnokov also pointed out that, unlike in the American tournaments, where Sharapova was plagued by injuries, since the tour moved to Europe she has started to regain the form she had in Brisbane, where she won in January, and during the Australian Open.
"The fact that she can meet Serena only in the final will add to Sharapova's psychological confidence. The American is not as good on clay and may exit the tournament at an early stage," said Chesnokov.
The last time that Sharapova was placed higher than second in the rankings was three years ago – after her first victory at Roland Garros.
Last year, Sharapova managed to win the French Open for the second time in what was one of the hardest tournaments in her career, with the Russian being forced to rally from a set down in three matches in a row.
Having won her fifth Grand Slam title, Sharapova admitted: "If a few years ago I was told that I would have more victories at Roland Garros than at other Slams, I would have gotten drunk."
Is Sharapova entering her prime?
According to Russian Olympic team coach Vladimir Kamelzon, 2015 may prove to be the best in Sharapova's career.
"I think that Maria will not limit herself with a single Grand Slam title this year. Judging by the performance that she demonstrates now, she is able to be considered the favorite of almost all the major tournaments. The main thing is to do without injuries that dogged her at the beginning of this year, and to learn how to confront Serena [Williams]," said Kamelzon, pointing out that Sharapova will face a serious test in Paris.
"She will have to defend a lot of points, and, if she meets Serena, to outplay her. Otherwise, people will start talking once again about her weakness in front of the American and her status as the eternal bridesmaid. It will be hard for her, but she must overcome this," Kamelzon told RIR.
The triumph in Rome also meant that Sharapova is now the 10th most successful women's tennis player on clay – she now has 11 titles, as many as Serena Williams and Gabriela Sabatini. The record belongs to Chris Evert (70), with Steffi Graf in second place (32).
Roland Garros' main event, with a prize fund of around 25 million euros, kicks off on May 24 and culminates on June 7. In addition to Sharapova, the main draw of the French Open features two more representatives from Russia – Yekaterina Makarova and Svetlana Kuznetsova.
All rights reserved by Rossiyskaya Gazeta.