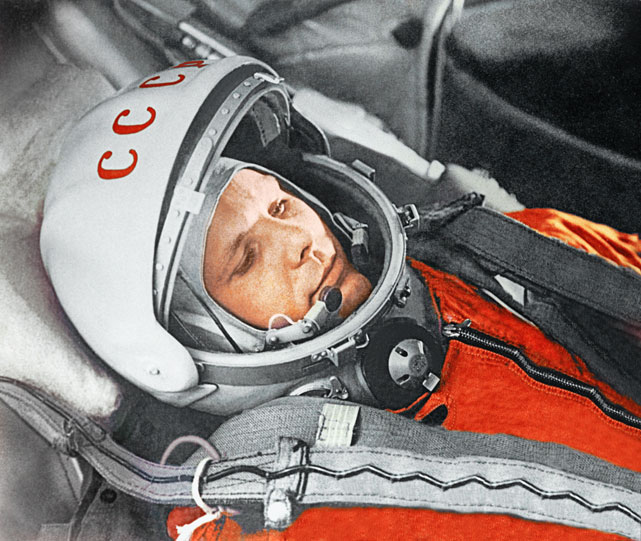 Yuri Gagarin. Source: RIA Novosti
An unprecedented display of Soviet space artefacts is due to open at a Science Museum exhibition in London in September.
Cosmonauts: Birth of the Space Age tells the story of the early years of Soviet space exploration through 150 priceless artefacts, most of which have never before been out of Russia.
Alexei Leonov, the legendary Russian cosmonaut, was invited specially to London to announce the exhibition and talk about his own remarkable achievements.
But first Ian Blatchford, the Science Museum's director, apologized to guests for an unexpected delay at the event, May 21.
"The reason you were delayed this evening," he told guests at the Science Museum, "is that things like Vostok-6, which took [Valentina] Tereshkova into space, were being moved around the museum. I hope you will forgive us on this occasion."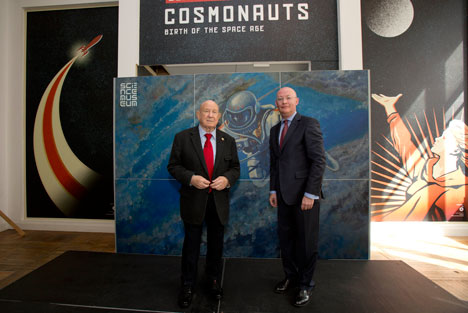 Cosmonaut Alexei Leonov (L) and Science Museum Director Ian Blatchford at the Cosmonauts announcement. Source: Science Museum
London space history fans have grown accustomed to delays over the past year. The exhibition, hailed as the highlight of the Year of Russian Culture in the UK, was scheduled to open last autumn but then repeatedly postponed. It now coincides with one of the key anniversaries celebrated in the exhibition, the fifty years since man first entered space.

What has become a routine, although risky procedure for cosmonauts today, back in 1965 nearly cost Leonov his life. Standing by an old-fashioned school blackboard in front of a packed auditorium, the veteran Soviet cosmonaut gave a gripping account of his epic 12-minute spacewalk. The famous event, on March 18, 1965, was the first ever spacewalk. Half a century later the thrilling experience still has the power to inspire: Hollywood space thriller Gravity hit the screens in 2013, and a more realistic depiction of what it means to move around outside a space capsule will be seen next year in Timur Bekmambetov's First Time.
The first teaser of the film "First Time" on the flight of Alexey Leonov. Source: Dan Beaumont Space Museum
The reality of Leonov's space walk was even more dramatic than even Hollywood's top talent can imagine. Cosmonaut Leonov and his crewmate Pavel Belyayev could not have been prepared for what they encountered on that day half a century ago.
Space oddity
Minutes after he left his spacecraft, Leonov realized his suit had blown up like a balloon, preventing him from getting back into the airlock. He had to choose between being stranded in space or bleeding out the air and risk dying from decompression sickness. Later on, both cosmonauts narrowly escaped death in a fire when oxygen levels soared inside their Voskhod (Sunrise) 2 spacecraft. On the way back to Earth, the navigation system failed forcing the crew to land hundreds of miles off target in the Ural Mountains.
Leonov jokes about his mission's grave mishaps, comparing them to minor mishaps during training.
"Pasha jumped out and ended up in snow, about 1.5 meters deep. I followed him and also fell through. Now imagine this: a space ship in the middle of taiga and next to it two heads sticking out from the snow," he joked. The audience laughed obligingly before he added that it was only after two nights in freezing temperatures were they rescued.
For many years, all of this remained top secret. After Leonov's pioneering spacewalk, the mission was immediately hailed a success, helping put further pressure on the relentless space race with the USA that was feverishly working towards the lunar landing of 1969.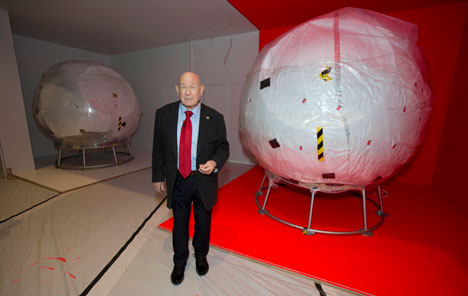 Cosmonaut Alexei Leonov in front of Vostok 6 in the Cosmonauts exhibition. Source: Science Museum
In 1968, Leonov was selected as commander of a mission to circumnavigate above the lunar surface in a Soyuz spacecraft and was chosen to be the first Soviet astronaut to make a moon landing. However, both flights were cancelled because the United States had already won the race to put a man on the moon when Neil Armstrong landed on the lunar surface making his famous "one small step for man, one giant leap for mankind." Leonov went into space again in 1975 as part of the joint Soyuz-Apollo mission. It effectively ended the rivalry of the space race and signalled the beginning of international cooperation in space research and exploration.
This cooperation ultimately led Helen Sharman or 'Lenochka', as Leonov affectionately calls her, to become the first British astronaut to take part in a Russian space station mission. Sharman admits her experience in 1991 was a huge challenge. "I wanted to be part of the training, because I knew I was going to live in the Soviet Union, I was going to learn to speak Russian, live with all the other cosmonauts and learn so much from them. To be honest, it was for the training that I went as much as for the actual space flight. I gave up my whole life. I gave up my job, my car, my flat – basically everything, but it was worth it," she says.
Russian relics
This autumn, Londoners will have a chance to see the relics behind the stories of similar and even greater courage that launched humanity out of its earth-bound cradle. From Konstantin Tsiolkovsky's extraordinary 1933 drawings of space flight, to genuine spacecraft used by Soviet cosmonauts, the exhibition documents the science and technology of Russian space exploration. As Science Museum head Ian Blatchford, noted: "The Russian space program is one of the great intellectual, scientific and engineering successes of the 20th century and I am thrilled that we have been able to bring together such an outstanding collection of Russian space artefacts to celebrate these achievements."
Tickets for the 'Cosmonauts' are already on sale. The exhibition runs 18 September 2015 to 20 March 2016.
All rights reserved by Rossiyskaya Gazeta.