Tours on the Volga River, a deadly cologne and horse theft par excellence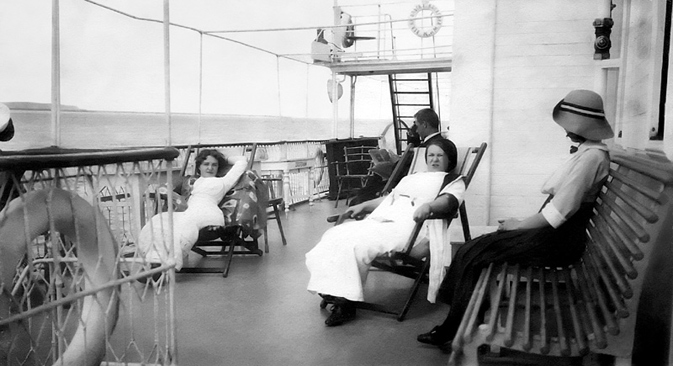 M.A.Popova (center) on the "Grand Princess Olga" ship, Volga. Source: Open sources
RBTH turns the clock back a century and shines a light on the now-forgotten stories being reported on the inside pages of Russian newspapers in 1915 and the events and processes occupying the minds of the Russians of the age. Travel back in time with us week by week for a sense of what life was like in the twilight days of the Russian Empire.
Tours on the Volga River
As it was expected, the substitution of foreign travel with tours along the Volga River has considerably grown now, but Russian tourists, who are in no hurry to go anywhere, appear to be attracted to smaller boats, where everything is simpler, there is no need to show off with dresses, and the surcharge for single cabins is negligible.
Petrogradsky Listok, May 25, 1915
A five-ruble bet to die for
Finnish-born Karl Gustav Vepellainen, 39, made a bet with two friends that he would drink two bottles of cologne without harm. The bet was accepted. Vepellainen safely drank one bottle, but after the second, as he was receiving his reward in the sum of five rubles, he fell down and soon died.
Petrogradsky Listok, May 25, 1915
The arrest of a dangerous thief
The officers of the Moscow detective police have found and arrested a dangerous repeat offender thief – peasant Stepan Ulyankin, 22, who was recently released from prison.
Ulyankin specialized in a peculiar kind of theft; using someone else's passport, he would take jobs as a worker with heavyweight cargo companies – and steal goods entrusted to him for delivery, along with his master's horse, after which he disappeared every time without a trace.
Vedomosti Moskovskogo Gradonachalstva, May 26, 1915
Chronicle
The Petrograd District Court heard the case of the newspaper Rech. The newspaper's editor Ivanov was accused of printing an article called "Our Defense Capability." The article pointed to the then-existing extraordinary carelessness in technical preparations for defense, in the setting up of the medical unit, etc. The Committee for the Press saw the article as a report of false information, aimed at inciting hostility against the Military Department. Ivanov was acquitted by the court.
Vseobshchaya Gazeta, May 27, 1915
Horrifying case
KIEV: The police received a report that a landlady on Kozlovskaya Ulitsa kept a sick man as a prisoner under torture. In the course of investigation, it was found that noblewoman Kolyvanova lived with her daughter and a student son-in-law in a remote mansion. In a nailed-up room in the basement, the authorities found an extremely dirty man in rags. His whole body was covered with sores and wounds.
Unaccustomed to the light, the unfortunate wretch rushed to the police with a cry. When he calmed down, he revealed that he had been in confinement for about 15 years and had not washed for five years.
Rannyeye Utro, May 27, 1915
First published in Russian on the website starosti.ru
All rights reserved by Rossiyskaya Gazeta.