A tale of two former Communist bastions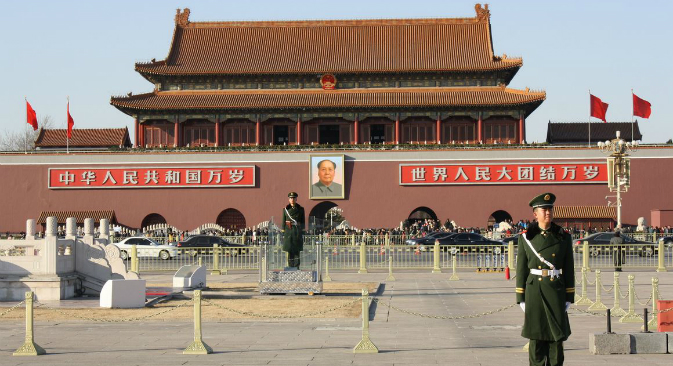 Tiananmen square. Source: Ajay Kamalakaran
Strikingly similar in many aspects, glaringly different in many others, Moscow and Beijing are both eager to put the past behind them on their long capitalistic march.
A visit to the two former capitals of the Socialist world would reveal that Russia and China have moved on from the days of Lenin and Mao. True, both leaders are still visible to the public in an embalmed state in mausoleums located close to the heart of power, but these are no longer "pilgrimage" sites in either country.
It's understandable why few Russians pop into visit Lenin's mausoleum considering the fact that the Russian Federation did away with most propaganda associated with the leader. Of course there are statues of Lenin in most towns of Russia but his legacy is very much open to debate. Chairman Mao on the other hand is still a revered figure in a country that is still officially Socialist, but as I was to find out on a weekday morning at Tiananmen Square, I was one of only a handful of visitors to enter the mausoleum. It was eerily similar to the Lenin mausoleum on the Red Square where one would often see more foreign visitors than Russians.
Lenin is still visible in Moscow with there being 82 Lenin statues in the Russian capital (3 of them in the city centre). Chairman Mao, on the other hand, is visible in 3 places: his mausoleum, where some argue a wax figure has been placed, at the entrance of the Tiananmen Gate and of course in Chinese money or should I say the people's money.
A new kind of ultra-capitalism and globalisation is the norm in both capital cities. McDonald's is a popular haunt in both cities among both young and old although many hardcore Muscovites and Beijingers will deny that they ever set foot in one and say that it's the "provincials" who love to eat American fast food. But then it's mostly the hardcore citizens of the capital cities that spend hundreds of dollars on clothes and bans in Western branded stores.
The "real" residents of the two capital cities agree that there are far too many internal migrants. China, of course, doesn't face an influx from neighbouring countries but Beijing like Moscow is a good place to try out diverse cuisines. While the adventurous in the city try their hand at fried scorpions and snake and frog rice, those who genuinely appreciate China's ethnic diversity are spoilt for choice with a nice collection of Uighur, Tibetan and Mongolian food to go along with Yunnan and Sichuan cuisine. If you shouldn't leave Moscow without having Borsh, an authentic dish in the Chinese capital is Beijing Duck.
The winds of capitalism sweep through the two cities, pushing property prices and rentals to previously unthinkable heights. Many older heritage buildings were torn down in the last decade in Moscow's historic city centre, with the replacement structures being among the most expensive real estate on the planet. Beijing is also facing a similar problem with its "hutongs," narrow street alleys with traditional houses. "They preserve the Forbidden City here since it makes money for them, else it would have made way for some modern buildings," says an angry Chinese friend who hates the rapid pace of change in the capital. China on its part recently initiated some measures to stop the ridiculous speculation on property that are taking apartments out of the reach of young people.
Source: Ajay Kamalakaran
While there are several similarities between the capitals, there are some striking contrasts. Take for example, the metro. Gone are the days when a ride on the Moscow metro just cost kopecks. Passengers pay around a dollar (50 rubles) per ride in Moscow, while in Beijing it costs 30 cents (2 yuan). Despite Beijing having a larger population than Moscow, the metro seems less crowded on most lines, even at rush hour. Although I personally have never faced problems taking the Moscow metro since I know Russian, a tourist with no skills in the language would definitely find it difficult to figure things out. In Beijing though, everything is written in English and the announcements are also in English. The metro is the easiest and fastest way to travel in the city.
When it comes to an understanding of foreign languages, Moscow is light years ahead of Beijing. It's not uncommon to ask a question in Russian and get a reply in very good English from a Muscovite who wants to make it clear that he or she speaks good English. This is highly unlikely to happen in the Chinese capital although despite the communication problem, (in my humble opinion) Beijingers are friendlier to foreigners than Muscovites. There were a few instances when I asked for directions with very poor Mandarin skills when a friendly stranger butted in and helped out speaking good English.
The men in uniform in the Chinese capital are tourist-friendly and more likely to view a foreigner with far less suspicion. While my Chinese friends complain of discrimination when policemen spare me the frisking that locals undergo, I tell them that it's more intimidating for a foreigner to be called out and treated with suspicion 'a la Moscow.' I have always been told that in Moscow, I better avoid asking directions from policemen since they would then ask me for my passport and registration papers and then claim that I am missing one stamp or another. I have never ever been stopped by cops for a document check in the Russian capital but then I do avoid "Moscow's finest" given their reputation. In Beijing, the smile from the men in uniform seems to be genuine.
There are security posts around the Chinese capital but there is far less palpable tension in the air than in Moscow. It perhaps has to do with the Chinese sense of calm. A Russian student from Irkutsk at a Beijing language school argued that the sheer air pollution overpowers any tension in the Beijing air. Yes, the air in the Chinese capital makes Moscow feel like a pristine town in the Swiss Alps. Those who complain of Moscow's pollution when visiting the capital from the regions would never do so again after a trip to Beijing.
Moscow also holds the edge over Beijing when it comes to freedom of expression. I won't get into the merits of the Pussy Riot case but browsing the internet is a much easier experience in the Russian capital than in its Chinese counterpart. Anti-government blogs thrive in Moscow and there's no problem logging on to Facebook and Youtube. In Beijing, not only are those sites banned, sometimes it becomes difficult to even open Gmail!
A gentleman working for a state-owned enterprise was curious to know about Moscow in 2013 as he had studied there in the days of Stalin-Mao bonhomie. He was happy to know that Beijing had better infrastructure and was more foreigner-friendly and handicap friendly. "Democracy isn't always a good thing," he said. "It can be abused along with several other freedoms." Maybe some in the Russian establishment would get a kick out of an endorsement of Russia as a free and democratic nation from a foreign country.
All rights reserved by Rossiyskaya Gazeta.