Passports for foreigners, a playing card craze and no roaming for livestock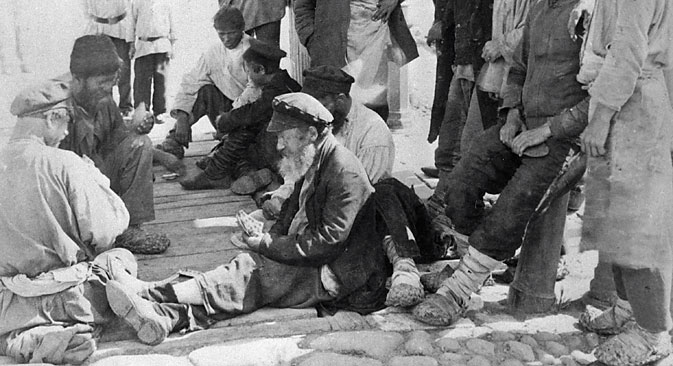 RBTH turns the clock back a century and shines a light on the now-forgotten stories being reported on the inside pages of Russian newspapers in 1915 and the events and processes occupying the minds of the Russians of the age. Travel back in time with us week by week for a sense of what life was like in the twilight days of the Russian Empire.

Beggars playing cards in the street. Source: RIA Novosti
Imperial Proclamation
We, Nicholas II, By the Grace of God Emperor and Autocrat of all Russia, King of Poland, Grand Duke of Finland, etc., etc., etc, proclaim to all Our loyal subjects:
For as much as it hath pleased Almighty God lately to call unto His infinite Mercy Our dearest Second Cousin Once Removed, Grand Duke Konstantin Konstantinovich. His Imperial Highness passed away after a lengthy and trying illness on the second day of June in his 57th year.
The late Grand Duke devoted his life to national science and put a lot of work and care into providing supreme guidance to the military education of youth, which produced such a valiant body of officers. Lamenting the loss of Our dearest Second Cousin, We are confident that all Our loyal subjects share the sorrow that has befallen Our Imperial House. Nicholas.
Moskovskiye Gubernskiye Vedomosti, June 2, 1915
Repercussions of the day
The Playing Cards Sales Department has reported a curious phenomenon observed this year – an extraordinary, exceptional run of sales, especially regarding decks of 36 cards. In the past year, 105,000 such decks were sold. And during the first four months of this year – 164,000! Where have these 164,000 kings with their queens and attendants gone? One can only guess about the roads they have taken.
Moskovsky Listok, June 2, 1915
Passports for foreigners
The Interior Ministry has developed specific rules on passports for subjects of foreign states arriving in Russia in order to establish more effective control of foreigners who arrive in the Empire, and prevent possible abuses in the use of national passports in the future.
The project of the Ministry of Interior stated that similar measures have been taken by the governments of the United States and Italy. In view of the importance of early implementation of these rules, the project will be subjected to consideration at today's meeting of the Council of Ministers.
Birzheviye Vedomosti, June 5, 1915
Mandatory decree on stray cattle
It is forbidden to allow horned cattle and small stock as well as horses to roam and pasture on the streets and squares of the city. Note: During the gathering and herding of livestock, cattle should not be considered stray for one hour. This mandatory decree enters into force at the end of two weeks from the date of its publication for general information. Vice-Governor V. Kislovskoi.
Yaroslavskiye Gubernskiye Vedomosti, June 5, 1915
All rights reserved by Rossiyskaya Gazeta.