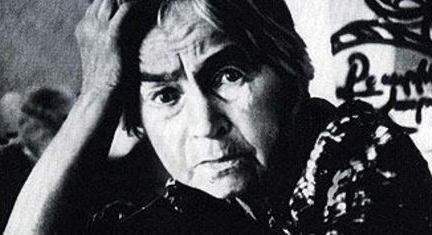 Varvara Bubnova. Source: Press photo
The life and work of Varvara Bubnova, the 'most Japanese' of all Russian painters and the 'most Russian' of all Japanese, still stands as one of the most well-known examples of seamless fusion of Russian and Japanese cultures today.
"Understanding foreign art is difficult," Bubnova once said. "It is just like a foreign language; you have to learn it to the extent that allows you to enjoy the literature written in that language and to understand foreign speech. I think understanding foreign art is simpler than that, but to achieve it the student needs to possess, first and foremost, largess and trust in the creative force of the foreigners." And trust the Japanese, the Bubnova sisters did, and the Japanese reciprocated.
Varvara Bubnova was born in 1886 in St. Petersburg, in a family that had always been associated with culture. The family members took pride in the fact their ancestral estate had been visited by Alexander Pushkin. Unsurprisingly, Varvara, her younger sister Anna, born in 1890, and the eldest sister Maria, all devoted their lives to art. While Anna and Maria chose music, Varvara quickly discovered her talent for painting. By 1914, she graduated from St. Petersburg Academy of Arts, becoming known as a modernist painter and co-exhibiting with Kazimir Malevich and David Burliuk.
Meanwhile her sister Anna, already an accomplished violinist having graduated from the St. Petersburg Conservatory, met Shunichi Ono, a zoology student from Japan, after one of her concerts. Before long, they got married, but as they began living together, the Russian Revolution took place, and the couple had to flee to Japan.
After having become a member of the parish of Holy Resurrection Cathedral in Tokyo, Anna came up with an idea of creating a musical school for Japanese children. Soon after, she founded the school, naming it Lulilo, which means cradle in (then-fashionable) Esperanto.
The Luliloschool became a cradle for many Japanese violinists. Two thousand children graduated from the school, with many becoming prominent musicians. Nejiko Suwa and Mari Iwamoto, who became world-famous violinists, also took violin classes at Lulilo.
In 1922, the Ono couple invited Varvara Bubnova to come visit them in Japan. Arriving with her mother to see Anna, Varvara experienced a whole new life in the country. She was fascinated with Japanese art, describing it as being able "to achieve the maximum in spiritual content while keeping the spiritual and material expenses minimal." Inevitably, she developed a passion for Japanese medieval painting, later entering and graduating from Tokyo School of Fine Arts, studying the ukiyo-ye and suibokuga genres. Soon, she created her own style of black-and-white zinc lithography.
Varvara's style came close to the Japanese tradition, but never merged with it. She retained her unique touch. Moreover, some Japanese painters started imitating it, thus moving towards Russian avant-gardism.
"The works by Varvara Bubnova were the first to showcase the whole range of capabilities of lithography as an art printing technique," says Ainura Yusupova of the Pushkin State Museum of Fine Arts, Russia's leading expert on Japanese art. "At the same time, she herself recognized the influence of Japanese art on her work. She wrote: "I preserved the principles of Russian art in my work, but Japanese art taught me a lot, expanding the visual scope of my artistic language."
Varvara Bubnova held six exhibitions in Japan. Now, her works cost a fortune, but, as it is the case with most artists, her talent was not acknowledged while she was alive. To make ends meet, she had to teach the Russian language, first at her sister's music school, and later at Waseda University and at Tokyo University of Foreign Studies.
During this period, Varvara's other gift emerged. A lot of her students became major specialists in Russian philology in Japan. Concurrently, she also illustrated the Japanese editions of the works by Alexander Pushkin, including Eugene Onegin, The Queen of Spadesand some others.
While Varvara considered herself a happy person, her life in Japan was far from easy. In 1923, her house was destroyed by an earthquake, along with all her works. In 1933, Varvara had to help her sister Anna recover after the death of her only son Shuntaro, who had managed to become the leader of the first violin section in a famous Japanese orchestra at the age of fourteen. Shortly afterwards, Anna got divorced.
Anna Bubnova accepted the divorce, but stayed at Ono's home, befriending her ex-husband's new wife and, in time, becoming a mentor for the couple's son.
The talent for education and love for children were truly family traits for the Bubnovs. In 2007, two concurrent art exhibitions took place in Moscow. One was Varvara Bubnova's, the second – Yoko Ono's. The experts examining the art by John Lennon's widow immediately noticed the influence of Russian avant-gardism. Yoko's first music teacher was Anna Bubnova, while the latter's sister Varvara, became her first art tutor.
After the death of Joseph Stalin, the Bubnova sisters returned home. Anna Bubnova wrote about this decision: "The main reason for my return is that the Soviet Union is my homeland. I will never forget Japan, its beautiful landscapes and, more importantly, its emotional people."
Both women moved into the house of the eldest sister, Maria, in the Republic of Abkhazia, located in the south of USSR by the Black Sea. The local climate somewhat resembled Tokyo's, which they had become accustomed to for almost half a century. All three sisters continued working as university professors in Abkhazia's capital, Sukhumi.
Anna Bubnova, recipient of Japan's Order of the Sacred Treasure, 4th class, passed away in 1979. Japanese musicians remember her fondly, and Japan's Bubnova Society holds concerts dedicated to her memory twice a year.
Varvara Bubnova died in 1983, at the age of 97. She had become a member of the Union of artists of the USSR, and had been awarded the Order of the Precious Crown, 4th class.
Petr Podalko, historian specializing in Russian émigrés and professor at Aoyama Gakuin University's School of International Politics, Economics and Communication says, "throughout the many years of their cultural activity, both Anna and Varvara Bubnova managed to make probably the most significant contribution among Russian émigrés in 'creating intellectual bridges', raising several generations of Japanese intellectuals to love and respect Russian culture."
All rights reserved by Rossiyskaya Gazeta.