Cartoons as a new language of Russian art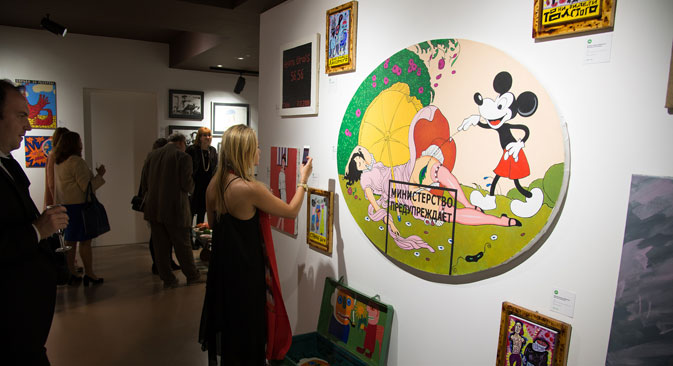 Russian Art Week opening party at Erarta Galleries London, 29 May 2015. Source: Courtesy of Maxim Boxer
The first Russian Cartoon-like art exhibition and auction took place at London's Erarta Gallery London May 29-June 2. Curated by Maxim Boxer and Leonid Tishkov the event presented the best of a little known genre.
The exhibition 'CartOOn-LikE Art' which took place in London's Mayfair during Russian Art Week focused on a little-known tradition of cartoon-style art in Russia and Soviet animation that has now evolved into a powerful tool to express artistic opinion.
The showcase also presented examples of contemporary pictorial art, animation and comics, demonstrating how modern works have developed from roots in 18th century 'lubok' hand-colored prints.
"A large number of artists arrived at this genre from very different backgrounds," says artist and co-curator of the exhibition, Leonid Tishkov.
"For instance, Russian conceptualist Victor Pivovarov used to illustrate books for children; Andrey Bilzho became a magnificent oil painter after drawing cartoons for newspapers; and Gosha Ostretsov who started out in comic books, is now creating narrative-free palimpsest pictures. For a long time I was a cartoonist and have now expanded my work," he added.
There are many exhibits from artists from the so-called school of second-generation Conceptualists, such Sergey Anufriev and Pavel Pepperstein - whose works can be found in the State Tretyakov Gallery and private collections. Others include Arkady Nassonov the founder of the independent art group, The Cloud Commission and Nikita Alekseev.
Soviet re-animation
"Cartoon-like Art is a very stylish and fashionable reflection on contemporary culture", Tishkov says. "We can see animated cartoon characters such as Angry Birds, The Simpsons and even Mickey Mouse combined with the Durer's engravings or as part of a complex textbook painting."
Despite the popularity of European and American animation, which attracts the attention of many artists working in cartoon-like genre, many of the artworks at the exhibition are built around heroes of Soviet animation. The works are directly rooted in the history and evolution of satirical graphic art of socialist realism, created at a time when censorship forced artists to use metaphors and allegories to express themselves and their philosophy.
Artistic messages
Cartoon-like art puts the main emphasis on the character, using it as a vehicle for the artistic message. Thus, the hero of Eduard Uspensky's popular Soviet books and cartoons - Crocodile Gena - is transformed into Godzilla in Marina Rudenko works. Uspensky's small furry animal character, Cheburashka has also been totally changed in the works by Siberians Damir Muratov and Vasily Slonov.
"My goal was to show that the art of cartoon may be an effective method of reflecting current social problems through satire, humor and comical effects," project head and auctioneer Maxim Boxer says.
"Bringing this exhibition to London was a strategic decision. It allows us to show some of the most brilliant works by contemporary Russian artists working in this elusive and ambiguous genre."
All rights reserved by Rossiyskaya Gazeta.