Venice Biennale 2015: Your guide to Russian artists and exhibits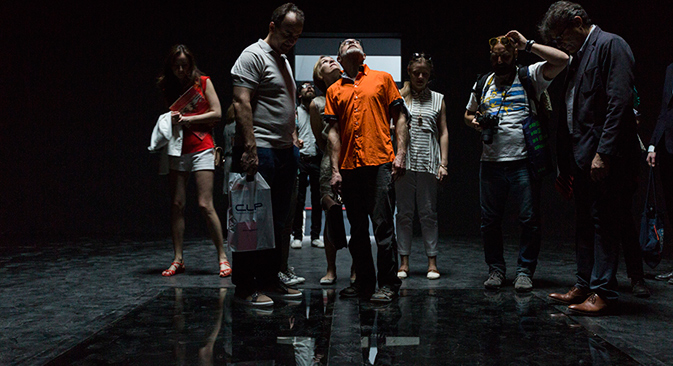 The Green Pavilion installation. Source: Press photo
This year's Venice Biennale features dozens of national pavilions as well as "collateral events" taking place all over the City of Canals. RBTH presents a pick of several exhibitions by Russian artists. All of the events will run through Nov. 22, with the exception of Mark Dion and Arseny Zhilyaev's "Heritage of the Future," which will be open until Aug. 23.
Biennale International Art Exhibition – Glyuklya (Natalya Pershina-Yakimanskaya) and Olga Chernysheva
Venetian Arsenal
Okwui Enwezor, the Biennale's artistic director, has invited two contemporary artists from Russia to take part in his project. Glyuklya is mostly known for her live art performances and videos, as well as being a participant of the Russian art collective Chto delat? ("What is to be done?"). The collective's works are exhibited in numerous museums, and have been featured in dozens of exhibitions and biennales all over the world. Olga Chernysheva, a photographer and video artist, has had her works exhibited in many museums and galleries of New York, London, Berlin and other cities.
Glyuklya's installation. Source: Press photo
The new works by both artists can be seen at the Venetian Arsenal, featured as an integral part of this year's main exhibition "All the World's Futures,"which examines the current state of the world through artistic means. Both Russian artists have presented works in genres they are mostly unaccustomed to: Chernysheva has produced a series of exquisite graphic works on provincial Russia, while Glyuklya has made a conceptual installation with clothes, serving as a metaphor for protests against fraudulent elections.
'Green Pavilion' – Irina Nakhova
Russian Pavilion, Venice Giardini
A prominent Russian artist and a member of the Moscow Conceptualists group, which also included international stars like Ilya Kabakov and Viktor Pivovarov, Irina Nakhova began her artistic career in the late 1970s. Just a couple of years later, she became the first Soviet artist to create a "total installation," transforming her own apartment into a work of art. This year, she also became the first female artist to represent Russia at the country's national pavilion, located in the Venice Giardini.
The Green Pavilion installation. Source: Press photo
Nakhova's Green Pavilion installation comprises five parts and is dedicated to artists' difficult relationship with colors. It starts right in the street: Using decorative panels, the artist has changed the color of the Russian pavilion (constructed by Russian architect Alexei Shchusev in 1914) from its familiar sand color to green – which, incidentally, is the very color originally used by the building's architect. The journey through the artist's personal history continues inside, with each room representing a color symbolizing a certain period in the life of Nakhova's family and the history of the country.
'001. Inverso Mundus'– the AES+F art group
Magazzini del Sale
INVERSO MUNDUS. Inquisition episode #2. Source: Press photo

The well-known Russian art group, whose works are exhibited at the Pompidou Centre in Paris, among other museums, presents its new multi-channel video installation, whose title translates as "The Inverted World." The work was inspired by medieval engravings depicting absurd situations, which were once a source of inspiration for Hieronymus Bosch. The artists took both amusing and tragic stories (masters cooking lunch for their servants; pigs butchering their butcher, etc.) and transferred them to the present times in their usual surrealist manner, adding some classical music. The project can be regarded as an extension of their three-part saga consisting of Last Riot, The Feast of Trimalchio and Allegoria Sacra, exhibited previously in several European and American museums.
'Conversation'– the Recycle art group
Sant'Antonin Church
A modern 'iconostasis' by Recycle. Source: Press photo

The members of Recycle are masters of subtle irony, proficient in making good use of industrial waste in their tech-minded works. Such objects, arranged to depict broken statues of saints and apostles, as well as a modern "iconostasis" presented as the logo of the modern era's main communication tool Facebook, will form their total installation, designed to imitate a 21st century "sanctuary."
'Heritage of the Future'–Mark Dion and Arseny Zhilyayev
Casa dei Tre Oci; open until Aug. 23
Arseny Zhilyayev. Untitled. Source: Press photo
The two artists, an American and a Russian both representing the post-conceptualist movement, united their efforts to transform the three stories of Venice's Casa dei Tre Oci into their own museum, dedicated to the history of human civilization and its future. Dion is in charge of the past and the present, forming a fictional collection from artifacts of various eras. Zhilyaev imagines the future with his fresh series of works entitled Cradle of Humanity, describing an interstellar corporation turning Earth into a museum of the human civilization.
Glasstress
Palazzo Cavalli Franchetti
Ivan Plush. Illusion of disappearance of fullness Glasstress Gotika. Source: Franceso Allegretto
This recurring project of the Biennale features glass works, designed by contemporary artists and produced at the famous Berengo Studio, located on the island of Murano in the Venetian lagoon. This year, the State Hermitage Museum of St. Petersburg became a partner of the project, with Dmitry Ozerkov, head of the Hermitage's contemporary art department and the director of the Hermitage 20/21 project, taking the role of the project's curator. Consequently, a third of the 50 participating artists are Russian. To add a little bit of diversity to this year's collection, which features a Gothic theme, the Hermitage also sent some rare works from its own collection, from the 14th-century armor and manuscripts to Émile Gallé's glass vases. Among the Russian artists presenting their glass works this year are Ilya and Emilia Kabakov, Ivan Plyushch and the Recycle art group.
All rights reserved by Rossiyskaya Gazeta.