Moscow contemporary art museum Garage reopens in new building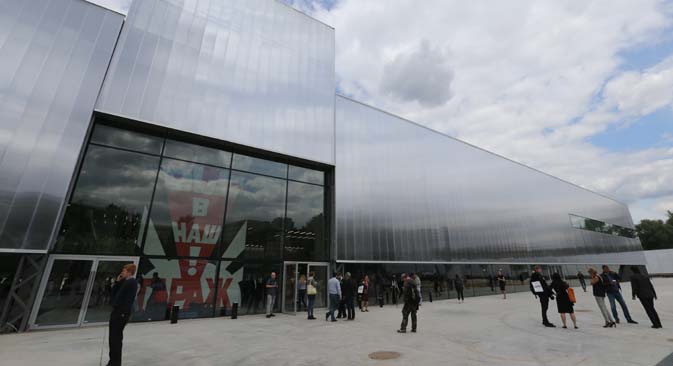 The new building of Moscow's Garage Museum of Contemporary Art in Moscow's Gorky Park. Source: Artyom Geodakyan/TASS
Art collector and businesswoman Darya Zhukova's contemporary art museum Garage has reopened its doors to the public in Moscow. Located in a renovated restaurant building in the city's famous Gorky Park, the new incarnation of the museum has been designed by award-winning Dutch architect Rem Koolhaas.
Moscow's Garage contemporary art museum, founded by businesswoman and art collector Darya Zhukova, has reopened in new premises in the Russian capital's famous Gorky Park.
The museum, which opened on June 12, now occupies an old restaurant building that has been restored by Dutch architect Rem Koolhaas and boasts impressive functional capabilities. It has five exhibition halls, auditoriums, a conference hall, a bookstore and a café.
Garage's launch program features eight art projects aimed to reflect the range of the museum's current interests, with the artists on display including Japan's Yayoi Kusama, Thai conceptual artist Rirkrit Tiravanija, and German painter Katharina Grosse. In September, Garage plans to launch a major exhibition of the legendary French-American sculptor Louise Bourgeois.
Garage director Anton Belov is very pleased with the work that has been done so far: "I hope that the opening of a new museum will be a good example of the opportunities that Moscow, and Russia as a whole, currently enjoy," he said.
Start and take-off
The story of Garage began in 2008, when art collector and businesswoman Darya Zhukova, partner of Russian billionaire Roman Abramovich, masterminded the reconstruction of the Bakhmetyev bus depot, located in a historical building designed by the famous constructivist architect Konstantin Melnikov. As a result of the reconstruction, the building, originally built in 1927, preserved its outward appearance but was completely transformed inside to become a large center of modern culture.
Garage had no commercial targets to achieve: Its mission was one of education and culture. Primarily, it sought to introduce the general public to works of contemporary art from different parts of the world. Naturally, a similar mission was partly fulfilled by state-run museums too, but Garage had certain additional advantages in the form of freedom of choice when it came to its priorities and a considerable budget (it was reported to be spending $13–15 million a year).
Building on these advantages, the center soon became very popular with the public. Its first major success was a large-scale exhibition of works by renowned Russian artists Ilya and Emilia Kabakov, followed by exhibitions of works by James Turrell, Antony Gormley and Mark Rothko and a major display of French businessman and art collector François Pinault's collection. With time, this impressive foreign menu was supplemented by Russian exhibition projects as well as culture and education programs.
Down to Gorky Park
However, late 2011 brought a worrying pause, as Garage – in line with an earlier agreement – ceded its premises to the Jewish Museum and Tolerance Center. Rumors abounded as to what would happen next. In the end, Zhukova chose to move to the newly renovated Gorky Park, where Japanese architect Shigeru Ban built a makeshift pavilion for Garage. The new venue soon gained popularity too. It was there that the decision to change the status of Garage was taken: A year ago, the founders announced its transformation into a museum. Their strategic plan was to launch another venue located nearby.
The restaurant, called Vremena Goda (Seasons of the Year), was built in 1968 and was very popular in the Soviet years but fell on hard times in the early 1990s. The Dutch architecture studio OMA, which took on the reconstruction project, had practically just ruins left to work on.
The studio's head, Pritzker Prize-winning architect Rem Koolhaas, has many prestigious projects under his belt. In May this year he unveiled the Prada Foundation art center in Milan, built in a converted industrial complex belonging to a former distillery. Koolhaas had earlier made several attempts to work in Russia, but the projects failed to materialize. So he greeted the Garage project with particular enthusiasm.
The architect summed up his task thus: "We are not restoring the building, we are preserving its decay." Paradoxically, the drastic reconstruction went hand in hand with a careful preservation of elements of the restaurant décor, which had been largely lost.
New ambitions
At the completion of the $27-million project, the building is a two-storey rectangular block with a total area of 5,400 square meters, whose facades are decorated with semi-transparent polycarbonate. One characteristic feature, designed to become the museum's visual brand, is a gate opened upwards, making it possible to see all the way through the atrium. To mark the opening of the Garage museum, artist Erik Bulatov created two monumental paintings to be displayed in the atrium.
The administration of the museum has indicated that the relocation to the new space means not only a commitment to its previous policy but also an increase in international ambitions. As chief curator Kate Fowle explains: "If seven years ago Garage's main objective was to bring internationally significant projects to Moscow, now we would like to export equally significant projects from Moscow to other cities of the world."
All rights reserved by Rossiyskaya Gazeta.