More than 70 artists from 30 countries to take part in the Moscow Biennale of Contemporary Art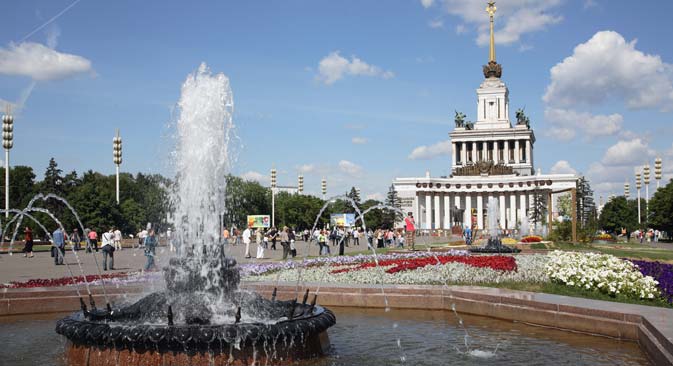 View of the fountain and Central pavilion at the All-Russian Exhibition Center. Source: Yury Artamonov / RIA Novosti
Directors of museums in Belgium, the Netherlands and Austria to curate main project.
More than 70 artists from 30 countries are to participate in the sixth Moscow Biennale of Contemporary Art, which will take place from September 22 to November 1 in the Russian capital.
The main event will be organized in the pavilions of VDNKh, Moscow's All-Russia Exhibition Center, by an international team of curators – Bart De Baere, director of Antwerp's Museum of Modern Art; Defne Ayas, director of Witte de With Center for Contemporary Art, Rotterdam; and Nicolaus Schafhausen, artistic director of Kunsthalle Wien in Vienna.
The theme of the project proposed by the curators is "How to Live Together? The View from the Center of a City in the Heart of the Island of Eurasia."
According to the organizers, the Biennale will change its structure this year: "The Biennale will take place over 10 days, and then a documentary exhibition about it will be presented for the duration of the following month," said a spokesperson for the event.
During the first part of the Biennale, from September 22 to October 1, the VDNKh Central Pavilion will host panel discussions and master classes featuring Russian and foreign artists, as well as prominent scientists and public figures. At the same time, viewers will see the participating artists create works of art specifically for the Biennale project, as well as live performances.
People invited to participate include artists Fabrice Hybert (France), Suchan Kinoshita (Japan), Hanne Lippard (UK), Ho Tzu Nyen (Singapore), Anton Vidokle (U.S.), Qiu Zhijie (China) and Amalia Ulman (Argentina); writer Mian Mian (China); as well as culture experts and economists Saskia Sassen (U.S.), Maya van Leemput (Belgium) and Yanis Varoufakis (Greece).
In addition to the main project, the Moscow Biennale will feature more than 80 exhibitions in parallel and special programs, held in 40 venues around the city. They include the State Tretyakov Gallery, the Moscow Museum of Modern Art, the newly reopened Garage contemporary art museum and the Jewish Museum.
All rights reserved by Rossiyskaya Gazeta.