Foreigners get chance to enter Russian Geographical Society photo contest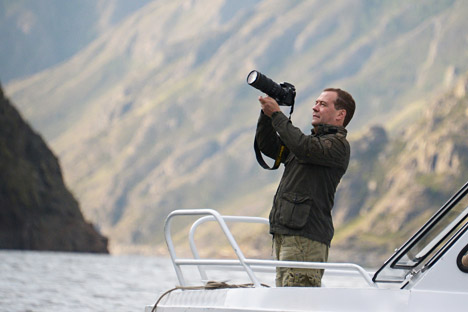 Prime miniter Dmitry Medvedev is a keen photographer. In 2015 professional and amateur photographers from anywhere in the world can send their works to the RGS contest.Source: AP
A photography contest sponsored by the Russian Geographical Society (RGS) has changed its rules to allow foreigners to take part following a wave of interest from outside the country.
Due to the enormous quantity of demands from abroad, the organizational committee of the "The Most Beautiful Country" photo contest decided to allow foreigners to participate in the competition.
Now professional and amateur photographers from anywhere in the world can send their works to the RGS contest. The most important criteria is that their photographs must be devoted to Russia.
"The Most Beautiful Country" is a large-scale media project that promotes the preservation of Russian nature and the nurturing of respect for the environment through the art of photography.
The winner will receive the title of RGS Photographer of the Year, 500,000 rubles ($9,300), and the certified right to participate in one of the expeditions organized by the Russian Geographical Society.
Professional and amateur photographers of all ages can take part in the project. The participants can demonstrate their talent, as well as the beauty of Russia's nature, in 11 categories. Photos are accepted for submission until August 18, 2015.
The contest's jury includes President of the Russian Geographical Society Sergei Shoigu, film director Timur Bekmambetov, professional underwater photographer and winner of various international underwater photography festivals Mikhail Semyonov, Russian animal photographer Nikolai Zinovyev, National Geographic Russia editor-in-chief and photographer Alexander Grek, President of the Pushkin State Museum of Fine Arts Irina Antonova, Rector of the Stroganov Moscow State University of Arts and Industry Sergei Kurasov, and Buryat sculptor and artist Dashi Namdakov.
The chairman of the jury is member of the Union of Nature Photographers of Russia Sergei Gorshkov, winner of many international photo contests and multiple winner of the BBC Wildlife Photographer of the Year Award.
All rights reserved by Rossiyskaya Gazeta.