Mass participation across Russia on Yoga Day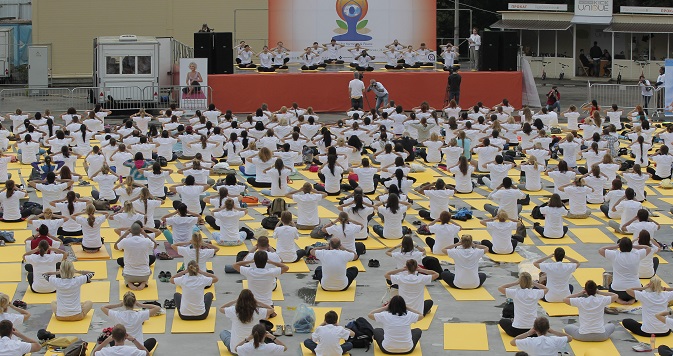 Celebration in Moscow. Source: RIR
Aimed at raising awareness about holistic health, the UN- declared International Day of Yoga was observed enthusiastically across Russia on Sunday, with over 33,000 people participating in the mass events that were organised in Moscow and 60 regions of Russia.
People across Russia celebrated the first International Day of Yoga (IDY) on Sunday, 21 June. Events were held at 244 venues in 80 cities in almost 60 Regions across all 11 time zones of Russia, with around 33,175 people participating.
The main event in Moscow, in Festival Square of Sokolniki Park, was organized by the Indian Embassy and the Yoga Federation of Russia and saw 2400 people participating. Indian Ambassador P.S. Raghavan welcomed participants, who viewed a video message from Indian Prime Minister Narendra Modi, who led the celebrations in the Indian capital, on a giant screen.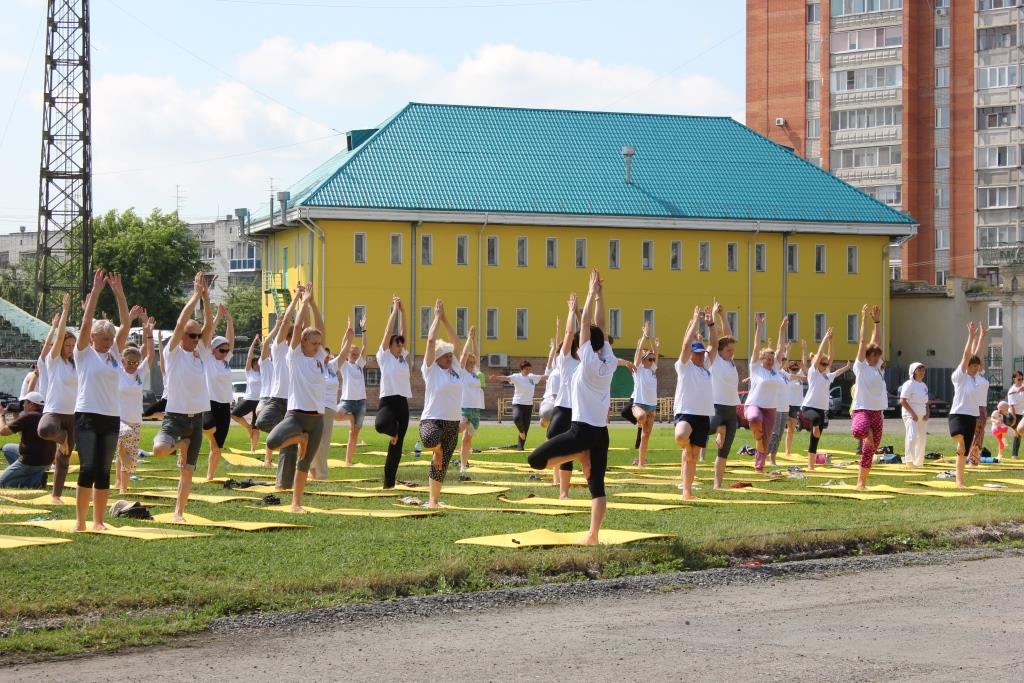 Celebration in Kurgan. Source: RIR
Sergey Repin, President of Russia's Yoga Federation also spoke, following which the Embassy's yoga instructor demonstrated Yoga asanas (postures) along with 12 other instructors, while all others present participated. The exercise routine was part of the Common Yoga Protocol followed in all IDY events organized in every country around the world.
Additional yoga demonstrations were performed by the Yoga Federation and other yoga organizations from Moscow.
Large-scale events were held in the city centre of capital cities of 45 Regions across the Russian Federation, in cooperation with the Regional governments. The IDY events were inaugurated by local dignitaries and a representative from the Indian Embassy. Local yoga centres and Indian socio-cultural organizations also marked the IDY in several other venues.
10,000 special T-shirts, with the IDY logo, and yoga mats were distributed across Russia in venues where events were organized. The Embassy published a bilingual publication on Yoga, in Russian and English, and distributed 10,000 copies across Russia. 10,000 DVDs of the Common Yoga Protocol, in English and Russian, were also sent to locations across Russia.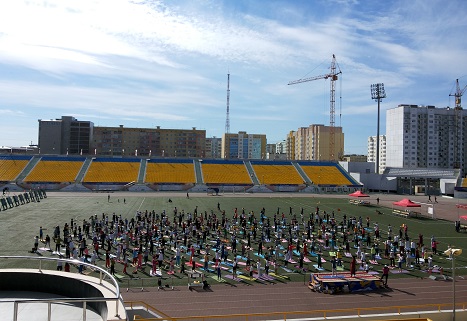 Celebration in Yakutsk. Source: RIR
Ms. Valeria, internationally renowned singer from Russia and an avid Yoga enthusiast, will be Russia's Brand Ambassador for Yoga.
The nation-wide events celebrated the United Nations adopting a Resolution (in December 2014), to annually observe June 21 as IDY. The resolution was initiated by India and co-sponsored by 177 countries, including the Russian Federation.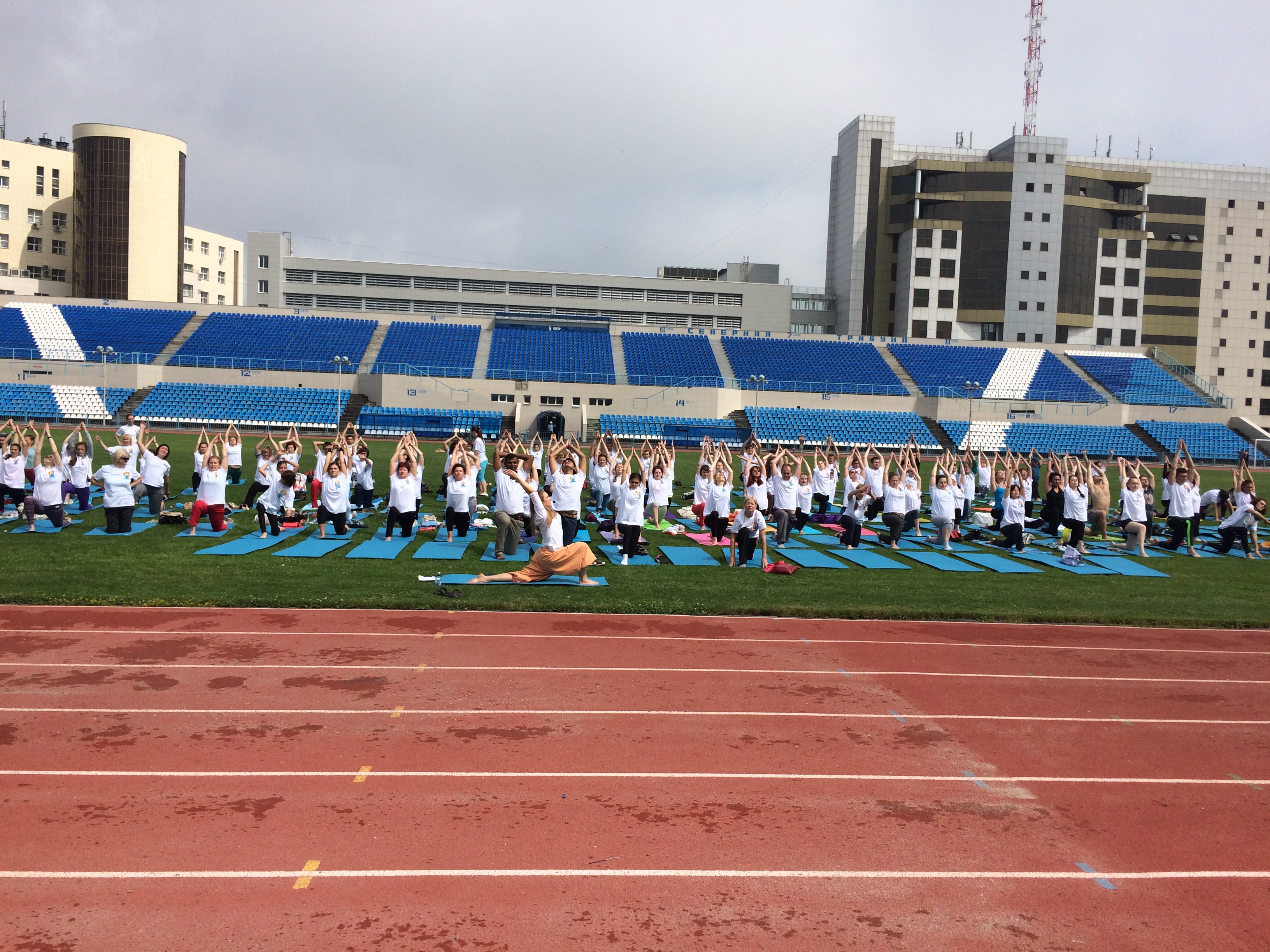 Celebration in Kursk. Source: RIR
Addressing the UN General Assembly last year, PM Modi said, "Yoga is an invaluable gift of ancient Indian tradition. It embodies unity of mind and body; thought and action; restraint and fulfilment; harmony between man and nature and a holistic approach to health and well-being. Yoga is not about exercise but to discover the sense of oneness with ourselves, the world and Nature. By changing our lifestyle and creating consciousness, it can help us to deal with climate change."
The UN resolution on IDY, aimed to promote healthy societies, was passed within 75 days of this speech.
All rights reserved by Rossiyskaya Gazeta.