Jury decisions provoke debate as Tchaikovsky Competition enters 2nd round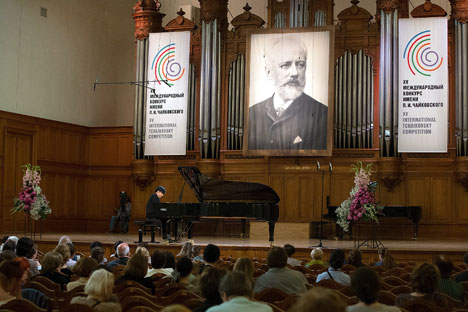 The International Tchaikovsky Competition is held once every four years. The first, in 1958, included two disciplines – piano and violin. Source: Press photo
Two thirds of contestants in piano category eliminated in 1st round after large numbers allowed through auditions.
The results of the first round in all the three instrument categories at the 15th edition of the Tchaikovsky Competition – piano, violin and cello – have been announced. Under the competition rules, 12 contestants in each category have been selected for the second round.
Competition in the piano category was the toughest and the jury's decisions all the more difficult because, in a departure from tradition, the number of contestants who passed the auditions and were allowed to compete in the first round in this category was higher than prescribed by the rules. As a result, two thirds of the contestants had to be eliminated in the 1st round.
"Moreover, this time round, it was not a case of eliminating those who did not perform quite well," said Rossiyskaya Gazeta music critic Irina Muravyova. "There were hardly any such performances in this competition."
From June 15 to July 3, 120 applicants can be seen online, playing the piano, the violin, the cello and singing in front of a world-renowned jury. The whole competition will be available online live and then for four years after the event on tch15.medici.tv.
"The first round in the piano category was a five-day marathon of recitals in the Great Hall of the Moscow Conservatory, where each pianist did not just take a 50-minute test but performed a whole concert. In that sense, this 1st round is so far unique. Almost all the contestants demonstrated technical mastery and an original style," said Muravyova.
In the piano category, the following contestants have made it to the second round: Russia's Sergei Redkin, Daniel Kharitonov, Ilya Rashkovsky, Mikhail Turpanov, Nikolai Medvedev and Dmitry Masleyev, as well as Maria Mazo (Germany), Reed Tetzloff and George Li (U.S.), Lucas Debargue (France), Lukas Geniusas (Russia-Lithuania), and Julia Kociuban (Poland).
In the violin category, the list of 2nd round contestants includes, among others: Mayu Kishima (Japan), Kim Younguk, Jang Yoo Jin and Kim Bomsori (South Korea), Tseng Yu-Chien (Taiwan), and Jumi Kang (Germany).
In the cello category, Pablo Ferrández-Castro (Spain), Leonard Elschenbroich and Valentino Worlitzsch, (Germany), Tristan Cornut and Bruno Philippe (France), and Seung Min Kang (South Korea) have made it to the second round.
Based on Rossiyskaya Gazeta.
All rights reserved by Rossiyskaya Gazeta.