Japan remains a distant dream for potential Russian immigrants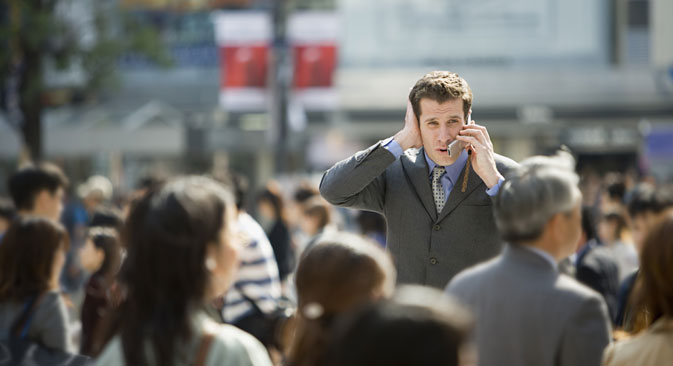 The Russian diaspora in Japan peaked in terms of numbers in the mid-1990s, when living conditions in Russia were volatile. Source: GettyImages/Fotobank
Less than 2000 Russians are permanent residents of Japan. Cultural and language barriers, and difficulties in obtaining visas are the main reasons that few Russians aspire to live in the country.
The Russian presence in Japan goes as far back as the late 19th century. There are several Russian graves in the foreign cemetery in Yokohama. In the 21st century, however, the small Russian community in the country has little connections with those who lived in Japan 200 years ago.
According to Pyotr Podalko, a historian and professor at the Aoyama Gakuin University, 1,766 Russians were registered as permanent residents of Japan in 2012. Almost 80 percent of them are married to Japanese citizens. There is also a small community of Russian teachers and researchers.
This is a small number when compared to the Russian community in China or Australia. The miniscule size of the Russian diaspora in Japan can be attributed to factors such as the peculiarity of the Japanese language, which is not widely taught in Russia, and the uniqueness of Japanese culture and customs.
However, there are more Russians in Japan than what the official figures indicate. Official statistics exclude short-term students of Japanese universities and individuals on short-term (up to one year) visas, who constantly renew them. Taking them into account, the actual number of Russians in Japan is closer to 10,000.
Perhaps some Japanese people think that there are even more Russians, because the Russian language remains the main mode of communication between the diasporas from the countries that were once part of the Soviet Union – Ukraine, Belarus, Kazakhstan. Among Russian speakers in Japan, there are twice as many women as men since many women are married to Japanese men.
The Russian diaspora in Japan peaked in terms of numbers in the mid-1990s, when living conditions in Russia were volatile. At that time, many women escaped the difficulties of life in Siberia and the Russian Far East by marrying Japanese men.
Today, the situation has changed, but there are many children of mixed marriages. Some women came with young children from previous marriages in Russia. That average age of the members of that generation of Russian-Japanese children is about 20 today. Their native language is Japanese.
Education and upbringing in Russia and Japan are very different, and a problem frequently arises in mixed families. Parents wonder about what path they should choose for the child. Japanese or Russian?
This choice becomes even more of a problem for the children themselves, who quickly adapt to Japanese society, but still keenly feel its mono-ethnicity. Besides having an identity crisis, these children also face discrimination when looking for jobs.
"In Japan, there are not many niches where Russians could use their advantage in the knowledge of Russian language and culture," Professor Podalko says. "The fields of physics, mathematics, programming, chemistry and biology are among the most in-demand specialties."
Despite the fact that Japanese culture continues to be very popular in Russia, Japan is gradually ceasing to be a place where Russian youth aspire to live in
The gap between economic levels of Japan and its neighbors, China and Korea, is gradually narrowing. On top of that, a Japanese visa is difficult to get, turning many Russians away from considering a life in the country.
All rights reserved by Rossiyskaya Gazeta.