Thrillers in contemporary Russian writing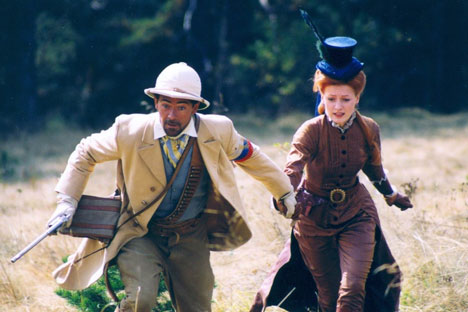 A screenshot from The Turkish Gambit, a movie based on adventures of Erast Fandorin by Boris Akunin. Source: kinopoisk
RIR is reproducing an excerpt from a new guide to modern Russian literature, authored by the Britain-based Russian writer Grigory Ryzhakov.
There is a rich history of crime fiction and adventure and mystery writing in Russia. Outlined below is a set of modern novels which combine elements of all three genres. Probably the most widely read in Russia are detective stories, many of which are set in the Tsarist era. These thrillers draw the reader back to a different, even mysterious, era of the Russian empire, invoking fascinating facets of Russian history while delving into the way people lived in that era gone by.
Murderous secrets in Tsarist Russia
Boris Akunin is a celebrity author in Russia, whose writing is widely translated worldwide. He is best known for his historical detective thrillers, 'Erast Fandorin' and 'Pelagiya', featuring a male detective and a nun as a sleuth, respectively. Akunin displayes great erudition in his attention to detail, yet he manages to somehow avoid the pitfall of excessive information being doled out and keeps the reader engrossed with the fast-paced, gripping plot rolling.
There was a time when Akunin used to translate Japanese fiction into Russian. He has also written works of non-fiction, primarily books on history and philosophy.
Leonid Yuzefovich's 'Harlequin's Costume'is set in the late 19th century in St. Petersburg. The legendary secret police chief Ivan Putilin investigates the murder of a top diplomat. Failure to solve the crime could lead to war. Putilin is an actual historical figure, which provides the book with added zest and curiosity. Other books in the series, 'The Rendezvous House' and 'Prince of The Wind', have yet to be translated.
Surreal crime in the Soviet Union and beyond
The darkly comic stories of Andrei Kurkov often featuring murder plots can also be considered adventures. Spies, mafia and intelligence agencies as in Le Carré's novels coupled with a touch of the surreal à la Bulgakov's Master And Margarita is Kurkov's trademark. I would start with Death and the Penguin and Penguin Lost. What do you think this bird is doing in the crumbling Soviet Union?
Humor and crime are also essential ingredients of Andrei Gelasimov's The Lying Year, a story about a rich Russian who hires a ne'er-do-well office worker called Mikhail to teach his teenage son Sergey "how to be a man." Naturally, Mikhail screws up by falling in love with Sergey's love interest, Marina, who looks like Audrey Hepburn. Mikhail has to lie, lie and lie his way out to survive. But he's not the only liar, as he finds out when he gets mixed up with crooks. The Lying Year is a light, lively yet psychological read reminding us what a fun rollercoaster life can be.
From cats to killers
Somebody asked me the other day whether Russians have succumbed to the cat craze too. Cats are adored in Russia as much as dogs. It is no wonder that Ilya Boyashov's The Way of Muri has become a popular bestseller. Muri is just a cat that has lost his owners in Bosnia during the recent war. He travels around Europe dealing with animals, people and supernatural creatures. What is he searching for? A new home and his previous owners? What are you looking for in your life? Do you know where are you heading? Home? What is home? Are we looking for shelter and comfort, or something more? And when we lose everything, where do we go? Muri's path is a satiric allegory of a personal quest for meanings. Cat lovers should be warned: cats aren't shown in the best light here.
The list wouldn't be complete without a killer thriller, Sergei Kuznetsov's Butterfly Skin, a terrifyingly visceral tale set in modern-day Moscow. A female journalist called Xenia sets up a trap for a serial killer only to discover her own dark side. Not scared enough? You should be.
Since scaring you is not my forte, I will wrap up. However, there are many other noteworthy Russian books I could add. These include Alexander Terekhov's Stone Bridge, a retrodetective on an NKVD case set in the Soviet Period, Oxana Robski's Casual about crooked new Russians and Peter Aleshkovsky's Skunk on teenage crime set in modern Russia, and Max Frei's The Labyrinths of the Echo, a fantasy crime detective series, all reviewed in other chapters of this guide. Enjoy reading them!
All rights reserved by Rossiyskaya Gazeta.