The Indian children participated in running, swimming, football competitions, table tennis, chess and other competitions. Source: Alexandra Katz
A team of Indian children bagged 10 medals at the 6th World Children Winners Games, for children who survived cancer, conducted in Moscow over the weekend. The Indian children shared not only athletic feats, but their spirit of winning over the dreaded disease with children from 15 countries.
A team of seven children from India, selected by the Tata Memorial Hospital to participate in the World Children Winners Games held in Moscow, headed back to India with 10 medals in their bags. These games, organized by the "Podari Zhizn" (Grant a Life) Foundation co-founded by Dina Korzun and Chulpan Khamatova, both famous Russian actresses, have been held annually in Moscow since 2010.
The Indian gold medal winners are Priyanka Zala (football), Gunjan Sudesh Jotkar (running) and Mansi Mehra (chess). Four children, Sprahish Shukla (running), Gunjan Sudesh Jotkar (football), Mansi Mehra (football) and Adhish Jakkani (chess) won silver medals, while three children, Tapajyoti Sarkar, Swastik Subhadarshi Guru and seven year old Sprahish Shukla, the youngest member of the Indian team, bagged bronze medals in football.
On the last day of their short trip to Russia's capital, the team of children, parents and doctors accompanying them visited the Indian Embassy where Ambassador P.S. Raghavan received them and took pictures with every little winner. The children also received presents from Winners Games organizers and MedInd Company, which sponsored their trip to Russia this year.
This was the second time India participated in the World Children Winners Games. Last year the Indian team took home 8 medals. However, it is not a medal that makes each child a winner, but their long, painful and stubborn struggle with cancer.
"I want to become a sprinter. Usain Bolt, the fastest man in the world, is my hero," 12-year-old Tapajyoti Sarkar from Kolkata said.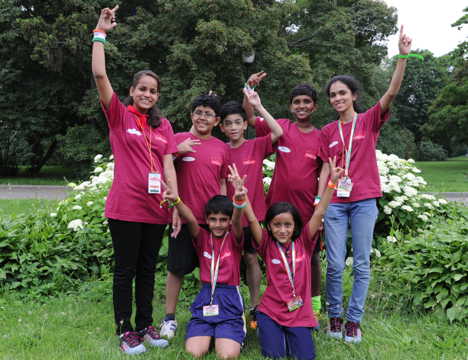 Source: Alexandra Katz
The boy has leukaemia, cancer of the blood cells. It is one of the most common cancers found in children and teenagers, accounting for almost one third of the total, according to some studies. Although Tapajyoti is in remission now, he will have to take treatment through his life, said Dr. Tushar Vora, the pediatric medical oncologist at Tata Memorial, who accompanied the children on their trip to Moscow.
Tushar Vora said all the children who were selected for these Games have successfully recovered from cancer and can lead a normal life, as any other child of their age should.
"We need to make sure that they live a normal life as much as it is possible. Such Games are a great opportunity for these children to feel that they are as normal as any other kids, and to meet and make friends", he said.
During the three days of the Winners Games, despite heavy rain and winds, the Indian children participated in running, swimming, football competitions, table tennis, chess and other competitions. They also had a chance to meet some of Russia's Olympics and Paralympics champions, including Sergei Shilov, a six-time Paralympic ski champion, Yulia Lipnitskaya, Olympic champion in figure skating, Elena Zamolodchikova, two-time Olympic champion in gymnastics, and some member of the Prussian women's Paralympic volleyball team; Lyubov Permyakova, Elizaveta Kunstman and Yana Gristenko and their coach Alexander Ovsyannikov.
The young and experienced athletes discussed how to prepare for competitions and how to deal with anxiety and stress. The award-winning sportsmen told the children that controlling their mind and being determined to win is what helps fighting anxiety. Determination is one thing these children have from the time they started battling with their diseases.
"Doctors have given me a chance to raise our Indian flag in Russia. I will do my best to participate and win in the World Children Winners Games," Mihir Pratap Singh, who had a bone tumor and underwent surgery on his leg, wrote before the competition. "I am very thankful to the doctors who have given me a new life and I hope that they always have success in their future. I promise, that in future, I will also become a very successful doctor".
Little Priyanka Zala from Mumbai said she was very surprised when she got to know she was selected to go to Russia to represent India. "I forgot all about my ailment and have started practicing the sports. This event has given me a new hope to live life,"she said.
14-year old Swastik Subhadarshi Guru had a long cherished dream to visit a foreign country. "Now God has fulfilled my dream to visit Moscow, Russia," the bronze medal winner said.
Most of the members of this Indian team participated not only in sports but in many other activities, from dance to music to photography. The children participated in several group performances at the Tata Memorial Hospital where they were treated and also at one of Mumbai's most famous theatres, the National Centre for Performing Arts (NCPA).
Tata Memorial Hospital doctors say that often, children who have been cured from their diseases, as well as their parents, become volunteers at the hospital helping other children in their tough battle for a healthy life.
The 6th World Children Winners Games proved the point: among more than 500 volunteers helping children from all over the world to play and win medals, many had disabilities and were even on wheelchairs. These children and teenagers become a great life example for both their peers, who are still battling cancer and other diseases, and also for adults.
All rights reserved by Rossiyskaya Gazeta.