Tchaikovsky Competition winners declared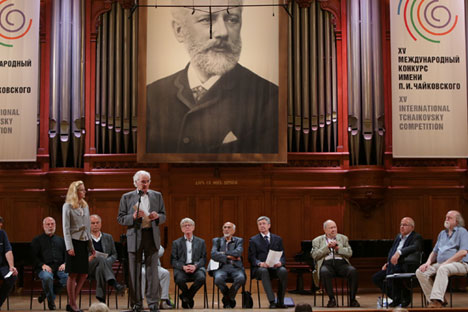 Organizers for the contest, held every four years, received submissions from 44 countries. Source: Press photo
Winners of the XV International Tchaikovsky competition include pianists, violinists, cellists and singers from countries including Russia, Taiwan, France, United States, Germany, Spain and others. The winners, many of whom were trained by Russian teachers, will give performances around the world.
Competitive rounds in almost every category resulted in hours of exciting musical battle, consisting essentially of a series of solo concerts from young musicians. A variety of personalities took the stages in Moscow and St. Petersburg during the three-week competition: romantics, virtuosos and thinkers.
However, a special emotional intensity was brought to the performances of pianists in the Great Hall of the Conservatory. The scene began "uncomfortably," as the jury weeded out the favorites from past contests.
Past winner Alexander Lubyantsev failed to pass the "live" selection this year and Andrei Korobeinikov, whose performance of Beethoven's Sonata No. 32 was a bright musical event and collected a record number of views during the online broadcast, didn't go further than the first round. But the very quality of the "victims" confirmed the high level of competition.
The same thing happened in other categories such as violin and cello. This can be attributed not only to the introduction of the "live" qualifying round, which certainly raised the entire first round to the next level, but also to the emergence of a bright new generation of musicians. This new generation's arrival was very apparent at the contest. Moreover, as the participants' profiles show, this development is largely connected with the traditions of the Russian performing school.
Although the competition has ceased being a mere parade of graduates from the Moscow Conservatory, many brilliant participants of this contest have been trained by Russian teachers at different stages of their development. They include all the finalists of the piano division – even George Li (U.S.), who was prepared for the competition by Maxim Mogilevsky, and Lucas Debargue (France), a student of Rena Shereshevskaya.
#TCH15 - Piano Round 1: George Li. Source: Youtube
The finale was a big challenge for all. In fact, it was a series of duels between the contenders – the melancholic and lyrical music of Sergei Redkin versus the phenomenal virtuoso George Li; Lucas Debargue, who rocked the audience with beauty and the depth of musical thought versus Lukas Geniušas, who brought a superb technical quality to his piano playing; Daniel Kharitonov, who charmed the public with his youth and simple, clear interpretations versus piano "magician" Dmitry Masleev.
#TCH15 - Piano Round 1: Dmitry Masleev. Source: Youtube
The competition attracted global attention: live broadcasts provided by the classical broadcasting service medici.tv were watched by more than 10 million people in 179 countries in 10,352 cities around the world. This is an absolute record for music competitions.
From this moment on, the winners will have a different artistic destiny, as their careers will be boosted greatly by the contest itself. "We will do our best for the young musicians to receive the opportunity to perform in the best concert venues throughout Russia as well as in Europe, Asia and the U.S. in the next 3-4 years," said Valery Gergiev, the artistic director of the Mariinsky Theater in St. Petersburg and head of the competition. "We have promised it and we will fulfill it."
Results of the XV International Tchaikovsky Competition
Piano category
I prize – Dmitry Masleev (Russia); II prize – Lukas Geniušas (Lithuania-Russia), George Li (U.S.); III prize – Sergei Redkin (Russia), Daniel Kharitonov (Russia); IV prize - Lucas Debargue (France).
Violin category
I prize – no winner; II prize - Yu-Chien Tseng (Taiwan); III prize – Haik Kazazyan (Russia), Alexandra Conunova (Moldova), Pavel Milyukov (Russia); IV prize: Clara-Jumi Kang (Germany); V prize: Bomsori Kim (South Korea).
Cello category
I prize - Andrei Ioniță (Romania); II prize - Alexander Ramm (Russia); III prize – Alexander Buzlov (Russia); IV prize – Pablo Ferrández (Spain); V prize - Seung Min Kang (South Korea); VI prize - Jonathan Roozeman (Netherlands).
Voice category
Female: I prize – Yulia Matochkina (Russia); II prize – Svetlana Moskalenko (Russia); III prize – Mane Galoyan (Armenia); IV prize – Antonina Vesenina (Russia).
Male: I prize – Ariunbaatar Ganbaatar (Mongolia); II prize - Chuanyue Wang (China); III prize – Hansung Yoo (South Korea); IV prize - Dmitry Grigoriev (Russia).
First published in Rossiyskaya Gazeta


All rights reserved by Rossiyskaya Gazeta.