Russian Family, Love & Faith Day at RCSC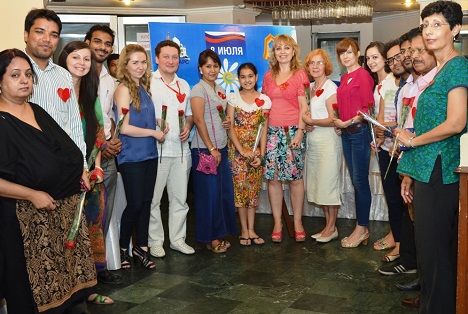 "Day of Family, Love and Faith" holiday. Source: RCSC
The significance, history and traditions of the All-Russian Day of Family, Love & Faith were highlighted at an event to mark the occasion at the RCSC in New Delhi.
The Russian Centre of Science and Culture (RCSC) in New Delhi organised an event to commemorate the popular Russian holiday "Day of Family, Love and Faith" on July 08, jointly with the Indian Association of Russian Compatriots.
Elena Barman, Chairperson All-India Coordination Council of Russian Compatriots, Arseny Starkov, Representative, Information & Culture, RCSC, Tatiana Shipilova, Director of the Institute of Russian language and Russian language teachers participated. All Delhi-based Russian compatriots, children of Russian-Indian families, as well as Indian graduates from Russian universities and Russian language students also attended the event, which was marked by warmth and bonhomie.
Source: RCSC
Elena Barman greeted and thanked participants at the meeting and underlined the relevance of this holiday in the modern context, emphasizing that such fundamental values as family, home, mutual support, respect and understanding would always continue to remain the bedrock of any society.
Arseny Starkov congratulated the attendees on behalf of the RCSC Director Fedor Rozovskiy, and spoke of the traditions and history associated with the All-Russian Day of Family, Love and Faith.
There was a video presentation on the history, relevance and background of this Day. The highlight of the function was a group discussion followed by lively, spirited and interactive debate on the crucial but relevant issue of modern society, namely, the choice between Love Marriage and Arranged Marriage. By a lucky draw, two groups were selected under each category. Members of each group spoke their views on the relevant aspects of marriage, followed by the pros and cons and positive and negative effects.
All rights reserved by Rossiyskaya Gazeta.