Russia's best-known librarian dies at 69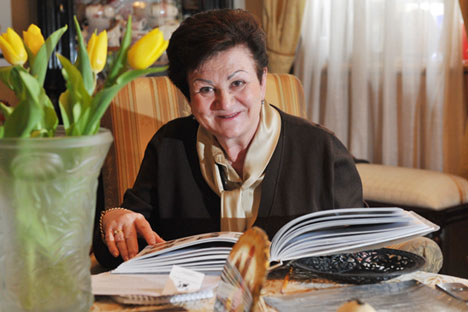 Yekaterina Genieva. Source: RIA Novosti / Artem Zhitenev
The renowned philologist, English literature scholar, public figure and UNESCO expert, who dedicated 43 years of her life to one of Russia's largest libraries, has died in Israel following a long illness.
After a long illness, 69-year-old Yekaterina Genieva, a renowned translator and philologist, "a tireless patron of literature" and "good and kind person," in the words of writer Alexander Kabakov, has died in Israel.
The daughter of Orthodox priest and theologian Alexander Men, Genieva had dedicated her life to literature.
Genieva's friend, and author of internationally acclaimed novel, The Life and Extraordinary Adventures of Soldier Ivan Chonkin, Vladimir Voinovich told RIR: "Genieva was an unusually erudite and talented person. Furthermore, her activity was never limited to her work in the library system. She translated and published books by English authors and continuously organized literary events."
Genieva had incredible energy and charisma for everything: from managing the library, publishing and chairing Soros's Charity Foundation in Russia to raising monuments and participating in the Russian UNESCO committees and International Library Federation.
Perestroika onwards
In the middle of the 1980s Genieva was among the most ardent supporters of perestroika and other reforms initiated by Soviet leader Mikhail Gorbachev. She was a friend of Yegor Gaidar, finance minister and later prime minister under Russia's first president, Boris Yeltsin. She was near him when he fell ill, and after his death was one of those who took on his mantle.
At that time she was very keen on English literature: She wrote articles, initiated translations and publications. She was known as "an unmatched Joyce scholar." That was when she began her intense activity as a librarian.
Writer and editor-in-chief of one of Russia's oldest and most authoritative literary magazines Znamya Sergei Chuprinin said: "In the middle of the 1990s I came to Katya with a project that seemed completely insane - a dictionary-directory of contemporary Russian literature. It didn't have anything to do with my Znamya or her library activity. But she listened to me and then said, "What do you mean it has nothing to do with it? If not me, then who?" This phrase became the moral imperative in all her activities for the rest of her life."
The mid 1980s was a very difficult time for Russia, a time of global, tumultuous change, Chuprinin noted.
"Genieva became chairwoman of the workforce council at the library, an organization that would have been useless in other places, but not where she was. Soon this council, and not the library administration, started making important decisions," he added.
"And when world-famous philologist Vyacheslav Ivanov was appointed library director, he immediately asked Genieva to be his deputy. And when George Soros arrived in Russia with his charity projects, who could he have turned to if not her? With Genieva as director of the Soros Foundation, it was only thanks to her ceaseless energy that Russia managed to preserve many of its historical, cultural and literary monuments. She took charge of everything and did everything with transparent honesty and dedication."
The article is abridged. Read full version at RBTH.com.
All rights reserved by Rossiyskaya Gazeta.