The Soviet guide to the perfect summer appetizer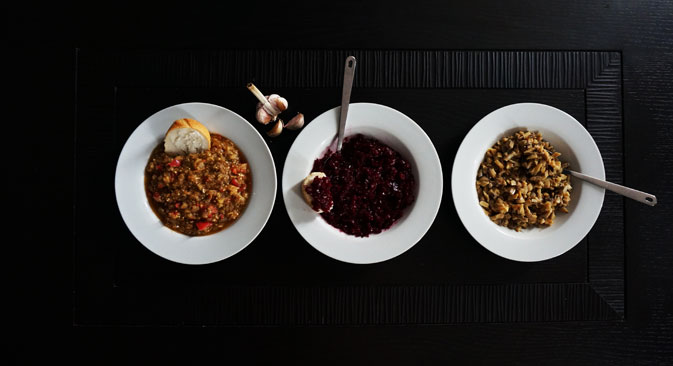 3 kinds of caviars via Soviet Diet cookbook. Source: Anna Kharzeeva
The Book may have been the source of the wonderful snacks on offer between acts at the Bolshoi.
This piece is part of the Soviet Diet Cookbook, a blog about a modern Russian girl cooking Soviet food. To read more of the series,
click here
.
Recently I was looking for ideas for summer dips, and to my surprise, I found them in the Book. It really does have just about any recipe!
I've previously made pate, which can be served as a dip, and it's since become a regular on my snack table – and no guests have complained. This time I decided to try three dips, which are usually called caviars (ikra) in Russian. I picked eggplant, beets and mushroom to try and make into dips. The eggplant and tomato variation will certainly appear on my table again – it was delicious! The beet and mushroom dips were pretty good, too, although they are more like side dishes than dips in terms of consistency.
I remember zucchini spread was popular when I was growing up. It was mostly store-bought, though. At that time, dips and spreads weren't served with pieces of bread or cut vegetables to be dipped into them. Instead they were served with bread slices and butter, so maybe it makes sense that they weren't called dips. Today, Russians who have acquainted themselves well enough with Western food call these things "dipy" and "spready," putting the Russian plural forms onto English words. I don't even dream of saying something like that in front of my grandmother — she hates all Ruslish.
Back in the day, Granny reminisces, all these kinds of dips were called "ikra" and they were consumed like sandwiches before the main courses. There was never beet ikra, though — and I'm not surprised. Honestly I think it's the weakest link in the dip selection.
"As for mushrooms," Granny said, "there were – what do you call baked mushrooms with cheese? - juliennes in every cafeteria. The best cafeteria was in the Kremlin concert hall – anyone who went for a concert there would go to the buffet during the intermission to get some julienne and other snacks. They were affordable, too. In general, theaters and concert halls had good buffets – the better the venue, the nicer the spread of starters."
Maybe the deep love of Russians for theater lies with julienne. But the buffets at theaters today wouldn't inspire anyone to sit through a play. I remember coming down to the buffet at the Bolshoi Theater during intermission to find that most of the food was gone and there were only a few over-priced salami and smoked fish sandwiches left. Maybe I was spoiled before, but the quantities and prices were certainly not up to Soviet standard.
"Another place to get great julienne and other treats," Granny noted, "was at voting stations – they had very good food. A lot of people only went to vote to get hold of some delicacies like julienne, salami, vobla [dried salty fish] and canned food. Another reason to go was so the agitator who walked around apartments urging people to vote wouldn't get into trouble. I've been an agitator and people would tell me: 'We feel sorry for you, so we'll go.' The nature of the elections was, as we called it, 'voluntary-compulsory.'"
Luckily we don't have to rely on voting station and theaters to feed us delicacies anymore, although they could do with a nice spread of dips!
Mushroom caviar
The recipe from the Soviet Cook Book, page 62
Ingredients:
250g pickled mushrooms (or 50 grams dried mushrooms); 1 onion; 1-2 Tbsp vegetable oil
Mushroom caviar can be prepared from fresh cooked, pickled or dried salted mushrooms. If using dried mushrooms, add water to them, let sit and drain before cooking. Chop the onion and then fry it in vegetable oil. Cool and mix with the mushrooms, adding a little pepper. For a more tangy taste, add lemon juice or vinegar, salt and pepper and sprinkle with finely chopped onions.
Eggplant caviar
Ingredients:
300 grams eggplant; 1-2 onions; 2 Tbsp vegetable oil; 1 tomato
Bake or boil the eggplant. Peel it and chop the pulp.
Add a little fried onion and tomato, salt, pepper, vegetable oil and a little vinegar.
Stir all together, then simmer over until mixture reduces. Cool before serving.
Beet caviar
Ingredients:
500 grams beets; 2-3 Tbsp sugar; 2 Tbsp butter; ½ lemon
Wash, peel, boil and mince the beets.
Add sugar, butter, lemon zest and lemon juice to the beets.
Stir and put in a saucepan over low heat for 5-10 minutes, stirring frequently as not to burn. Cool before serving.
All rights reserved by Rossiyskaya Gazeta.