'The saddest thing about nursing homes are the people's stories themselves'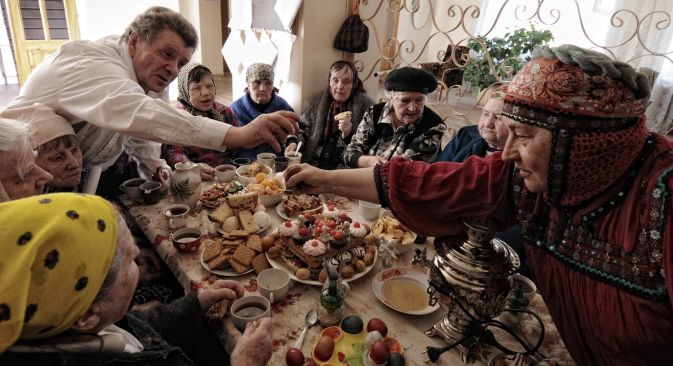 Photographer Konstantin Chalabov: ' I had imagined that a nursing home is a closed institution, similar to a psychiatric clinic". Source: Konstantin Chalabov
An exhibition titled "Time Left to Live" has opened in Moscow's Rabochy and Kolkhoznitsa Exposition Center, showing the photo and video works of Konstantin Chalabov, a young photographer from Veliky Novgorod who has spent three years collecting the stories and portraits of residents of Russian nursing homes and has come to the conclusion that life within these walls is not always a tragedy. RBTH speaks to the photographer about the project and its protagonists.
RBTH: Konstantin, how did you come up with the project?
Konstantin Chalabov: I first found myself in a nursing home on an assignment from the editorial department. I had once worked as a stringer for an information agency. I had imagined that a nursing home is a closed institution, similar to a psychiatric clinic. I took some pictures and sent them to the agency.
Then I went to another boarding house, in the city of Shimsk in the Novgorod Region (500 kilometers north of Moscow). In three years I visited seven different homes in the Novgorod Region.
RBTH: Did you decide to go to the home the second time yourself?
K. C.: Yes, but I was still taking photos for the agency. I went to Shimsk. There is a small old folks' home there. I started photographing and I realized that it was very cozy there. There was a pond where the people walk and nearby there are regular residential houses…
The worst place to live is in the large institutions where there are many residents. An example is the one in the village of Borovichi (370 kilometers north of Moscow). The staff doesn't even know everyone by name. For the 10 rooms on each floor there is only one attendant. I felt really bad. How can people live in these nursing homes? I started asking the residents about their lives.
Then I helped some friends with a charity project related to nursing homes and realized that all this would make a great exhibition. Besides the photos, I also filmed videos and conducted interviews, so that the stories could come out in their entirety.
RBTH: How did you feel after the first visits?
K. C.: I had expected to see something sad, something that would move me – the way old people crawl about in the halls, how no one looks after them and so on. But in reality, there was nothing so horrible.
The saddest thing about nursing homes are the people's stories themselves. There is this feeling that the people who live there are exuding despair. Simply because everyone there has had something tragic happen to them – their children died or they drank themselves sick and refused to take care of them.
However, after my observations I can say that if a person is 80 years old and doesn't have anyone, it is better for him or her to live in a nursing home and have a roommate whom to talk with. He will be taken care of, fed and washed. On the other hand, people need a home of their own, while here they live as if in a clinic.
RBTH: The subject of care homes is very photogenic and is good for films. Why is life there usually portrayed in a negative light?
K. C.: The topic of old folks is indeed commonplace; many photographers have covered it. It's easy to use this topic to gain visibility and present yourself to news agencies, to competitions, in Russia and abroad. So that people see it and cry. But it's more complex than that. And I didn't want to take that course. I didn't want to show this "dark stuff," the gloomy and heavy moments in the lives of the people there.
But at the same time I don't think photographers should show only the good things. I think that a person should not be photographed in a situation that belittles him. That is why my project doesn't contain any gloomy visions of the nursing homes, but only people and their life stories.
For example, in the Proletarsky settlement in the Novgorod Region the old folks appear rather happy – they swim in the lake, make snowmen… Their life is very close to our ordinary life. They are just roommates for each other.
RBTH: Which stories have you remembered from your interviews?
K. C.: I have a photograph of a woman – she was 102 years old back then. Now she is dead. She had lived her whole life alone. Her husband was killed in World War II and afterward she didn't meet anyone.
The stories of love and weddings also really striking, those of 70-80-year-olds who find each other in the home. There is a photo of the Bogdanov couple in the exhibition. They are invalids – he is blind and she can't walk. I photographed their wedding. This was amazing! You could see how they really loved one another.
There is another story of an 80-year-old woman and a 56-year-old man who live together. He courted her and they fell in love. But I can't exactly understand what kind of a relationship they have: one of a mother and son, of friends or of lovers.
There are also intrigues. I have a picture of a woman who is called "the black widow." She had three marriages in the home and all the husbands were really old and when they died she was left with some of their property.
Find more information on the exhibition at the web-site.
All rights reserved by Rossiyskaya Gazeta.