Moscow theatre group ATO performs in India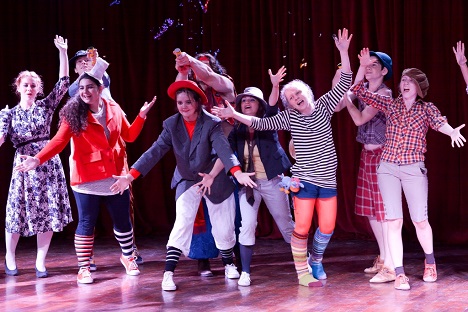 The ATO, established in 1989, has a team comprising young authors, film-makers, artists and creative people from different areas. Source: RCSC
Moscow's Author's Theatrical Organisation performed a children's play in New Delhi to a rapt audience, after participating in an International Theatre Festival in Bhubaneswar, in the eastern Indian state of Orissa.
The Delhi audience had a rare opportunity to enjoy a Children's play, "Girl, Suitcase & Horse" presented by the Russian Centre of Science and Culture (RCSC) and the Author's Theatrical Organisation (ATO) from Moscow, on July 13, 2015. The event was jointly organised by the International Federation of Indo-Russian Youth Clubs (IFIRYC) and the Russian Embassy. A large number of New Delhi's children, along with their parents saw the play, which had a message.
The 19-member Russian ATO team of artists, led by Julia Mekhtieva , Chief Producer and Sergey Khrapov, Director of ATO, arrived from Bhubaneswar, Orissa, after participating in the 23rd Indian Theatre Olympiad; an International Theatre Festival, under a cultural exchange programme from July 1 to 12.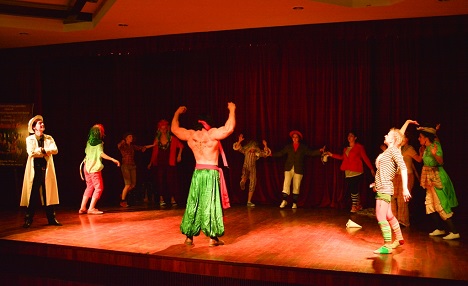 Source: RCSC
They performed the children's play "The Snow Queen" and "Girl, a Suitcase and a Horse" at Bhubaneswar. Other than the Indian and Russian groups, artists from UK, Portugal, Finland, Romania, Italy, Mexico, Morocco, Iraq, Bangladesh, Nepal and Hong Kong attended the festival, which ended with a theatrical, colourful procession through the mains street of Cuttack city in eastern Orissa province.
The ATO, established in 1989, has a team comprising young authors, film-makers, artists and creative people from different areas. They create original artistic compositions. The composers, writers, painters work together and give ideas and create new projects. People from different professions are work together; grown-up people and children from a very early age join the theatre. Apart from performing on their stage in Moscow they give their performances in other theatres, too. They also participate in international festivals and performance tours. They work in different art forms such as drama, music, plastic arts, puppet and street theatre. They look to like-minded people to exchange their experiences and making collaborative programmes.
Among those who attended Monday's performance were Chief Guest, Suman Kumar, Deputy Secretary (Drama) with the Sangeet Natak Academi, Purnima Anand, President IFIRYC, Julia Ariaeva, Secretary, Russian Embassy and Arseny Starkov, RCSC Representative.
Hailing the joint RCSC, ATO and IFIRYC initiative to present a novel theatrical performance, Kumar underlined the significance of the art form which would artistically inspire the young generation.
"Children's performances are not just for children; usually, in their inner meaning, lies a certain ideology and the rise of various kinds of problems. I am sure from today's presentation, even adults will be delighted", Kumar said.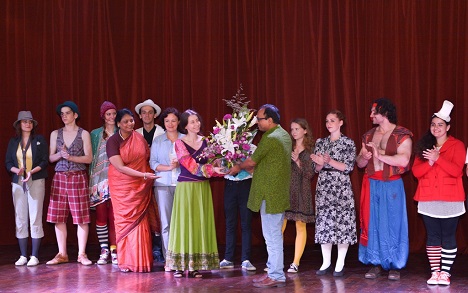 Source: RCSC
The theme of the play revolved around a funny-looking, lonely young girl who turns out to be the greatest story-teller in the world; Pippi Long stocking. The sequences reflect her fantasies and showcase what she could be in reality. In her fantasies, she faces the same problems that occur in the real world. Her encounter with the circus director Mr. Stephenson becomes a turning point in her life. She handles the challenging situations emerging, and she overcomes all the hurdles. She successfully performs the world champion "Spanish Bull". In quick succession, she also wins over the school teacher Miss Freken Rosenbloom, assigned to re-educate her. She ultimately gains the support of children. Both the circus director and teacher attempt to reform her. But she contemplates and introspects the turn of events in her life. She decides to become what she is and exhorts people around to love children as they are. She again becomes a merry story-teller, Pippi, which is her in reality.
After their performance, the artists were felicitated by Kumar, Anand, and Ariaeva. The artists conducted a Master Class at Satyug Darshan School, Faridabad, on July 15.
All rights reserved by Rossiyskaya Gazeta.