Russian Sherlock Holmes Livanov turns 80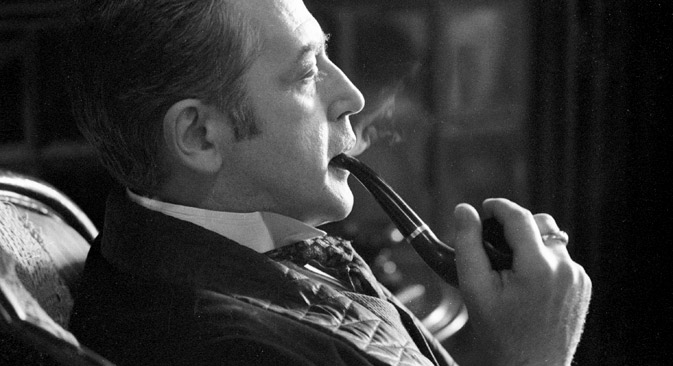 Actor Vasily Livanov was made an Honorary MBE for his performance as Holmes. Source: Dmitry Donskoy / RIA Novosti
Famed for playing the detective in a celebrated Russian television series, the honorary MBE is loved in Russia and abroad.
Prominent Russian actor Vasily Livanov celebrates his 80th birthday today.
Famed in Russia both as an actor and the voice of dozens of cartoon characters, he is best known for playing Sherlock Holmes in a hugely popular 1980s Soviet television adaptation of Sir Arthur Conan Doyle's stories of the fictional Victorian British sleuth.
Critically acclaimed for his performance at the world-renowned detective, Livanov is loved by Russians for the congenial manner in which he played Sherlock Holmes, reports Rossiyskaya Gazeta.
Series director Igor Maslennikov wanted to find an actor whose appearance would resemble British illustrator Sidney Edward Paget's view of Sherlock Holmes. A personal friend of Conan Doyle, Paget's drawings, first published in The Strand Magazine, shows the famous detective as a middle-aged country squire decked out in his indispensable deerstalker, a smoking pipe in hand. That image was not the only reason for the phenomenal success of Russia's Sherlock Holmes – Livanov brought to the character a unique intelligence, dignity and venerability, making Maslennikov's vision of the character the epitome of British reserve and patience. And it is not only Russians who appreciate Livanov's interpretation of the great character.
In 2007 Livanov was made a member of Most Excellent Order of the British Empire (MBE). Presenting the award, one of the UK's top civilian honors, then British ambassador to Moscow, Anthony Brenton dubbed Sherlock Holmes a bridge between Britain and Russia. "Holmes is one of the most popular and successful detectives to appear on Russian TV - and he is British. Livanov is, in my view, one of the most talented and accurate actors in his depiction of the detective - and he is Russian", Brenton noted.
Livanov's portrait is included in the exhibits at London's Sherlock Holmes museum in Baker Street and Russian TV viewers are regularly treated to re-runs of the Soviet series, which remains a much-loved classic to this day.
All rights reserved by Rossiyskaya Gazeta.