Russia's soccer records: solace in troubled times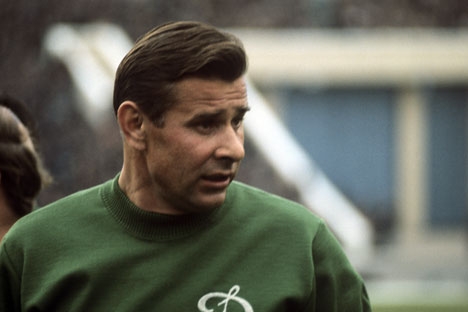 Lev Yashin, USSR Honored Master of Sports, the best Soviet and World goalkeeper, Dinamo football club goalkeeper, May 28, 1971. Source: Yuriy Somov / RIA Novosti
Things are not looking great for Russian soccer. The national team's qualification for UEFA Euro 2016 appears in doubt after a string of lacklustre performances, culminating in an embarrassing home defeat to Austria. Despite the gloom and doom however, Russians can be proud of the number of game records held by their players.
Lev Yashin
Legendary goalkeeper Lev Yashin is the only goalie in soccer history to have won the Golden Ball (1963). To honour this player, FIFA instituted the Lev Yashin prize in 1994 to present to the best goalkeeper in each World Cup. This award was renamed the Golden Glove Award in 2010. Germany's Manuel Neuer, considered the world's greatest goalkeeper since Yashin, won the prize in 2014, and came within a whisker of winning the Golden Ball. The Germany and Bayern Munich goalkeeper made it to the final shortlist of three, and was even the favourite among bookmakers, but lost out to Portugal's Cristiano Ronaldo. Yashin's record remains in place!
Lev Yashin. Source: YouTube
Oleg Salenko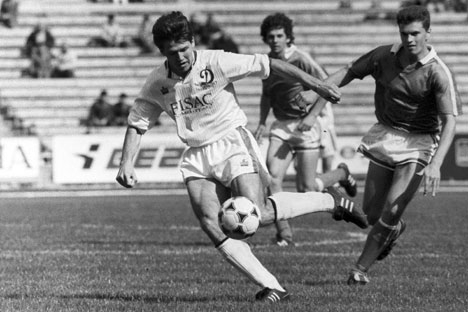 The 1990 USSR Cup final match, Lokomotiv Moscow vs Dynamo Kiev. Forward Oleg Salenko of Dynamo Kiev and the USSR national team in attack, May 2, 1990. Source: Yuriy Tutov / RIA Novosti

Oleg Salenko in 1994 set a record in the final phase of the World Cup tournament by scoring the most goals in one match. The Russian striker netted an incredible five times in a 6-1 rout of Cameroon in Russia's final group stage match. However, even with Salenko's achievement, Russia could not make it to the next round, having already lost to Brazil (0-2) and Sweden (1-3). Salenko had also scored Russia's only goal in the match against Sweden, making him the tournament's top scorer, an honour he shared with the legend of Bulgarian football, Hristo Stoichkov. No player has been able to score more than three goals in a World Cup match since Salenko's feat, and only six players have scored a hat-trick (Gabriel Batistuta, Miroslav Klose, Pauleta, Gonzalo Higuain, Thomas Müller and Xherdan Shaqiri).
Oleg Salenko. Source: YouTube
Dmitry Alenichev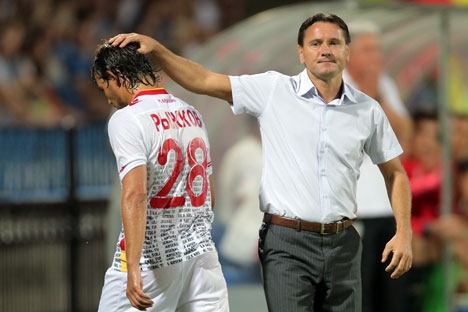 Arsenal's head coach Dmitry Alenichev and Arsenak player Vladislav Ryzhkov during a match of the 3rd round of the Russian Football Premier League championship between FC Arsenal Tula and FC Rubin Kazan, Aug. 12, 2014. Source: Vitaliy Belousov / RIA Novosti

In the 2003/2004 season Porto player Dmitry Alenichev became the first to score in the final of both the Champions League and UEFA Cup. The goals he scored against Celtic (3-2) and Bayern Munich (3-0) gave Portuguese coach Jose Mourinho his first international trophies. After retiring from soccer, Alenichev entered politics, but later returned to the sport. In 2010 he began coaching and just recently, in June 2015, was appointed coach of Spartak Moscow.
Dmitry Alenichev. Source: YouTube
Dmitry Kirichenko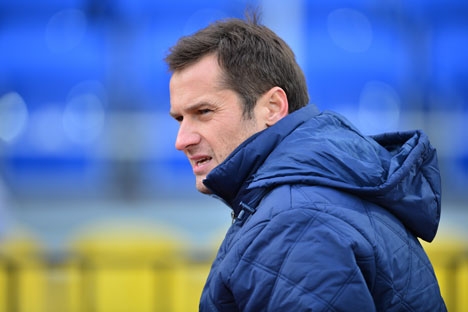 Kirichenko during the Russian Football Premier League's Round 10 match between Arsenal Tula and Rostov Rostov-on-Don, Oct. 19, 2014. Source: Andrey Varenkov / RIA Novosti

In June 2004 Russian national team striker Dmitry Kirichenko scored the quickest goal in the final phase of the European Championships. It took Kirichenko just 65 seconds to put the ball past the goalkeeper of future European champions Greece, beating a 16-year record that had been held by another Russian player, Sergei Aleinikov, who in 1988 scored a goal after two minutes and seven seconds in a match against England. Kirichenko's goal was also the fastest goal scored in the history of Russia's national team. However, just recently, the record was beaten by Dynamo Moscow striker Alexander Kokorin, who scored against Luxembourg just 17 seconds into a European Championship qualifying match. Russia went on to win 4-1.
Dmitry Kirichenko (27th second). Source: YouTube
Andrei Arshavin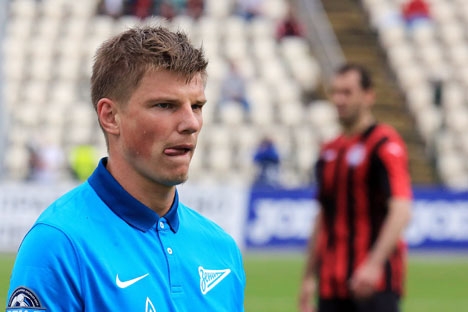 Arshavin during the Russian Premier Football League championship's 29th round match between the football clubs Amkar Perm and Zenit St. Petersburg, May 23, 2015. Source: Igor Kataev / RIA Novosti
In 2009 Andrei Arshavin also made it into the history books. The striker, then plying his trade at Arsenal in the English Premier League, set a record for most goals scored in one match played at F.C. Liverpool's Anfield stadium, netting four times in a classic 4-4 tie. Equally remarkable is that in the entire match he had only four shots on goal – and all of them went in. Together with Zenit St. Petersburg's 2007-2008 UEFA Cup win and the Russian national team's third-place finish in UEFA Euro 2008, the year was the pinnacle in the career of perhaps the best Russian player of the modern era.
Andrey Arshavin: 4 Goals vs Liverpool. Source: YouTube

Igor Akinfeev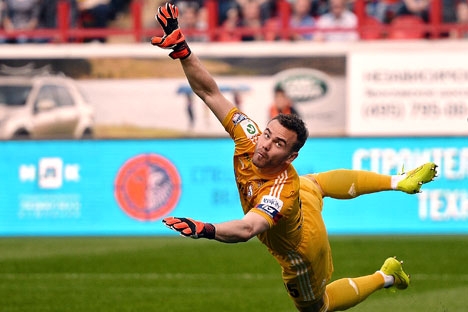 Igor Akinfeyev during the Russian Football Premier League's Round 27 match between Lokomotiv Moscow and CSKA Moscow, May 10, 2015. Source: Vladimir Astapkovich / RIA Novosti

Unfortunately, the team – or to be more accurate, national team goalkeeper Igor Akinfeev – is also the holder of a rather unwelcome record: the most consecutive Champions League matches played without keeping a clean sheet.
Russian Goalkeeper Igor Akinfeev. Source: YouTube
Since 2006 the CSKA goalie has let in a total of 57 goals in 27 consecutive games in the tournament. Second place in this category is held by former PSV Eindhoven goalkeeper Ronald Waterreus with 16 matches and third place by the Greek Antonios Nikopolidis with 15 matches.
First published in Russian in Sports.ru.
All rights reserved by Rossiyskaya Gazeta.