RBTH: Unlike many other classic Russian novels, A Hero of Our Time has never been staged as a ballet, apart from one of its novellas, Bella. What inspired you in Lermontov?
Yuri Possokhov: In fact, I wanted to do War and Peace or EugeneOnegin. The idea to go for A Hero of Our Timecame from Kirill Serebrennikov, who had already been signed up as the director for the project. Then the project, which had been conceived and organized from scratch by the artistic director of the Bolshoi Ballet, Sergei Filin, was suspended after the change of management at the theater.
For a whole year, I heard nothing about the future of our production [and] was sitting at home, working on other ballets, thinking that the Bolshoi project had been canceled. And then suddenly everything quickly picked up again… I was invited to work in this new context, where the choreographer was no longer the main figure, though remained an important one.
RBTH: What is important in A Hero of Our Time for you?
Y.P.: We have three different ballets and three different stories: There are intimate things there, as well as social life and resort life. The more one looks into this book, the more directions one sees that relationships can take, often absolutely opposed directions.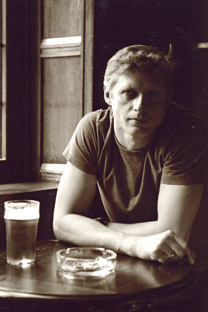 Yuri Possokhov. Source: Andrei Melanyin
This is what attracts me in A Hero of Our Time. Ballet is not about retelling a story, this is not where its aim lies. Take, for example, John Cranko's reinterpretation of EugeneOnegin: it is not a version of Eugene Onegin, it is simply a ballet about love, which has nothing to do with the real Onegin.
RBTH: What time does your hero belong to? The time of Lermontov, our or some other time?
Y.P.: Our version is in line with the book. For me, it is a timeless story and Pechorin is a character that is popular in any time. He is an unconventional man, very smart, very sophisticated but at the same time he has his negative sides too. There is a huge gap between him and everybody else. Pechorin despises society but as a result society sees him as an out-of-the-ordinary man, women fall in love with him, men admire him. Something that is negative is always liked more than the positive. In my understanding, this is what the hero of our time is.
RBTH: Do you think an individual today can oppose society?
Y.P.: This is something that each of us can judge only from a personal point of view. I am a weak person, I cannot.
RBTH: A position can be expressed not only through a speech from the rostrum but also through art, can't it?
Y.P.: Art is a normal expression of human existence, a natural condition for some people. It is work, like any other. There are people who defend human rights, independence. This is real heroism, as far as I am concerned. I can assist in it, I love helping people. But I myself cannot do the defending. Whereas art, any artistic production can remain unheard by society, easily forgotten by it. How is one to fight this? And what's the point?
RBTH: Don't you care that some people will hear you still?
Y.P.: I do feel that some people hear me.
RBTH: You are now once again going through a period of narrative ballets. Are you thus meeting a need of your own or is this a current trend in modern ballet?
Y.P.: Indeed, my latest productions were The Rite of Spring and Swimmer, which I did at the San Francisco Ballet. I find it easier to create a ballet when I see its meaning and know what the movements I create are for.
After graduating from the Choreographic Ballet Academy in Moscow in 1982, Yuri Possokhov was accepted into the Bolshoi Ballet company, where he performed all the key classical parts: from Prince Siegfried in Swan Lake to The Nutcracker. He was the first dancer in Russia to perform George Balanchine's The Prodigal Son. In 1992, Possokhov became a principal dancer with the Royal Danish Ballet and joined the San Francisco Ballet in 1994. In the late 1990s, he began working as a choreographer while still performing on stage. Since 2006, Possokhov has been the choreographer of the San Francisco Ballet.
It does not have to be a literary narrative: For example, there is none in The Rite of Spring but I followed the program that Stravinsky used to compose the music. I like it when sometimes an existing score is used for a completely new story. But in the The Rite of Spring I myself could not abandon the original myth, whereas in Swimmer, I created everything: the libretto, stage direction and choreography.
The Americans were surprised by that production: They no longer remember who Jack London was, few of them have read Salinger's The Catcher in the Rye. Thus, it turned out that I brought them back in touch with their own culture, which they had either forgotten or did not know. Even the performers began to read, to learn something new in order to get the meaning, which I liked very much.
I personally would like now to stage a non-narrative ballet and to use one of Prokofiev's piano concertos for it. However, I am booked for the next 18 months and everywhere – in Tbilisi, Copenhagen and America – they are commissioning narrative ballets. It seems that right now people need narrative ballets. But I am tired of them and my next ballet in San Francisco in the 2016-2017 season will definitely be a non-narrative one.
RBTH: Ever since its inception, American ballet has always been under considerable Russian influence. As somebody who was born in Russia and spent many years working in the U.S., do you think this trend is still there?
Y.P.: I think it is still present in ballet schools, where there are still a lot of Russian teachers. But, overall, I think, American ballet is following the path of English ballet.
RBTH: Does this mean that Russian ballet has lost its leading position in the world?
Y.P.: I think, in terms of the quality of dancing, the Bolshoi is now a world leader. No other company has such a star collection of dancers. But for choreographers to emerge, it would take years. Having said that, now the theater has a unique opportunity for that: Nowhere else are there as many productions staged as here. It is an opportunity not to be missed. I very much enjoy the creative process here.
All rights reserved by Rossiyskaya Gazeta.