India's 'People's President,' who conceived BrahMos, passes away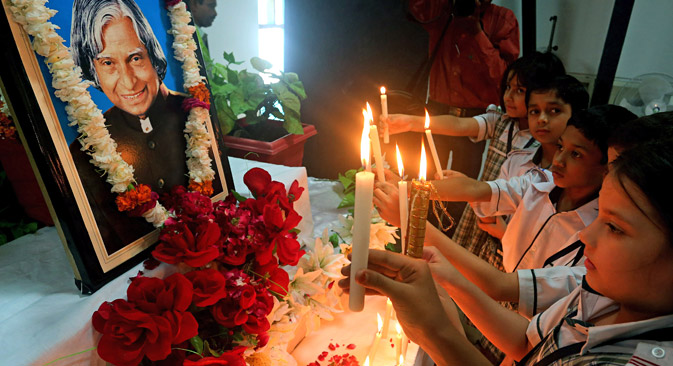 Pupils mourn former Indian President APJ Abdul Kalam. Source: Epa
Widely known as the 'People's President,' but also "Missile Man," the scientific genius who conceived India's missile development and nuclear weaponisation programmes, India's former President, Dr. A.P.J. Abdul Kalam, died on Monday in his favourite role as teacher, while he was addressing students. Kalam, who conceived of the BrahMos missile, jointly built by India and Russia, urged students to dream and projected his vision of India as a developed nation by 2020.
The Indian President is largely a figurehead, with constitutional authority, while real power lies with the council of ministers, headed by the Prime Minister. But the 11th President of India, Dr. A P J Abdul Kalam, whose tenure lasted between 2002 and 2007, won over a billion Indians with his simplicity, his openness, his practical wisdom and his obvious joy in talking to people, particularly students. He died while delivering a lecture to students at the Indian Institute of Management in Shillong in northeast India.
Born into an ordinary family in southern Tamil Nadu state; his father rented out a boat to fishermen for a living while he delivered newspapers to pay for his studies; Kalam was passionate about learning, and went on to graduate in physics and study aeronautics. A practicing Muslim, he embodied India's composite culture, studying Indian classical music, playing a traditional stringed instrument, the 'Veena' and, according to a biographer, fluent in sacred Hindu and Muslim sacred texts.
He had said his interest in aeronautics began when he was a small boy, delivering a local Tamil newspaper, and noticed an article about the Supermarine Spitfire, a fighter jet used by the British in World War II. He studied aeronautical engineering to become a fighter pilot but could not qualify and got a job at Hindustan Aeronautics. He was later hired by the Indian Space Research Organization (ISRO) and Defence Research and Development Organization (DRDO), where he helped develop India's first satellite launch vehicle and guided missile program.
Dr Kalam was responsible for India's first indigenous Satellite Launch Vehicle (SLV-III). He was the project director of India's first satellite 'Rohini'. During his tenure at DRDO, Kalam was chief of the Integrated Guided Missile Development Program and developed five different missiles- Nag, Akash, Trishul, Agni, Prithvi. He was also responsible for the operation and development of Prithvi and Agni missiles and for designing indigenous weapons by bringing together various institutions.
In a message of condolence Russian President Vladimir Putin said: "In Russia, Abdul Kalam will be remembered as a consistent exponent of closer friendly relations between our nations who has done a lot for cementing mutually beneficial Russian-Indian cooperation."
Abdul Kalam also conceived of the BrahMos missile, a fact acknowledged by BrahMos chief A S Pillai, who said Kalam's presence as a great motivation for Team BrahMos and deliberated on various aspects of the BrahMos missile, which has made 42 successful flights since its first launch on June 12, 2001. The BrahMos, a joint collaboration between India and Russia, has a flight range of 290-km with supersonic speed all through the flight.
Speaking at the raising day of the BrahMos in June 2014, the former President said the BrahMos supersonic cruise missile is a hi-tech deterrence system.
"It is very rare that we see a successful partnership from concept to design to development to production and marketing, and the complete phase involves large number of people - their thinking and talks," he said.
"Today, BrahMos has become a huge organisation with excellent networking of industries with a perfect blend of public and private working and employees who strive to make it a world class technology," Kalam said.
"BrahMos has certainly made India proud to possess an advantage of high technology deterrence system which no country in the world has, and has a fantastic partner like Russia," Kalam had said.
That day, Kalam also launched a new simulation centre for the BrahMos Air Version and unveiled the "BrahMos Technical Compendium" - a concise treatise on the technicalities and challenges that ultimately gave birth to BrahMos.
He was also widely seen as the man behind India's nuclear weapons tests in 1998, which earned him widespread popularity in the country, despite much foreign condemnation. He insisted that strength brings respect. He used the occasion to urge India to build its military strength and to free itself from foreign threats. He was then chief scientific advisor to the Indian Prime Minister and earned himself India's highest civilian award, the 'Bharat Ratna,' for his achievements.
"For 2,500 years India has never invaded anybody," Kalam said at a news conference after the tests. "But others have come here. So many others have come."
A staunch nationalist with distinct silver locks who dreamt of a developed India, variously called "the Missile Man of India" or "the People's President," who opened the Rashtrapati Bhavan (presidential palace) to the masses, the 83-year old Kalam's death has seen an outpouring of national emotion, with people queuing up for hours to catch a glimpse of his body now lying in state in the Indian capital.
All rights reserved by Rossiyskaya Gazeta.