Tributes paid to 'Missile Man' Kalam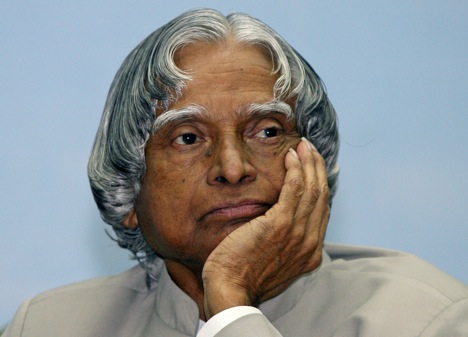 India's former President Dr APJ Abdul Kalam passed away on July 27. Source: Reuters
Paying tribute to former Indian President A P J Abdul Kalam on his 84th birth anniversary, Prime Minister Narendra Modi said Kalam looked for "challenges" and his life is a source of inspiration for all Indians. Kalam's death in July this year was also a loss for Indo-Russian friendship. Dr Kalam, known as India's 'People's President' and missile man, was a champion of productive Indo-Russian cooperation, particularly in science and technology and the defence sector.
On the birth anniversary of former President APJ Abdul Kalam, the Indian Prime Minister payed glowing tribute to India's 'People's President' and 'Missile Man,' releasing a postage stamp in his honour and announcing that a national memorial would be built at his birthplace in Rameshwaram for Kalam, who died on July 27.
"There are two types of people, one who look for opportunities and the other who look for challenges. Kalam Saheb was the one who always looked for challenges, which he continued doing till the end of his life," Modi said.
In the death of India's former President Dr APJ Abdul Kalam, a great advocate of closer Indo-Russia ties has passed. The Brahmos, largely Kalam's brain child, stands tall as the symbol of our multi-faceted defence cooperation that has few parallels in the world. Once, recounting the saga of his relations with Russia to this author, the eminent Indian scientist narrated the story of his friendship with Russia's leading scientist in missile technology, Gerbert Efrimov, legendary head of NPO Mashinostroyeniya in the Moscow suburb Reutov. The two outstanding scientists of both countries met for the first time in 1981 and fell in love with each other. The two men liked and believed in each other in the very first meeting and decided to open their laboratories to each other. This is how bilateral sensitive cooperation in missile technology began, said Kalam, stressing that Russia was the only country which supported India's missile programme when the rest of the world stood vehemently opposed to India.
He organised collaborative research and development projects with a number of Russian design bureaus to boost India's scientific potential, particularly in defence-related areas. The unique BrahMos missile stands as the proud symbol of our successful defence cooperation, one of the strongest pillars of our special and privileged strategic partnership. Kalam's contribution to the programme is unique. As head of the Defence Research and Development Organisation (DRDO), Kalam initiated talks with Russia to create this joint defence programme. In 1993, Kalam contacted his old friend Efremov and held talks with the head of the Russian state committee for the defence industry with the proposal to set up a joint venture in participation with NPO Mashinostroyeniye for development of guided anti-ship missiles. Kalam and Efrimov signed the memorandum of intent and protocol in 1994 to go ahead with the project. The agreement was signed in 1998 to develop, manufacture and sell anti-ship missiles.Kalam was also the brain behind India's 'Agni' and 'Prithvi' series of missiles, and the impetus and inspiration behind research, development and implementation of coordinated defence projects.
This joint venture signalled a new era in bilateral strategic cooperation. The personal friendship between Kalam and Efrimov blossomed into a productive professional cooperation, Efrimov proudly recalled in a meeting with the author at Moscow.
The first launch of BrahMos in 2001 turned into a giant step in our strategic cooperation, heralding a new stage in mass production of this supersonic missile for the army, navy, aircraft carriers and submarines of both countries. As counties evince keen interest to acquire this missile, India and Russia have embarked on a fresh course to develop a qualitatively new, hypersonic missile, which would stand as a monumental tribute to the memory of Kalam and the time-tested Indo-Russian friendship he stood for.
The late president was not only India's missile man, he was one f the architects of our nuclear programme, yet another sensitive area where both countries enjoy successful cooperation. When there was a calculated, vicious campaign by vested interests supported by foreign countries against the Kudankulam NPP, under construction by Russia in Kalam's home state Tamil Nadu, he wrote a strong report to the government in favour of the plant, rubbishing tsunami threats to the plant. He said that Kudankulam is around 1500 kms from the tsunamigenic fault, making it almost impossible for a tsunami to hit the area. Strongly pitching for the plant, he argued that the reactors at Kudankulam would shut down automatically within 3 minutes in case of any natural disaster, and fears of radiation leakage were unfounded. Kalam's strong support paralysed the protest movement against the Kudankulam nuclear plant.
President Kalam was emotionally moved while visiting the unknown Soldier's tomb in the Red Square at Moscow during this tour, and penned a poem in the memory of Soviet soldiers who had sacrificed their lives in World War II. The poem read as follows:Kalam became the first Indian president to pay his first state visit to Russia after the Soviet Union broke up. During his visit in 2005, he had intensive discussions with Russian scientists, particularly those conducting research in the military-industrial complex. He visited the Russian Academy of Sciences, from which he received an honorary professorship, Moscow State University, the Sukhoi design bureau and, of course, NPO Mashinostroniye, indicating his keenness to further augment bilateral cooperation in areas such as research, education, defence, science and technology. During this visit, projects like joint development of fifth generation fighter aircraft and a civilian jet were first discussed between the two countries. Today, the FGFA project is being implemented successfully.
Life is a phoenix, can rise from the ashes
Presents a future at challenging situations
This altar of ashes is a fountain of new life
War was trusted, martyrdom shined
Memories of soldiers ignite beauties of life
Phoenix is a metaphor of life in its action
Ashes remind us to celebrate greatness of those lives
President Kalam presented that poem to President Putin during the banquet hosted in the Kremlin in honour of the Indian guest. I do not recall any president writing a poem instantly during his visit to Russia and presenting that to the Russian president in the Kremlin. This could only be a man like Dr Kalam, with great love and respect for Russia.
All rights reserved by Rossiyskaya Gazeta.