A sharlotka by any other name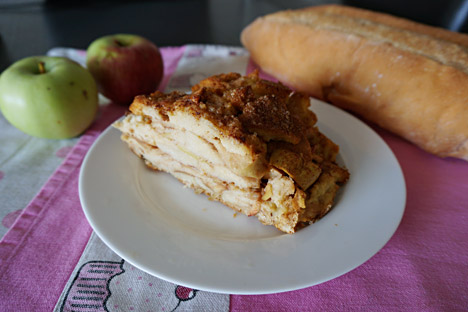 Sharlotka or zapekanka? You will find out at the end of the article. Source: Anna Kharzeeva
The traditional Russian apple cake has a less-appetizing name in the Book, but it tastes just as good.
This piece is part of the Soviet Diet Cookbook, a blog about a modern Russian girl cooking Soviet food. To read more of the series click here.
This week I thought I'd treat myself to cake for breakfast. I could justify it because a) it's called zapekanka, and no dessert will even have a name that unappealing and b) it's pretty much like French toast with apples, and French toast is universally acceptable breakfast food.
The recipe is called "apple and white crouton bake (zapekanka)" and is in the "old recipes" section of the book. These recipes are provided on the sides of the pages probably more for amusement than cooking by, as even the measurements are in pounds, which was the measurement before the revolution. The funny thing about the recipe is that it's outright the recipe for sharlotka — an apple cake that is very popular in Russia. The only difference I can see between it and a regular apple cake is that it's made with white bread instead of flour. The story has it that the originally German dessert was re-invented a-la russe by a French chef working for Alexander I in London.
Naturally, the Soviet government couldn't support a food with an obviously foreign name, and called it "zapekanka" or "apple babka" instead. What's curious is that they didn't even include it in the main section of the book, but only left it on the side as a historic relic.
Growing up, we had sharlotka all the time — and called it that, too, although we often made it with real dough instead of bread. I don't think it was a relic in the Soviet times either.
"My friends would make sharlotka all the time, mainly to use up stale bread, although people would call it all sorts of names: cake, zapekanka, sharlotka. My friend Valya would call it 'biskvit', although she called real 'biskvit' the same," Granny told me. "I would always try to explain to her that if she used bread it had to be called sharlotka, but she wouldn't listen. As for our family, my mom made the cake with matzo. And when we had old white bread, we'd make croutons to go with bouillon – after all, we cooked Jewish!"
Granny also said that although everyone used to make sharlotka they probably got the recipe not from the book, but from their friends and colleagues. "It was all word of mouth. Someone would make something delicious and would then share the recipe, and then everyone else would start making it, too. The Book wasn't even the main source of recipes, although if someone made something good from it, it would also spread. Family recipes were very strong, too, and would get passed down from generation to generation. My mother went even further and would type up the recipe for her apple cake titled 'my signature cake' and would hand it out to all the guests who tried it."
I suspect she didn't necessarily ask them if they would like the recipe either!
I'm so grateful word of mouth saved sharlotka from oblivion — even if its name was changed. Another interesting thing that Granny shared was that a lot of the recipes from the pre-revolution go-to cookbook by Elena Molokhovets were used in the Soviet book under different names and with the modern measuring scale. Obviously, it wasn't talked about.
Sharlotka's journey to my table was a long historic one, but I tell you it was very well worth it!
Apple and White Toast Bake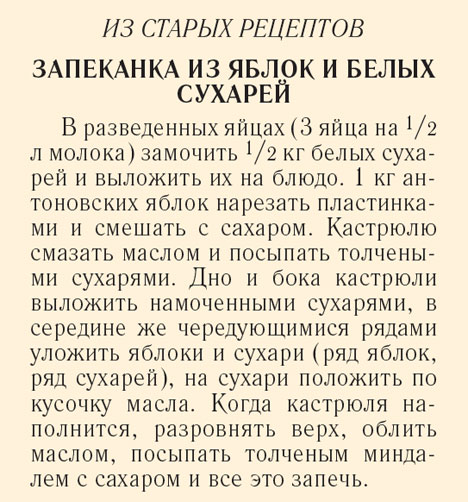 The recipe from the Soviet Cook Book, page 326
Ingridients
3 eggs; 0.5L milk; ½ kg toasted white bread; 1 kg apples
Mix eggs and milk together. Soak the bread in the milk and egg mixture. Slice the apples and mix them with sugar. Grease the bottom and sides of a baking dish. Sprinkle with breadcrumbs. Lay the soaked bread pieces in the pan, then lay apples on them. Layer the bread and apples until everything is finished. On each layer of bread, lay a piece of butter. When the pan is full, smooth the top, pour melted butter over the dish, sprinkle with powdered sugar and almonds and bake.
All rights reserved by Rossiyskaya Gazeta.