Russian highlights of Edinburgh's festival season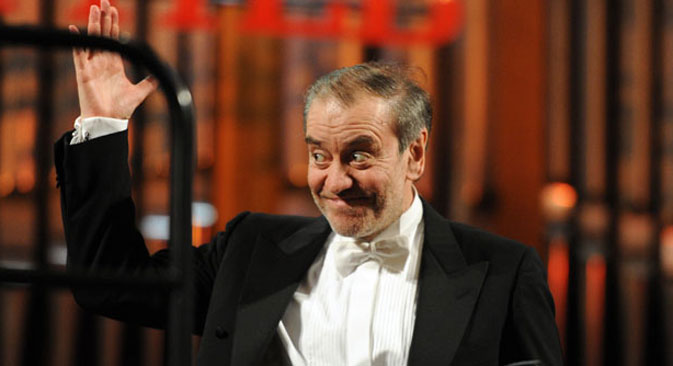 Valery Gergiev. Source: Vladimir Astapkovich / TASS
World-famous Edinburgh Festival - and its dramatic and literary offshoots - hosts Russian-flavored events, from stand-up comedy to fantasy and fairy tales.
Director and conductor, Valery Gergiev is the festival's honorary president. This year he will conclude the orchestral program by conducting Stravinsky's Rite of Spring, played by the London Symphony Orchestra, whose principal conductor Gergiev has been for eight years.
Books, music and vodka
Another Russian conductor, Vasily Petrenko, leads the Oslo Philharmonic Orchestra's rendition of Rachmaninoff's Second Symphony, described as "intense, achingly melodic and hugely emotional". Young soprano Valentina Naforniţa will also perform "intense" Russian vocal works by Rachmaninoff and Tchaikovsky. Vodka distiller Russian Standard is sponsoring a program of concerts in Hub Sessions at the main festival.
As usual, Edinburgh's International Book Festival has numerous Russia-related events. There are literary experts: Translator Rosamund Bartlett talks about her new version of Tolstoy's Anna Karenina; head of the Scottish Poetry Library, Robyn Marsack, explores Pushkin's Eugene Onegin and two graphic novelists give a workshop on Bulgakov's The Master and Margarita.
Contemporary literature is often influenced by Russia, from Andrea Bennett's debut novel, Galina Petrovna's Three-Legged Dog Story to the new wave of Cold War thrillers. And there is also this year's crop of memoirs set in Russia, including Rory MacLean's Back in the USSR: Heroic Adventures in Transnistria, Peter Pomerantsev's Nothing is True and Everything is Possible and Ben Stewart's account of his time in prison, when a Greenpeace protest in the Arctic ended in a Murmansk jail.
Jazz and Tsars
The Fringe Festival, typically, offers even more eclectic fare; along with music, art and drama, there is humor, belly dancing and screenings of Dziga Vertov's pioneering 1929 film, Man with a Movie Camera. Russian-born trumpet-player Valery Ponomarev brings his hi-octane quintet to the fringe from New York. They'll be playing late nights in the Jazz Bar. Tangos for Tea includes music from Russia and the Balkans along with tea and shortbread.
Moscow-based Courage theatre is staging an interactive kids' show about equality called Colors. Former Moscow basketball champion, Vasily Slinkin, part of this talented ensemble troop, says he loves acting for children because: "Their eyes believe in the magic that is happening on the stage!" Meanwhile, Popinjay Productions have more entertainment for kids with a Russian folk tale about poor Peter's search for a flying ship in order to win the Tsar's daughter. His quest becomes a series of amusing adventures, involving music and puppetry.
Tragedies and satire
Some productions at this year's Fringe draw their inspiration from Russia's tempestuous history. Livewire Theatre is staging Romanovs, a drama that imagines rumored sightings of the murdered imperial family. Sandbach School in Cheshire are performing Kursk, a play based on the Russian submarine disaster fifteen years ago. This year's festival exhibition in St Mary's Cathedral, combining tapestries, banners and photographs, is on the theme of Arctic Convoys during World War II.
There are Russian literary influences at work too in the Fringe Festival. A Korean group called Brush Theatre are presenting a non-verbal version of Nikolai Gogol's The Overcoat, while Ditto Productions are staging Gogol's bitterly satirical play, Marriage, with a high-flying cast of comedians.
Works by Anton Chekhov are even more popular. Absolute Theatre is presenting a patchwork of Chekhov's short stories in what they describe as: "a kaleidoscopic production, capturing the essence of a parochial Russia where cruelty, absurdity and social satire are dished out in equal measure." In the gardens of Duddingston Kirk Manse, underneath Arthur's Seat on the shores of a loch, Theatre Alba are also adapting Chekhov's stories for a show called The Good Doctor. Alba have a distinctly Russian theme going on: their morning show is an outdoor, promenade performance, based on the folk tale Baba Yaga and they are also producing an afternoon monologue, as part of a double bill, called Smoking Is Bad For You, a version of Chekhov's short comedyOn the Harmful Effects of Tobacco.
Chekhov and sex
Three Candles Theatre Company describes The Nina Variations as a "tribute" to Chekhov's Seagull. Subtext Theatre has another unorthodox approach to the well-known playwright: a new musical called Chekhov with Cherries. Characters from Chekhov's various plays are re-invented, meet and interact, dreaming, as the Three Sisters famously do, of Moscow. The production boasts: "over a hundred cheeky Chekhov references and jokes" plus "a subtle nod towards current Russian politics".
Red-lipsticked Nastya Rybachuk serves up more sexy Russianness in her seductive selection of performance poetry, For Big Boys Only. Meanwhile, Russian dance teacher, Miroslava Bronnikova, who juggles, acts and belly dances under the stage name Shantisha, is returning to Edinburgh with a free show called Shake'n'Shimmy.
Elsewhere, percussionist Evelyn Glennie has teamed up with the Russian visual artist Maria Rud to produce The Animotion Show. Rud, who is in Edinburgh for the first time, paints, scratches and wipes on a backlit glass screen to produce immediate works of art that evolve as the audience watches, changing scale, mood and tempo. The paintings will be beamed live onto the walls a 17th-century quadrangle. Edinburgh offers its usual fusion of histories and cultures, stories and songs, a powerful crucible for the art forms of the future.
Follow the calendar of Russian events in Edinburgh with The Kompass