Russian culture: What's on in London in August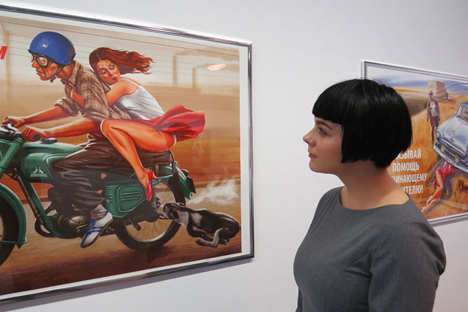 Valery Barykin's works are exhibited at Erarta Galleries London for the first time. Source: Olga Chiruk
RBTH handpicks the top Russian-related attractions in the UK capital.
A sneak peek into Russian Socialist Art
The eye-catching prints, sharp-edged colors and graceful female forms are reminiscent of 1950s American pin-ups. London's Erarta Gallery has prepared an exceptional exhibition featuring the workы of Valery Barykin and selected pieces by Anastasia Bazanova.
"The exhibition features a number limited-edition pieces from artists who deal directly with the male gaze and notion of 'Soviet pin-up' as seductive and alluring images in the tradition of Russian Socialist Art", Matthew Burgess, the Gallery Manager said.
Soviet posters depicted strict women giving advice on communist values while at the same time, in the U.S. people saw old-school posters with beautiful images of pretty girls. By the end of the 80s a small number of of artists who traveled to the USA had found ways to mix these diametrically opposed traditions of Pop Art and Russian Socialist Art. The result of this experiment can be seen in Valery Barykin's works, which succeed at eroticizing social realism. Barykin displays outrageously gorgeous woman such as Soviet movie stars Lyudmila Gurchenko and Natalya Fateeva in everyday situations as they continue to perform their stereotyped female duties, while Anastasia Bazanova is more interested in elegant and serene female forms inspired by Greek classical poses. Her soft and delicate pictures contrast with the provocative quality of Valery Barykin's juicy images of pin-up girls.
Soviet Pin-Up will be untill Sept. 5 at Erarta Gallery London, 8 Berkley Street, London W1J 8DN
Iconic Russian Archibaldo
Depictions of erotic themes have been common for all forms of art - especially for opera and theater. This month Holland Park continues to surprise its diverse audience with Montemezzi's only major work for the operatic stage, where Wagner's obsession with the erotic is echoed frequently in Mikhail Svetlov's libretto.
Every year during the Summer Opera Season Holland Park revives rare classical pieces, mainly by Puccini's Italian contemporaries. The latest Italo Montemezzi's masterpiece "L'amore del tre Re" is a unique version of post-Wagnerian Italian Opera. Russian-American bass Mikhail Svetlov, who is known for his ability to create distinct voices for his characters, plays Archibaldo, one of the three kings. After winning the Viotti international Voice Competition in Italy in 1984 he was admitted to the permanent troupe of the Bolshoi Theater as a principal soloist and also nominated for a Grammy award for his recording of Stravinsky. The singer's international career took off at the Salzburg Festival. At the Deutsche Opera Berlin he appeared as the Don Carlo (Great Inquisitor) and sang for Arena Di Verona, Huston Grand Opera, Florida Grand Opera and Atlanta Opera. Mikhail Svetlov has been an acclaimed guest at many of the world's opera festivals and orchestras, including the Metropolitan Opera, The Chaliapin Festival and the Royal Philharmonic Orchestra.
Opera L'amore del tre Re will be untill September at Holland Park, London W8
Swan Lake - Russian timeless classic
Hamlet versus Bugs Bunny, Pop Art versus Italian Opera - what is the distinction between high and low art? You don't have to be cultural theorists to find an answer to this tricky question. Lightness and grace, life dedicated to the stage - ballet is definitely a high art.
The London Coliseum Season welcomes the renowned St. Petersburg Ballet Theater with classical ballet at its best – Swan Lake. Wrapped in Tchaikovsky's unforgettable music, this performance brings together internationally acclaimed guest artists from Mariinsky Theater, Bolshoi Theatre and the Royal Ballet including a number of great artists and world-renowned prima ballerina Irina Kolesnikova, in a masterpiece of world ballet. Kolesnikova carries audience away with her glittering techniques as she seduces Siegfried, when she appears on stage as Odile, Rothbart's beautiful daughter. Audiences across the UK have the rare opportunity to see this remarkable Russian-born and trained dancer throughout August at the London Coliseum.
Swan Lake will be performed until 5 September, 2015 at London Coliseum, St. Martin's Lane, London WC2N 4ES
All rights reserved by Rossiyskaya Gazeta.