Cultural ties should not be subject to sanctions, says Special Presidential Envoy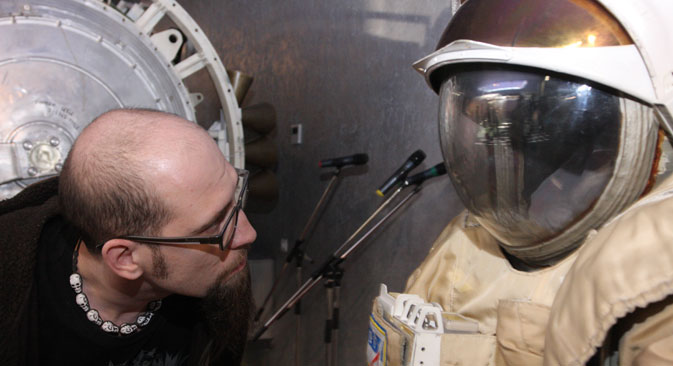 Moskovsky Komsomolets spoke with Vladimir Putin's special envoy for international cultural cooperation, Mikhail Shvydkoi, about the status of cultural ties between Russia, Europe and America at a time of political and economic tension.
MK: What events await us in the coming months?
Mikhail Shvydkoi: On Sept. 17, the Science Museum in London is set to launch a highly important and unprecedented exhibition, "Cosmonauts" dedicated to the achievements of our country in space exploration.
Ian Blatchford, head of the Museum of Science and Technology, has done much over the past two and a half years to ensure the exhibition is a success. I hope the first woman in space, Valentina Tereshkova, will take part in the opening.
At the same time, we are continuing a dialogue with the new management of the British Council; specifically, we are negotiating the possibility of holding the Year of Language and Literature in our countries. We suppose that we will hold the Year of the Russian Language and Literature in the UK, and the Year of English Language and Literature in Russia in 2016.
While our countries are very often in a state of confrontation and conflict on various issues in politics, we must not forget that we were allies in two world wars. And we have mutually deep literary influences.
MK: Martin Roth, Director of the Victoria and Albert Museum, will visit Moscow, September 7-8.
M.S.: Roth is conceiving a very large exhibition dedicated to Russian estates. In addition, he will be guest of honor at the Moscow State University – he will read a lecture there.
In early September, there will be talks related to Sergei Shchukin's collection of Impressionists, which we plan to show at a new art museum in the Bois de Boulogne, Paris.
It is clear that we will negotiate additional guarantees from the French authorities to ensure that this exhibition will take place without problems in the light of the sanctions and court ruling on arresting Russian property.
With France, we also plan to hold a Year of Cultural and Heritage Tourism. Specifically, we are interested in inbound tourism to Russia.
MK: And what awaits us in Moscow?
M.S.: A forum on humanitarian cooperation, "Eurasia – the Silk Road," will be held on Sept. 13-14. We are holding it with Kazakh and Chinese colleagues.
It gathers representatives from 20 countries through which the Silk Road runs.
In general, despite the difficulties in the political life, an essential role is now played by different kinds of seminars devoted to bilateral relations in the fields of culture and social practices – for example, joint studies of history.
Mikhail Shvydkoi at the opening of the UK-Russia Year of Culture. Source: RG
On Oct. 12-13, Moscow will host a visiting session of the Potsdam Meetings – a long-standing conference with the participation of prominent Russian and German political analysts. It will be devoted to the problem: "Is there need for a new peace treaty in Europe? Is there need for Helsinki-2?" This pointed topic, by the way, has attracted Austrian and Dutch political scientists, who also want to come.
This event will be followed on Oct. 14 by a joint conference held by the Adenauer Foundation and the Yeltsin Fund; the topic will be: "How can we maintain a dialogue in such a difficult time?"
It is important to note that humanitarian cooperation within the CIS has never stopped.
MK: Life goes on?
M.S.: Cultural relations are developing, maybe not so intensively, given the very difficult political context, but these relations don't fade, rather they acquire greater value.
I will give you a simple example from my "amateur" activities: now in Moscow, the Musical Theater [Shvydkoi is the artistic director of the theater – RBTH] holds rehearsals of Crime and Punishment, with a British team - the production designer, lighting designer and special effects technicians.
So this process is natural. Where joint creative works are born, nothing prevents people from carrying out these plans. Consequently, the political context can be as complex as possible. But cultural ties should not be subject to any sanctions.
This is an abridged version of the interview first published in Russian by Moskovsky Komsomolets.
All rights reserved by Rossiyskaya Gazeta.